A couple of weeks ago my friend made me a offer I could not refuse: accompany him for a 2 night getaway to Quebec City at a hotel that has a free all sauna experience: sauna, steam room, Scandinavian bath, jacuzzi and pool in a tropical setting. Plus we met up with some friends of our for a dinner while there. I am telling life can be tough when doing a friend a favor lol. Thank you Stef!

Of course if we lounged all day at the pool (with Baileys disguised in a juice bottle) we would look like seriously wrinkled raisins! So we decided to check out the nearby island called Ile d'Orléans. Now in the summer this island is a foodie's HEAVEN. Their are jams, breads, smoked fish, wines, bison, maple syrup, blackcurrant, etc. It is a historical gem with absolutely picturesque houses and paronamas.To get to l'Ile d'Orléans you must drive over a tall and skinny bridge.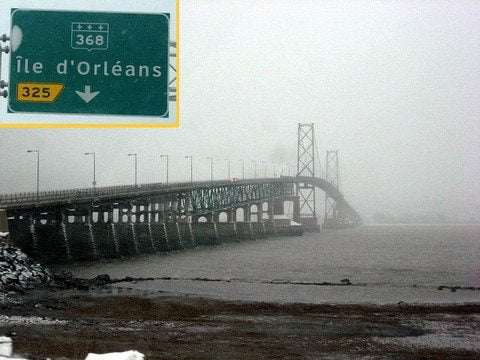 This was a gray winter day. In winter there is nothing open. It is a beautiful drive but we only found one open shop…the one Stef wanted to take me too. What good luck! Our destination was the Cidrerie Bilodeau. Needless to say we were the only customers there so we had the owner's undivided attention. The best part is you get a free tasting of all their ciders and liqueurs. Now Stef has been there before and he was driving so I was the one drinking. And since I was alone I felt encouraged to drink at a pretty fast pace…
…sure they are little cups, but there were about 12 little cups with about an ounce each. I left with a great buzz. I think they have about 15 different bottled products for sale…including their half light cider bottle at 6% alcohol for only $5. Everything revolves around apples and/or blackcurrant and/or maple syrup. There is also a selection of jams, spreads, pies and mustard. I got the apple butter…see how pale it is in the pic above? Well it is not a cooked down reduction of apples at all. It is apple sauce whipped with butter and sugar. Isn't that weird? But it is good. We headed back to our hotel with a good 10 bottles between the 2 of us.
On the way back home we decided to stop at a few cheese artisans. Now Quebec excels in cheese artisan often beating out the French in competitions. The two places we stopped are more humble places let's say. Both specialize (but not only) in cheese curd. Yes the squeaky cheese used to make poutines. Our first stop was the Fromagerie Bergeron.
Just like Krispy Kreme there is a large glass pane where you can see the production line lol. Oh and if you ant to hear a Quebecer talking English with a French accent (unlike me) click on the link and check out their videos! Now they do make a variety of cheeses that are on the mild side. I tried Le Fin Renard that had a nutty taste and Le Patte Blanche which is a mild firm goat cheese. Also the unusual curds are of the Gouda family. Our last stop, Fromagerie Lemaire, was for your very traditional, fresh of the day squeaky curd cheese.
You can truly hop in your car and drive from village to town in search of epicurean discoveries in Quebec. Just look for the orange sign above that says ARRÊT GOURMAND which means loosely Foodie Stop. With a little research you can plan a road trip around food. How awesome is that! Where was your last foodie road trip?