We have all bought or contemplated buying one of those cute "soups in a jar" as gifts. Pretty layered rows of rice, lentils,  noodle and soup base can make for a satisfying and easy soup. Have you thought of making your own? How about going one step further and creating entire balanced meals in a jar? One new book, the Meals in Jar cookbook, claims to be able to accomplish such a feat? Is it really possible for the general mass?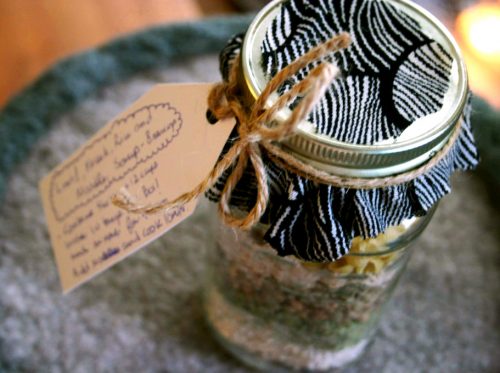 Find step by step instructions on how to prepared sealed meals that can be stored, such as
• Tomato Soup with Cheese
• Cheddar Garlic Biscuits
• Cornmeal Pancakes with Syrup
• Breakfast Burritos
• Chicken Chipotle Soup
• Carnitas
• Braised Short Ribs
• Turkey Pot Pie
• Coq Au Vin
• Rustic Fruit Pie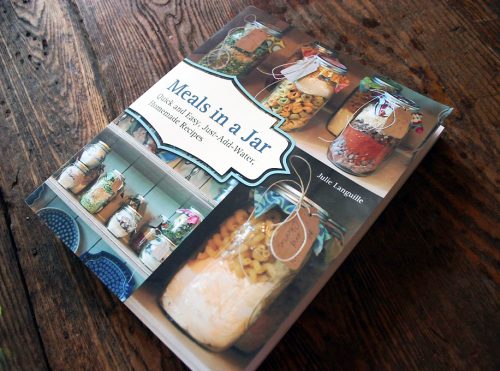 If you are a very large family that lives in a house with plenty of space in your kitchen cupboards – perhaps even a cold room in the basement – and are equipped and knowledgeable in safe pressure canning dry and wet foods, or vacuuming food bags, then the Meals in a Jar cookbook by Julie Languille is great for you. In no time you can stock up on large quantities or prepared meals. It would be great for storing food for emergencies as well.
If you live alone in an apartment with limited space like me, not so much. I do love the concept of the book but I was expecting an easy 'gifts in a jar' cookbook. I am not equipped or experienced in pressure canning and vacuum sealed meats and wet products. So I decided to stick to the simplest recipe I could find that utilized only dry items that I already had at home: basically a grain and lentil soup. The original recipe makes 8 4-cup jars, so 8 huge soups. I did an 8th of the recipe and had like 16 soup portions.
I took a lot of creative license on the Nourishing Beef, Lentil, Brown Rice, and Lentil Soup recipe (p.55). It turned into a mishmash of ethnic grains and flavors which was pretty cool.  The two that stood out are the black Thai rice which gave the soups a dark earthy color and fereek, a toasted cracked green wheat grain used in Middle Eastern countries.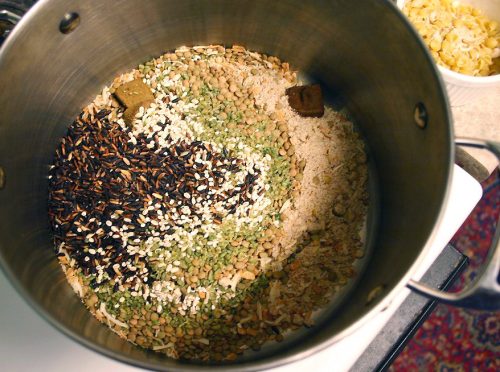 My final exotic addition was 4 small shredded nori snack sheets. I discovered these in the snack aisle of my grocery store. I am sure most of you are wondering why I would add such an apparently weird flavor to the soup. I was looking for something that would give more depth to the flavor and that is when the concept of unami came to mind. Unami is one of the five basic tastes, together with sweet, sour, bitter and salty. It was added to the list officially in 1985. The taste could be described as  a pleasant savory taste that is brothy or meaty. Nori, a seaweed, is an example of naturally occurring unami taste. Sounds perfect for a soup to me!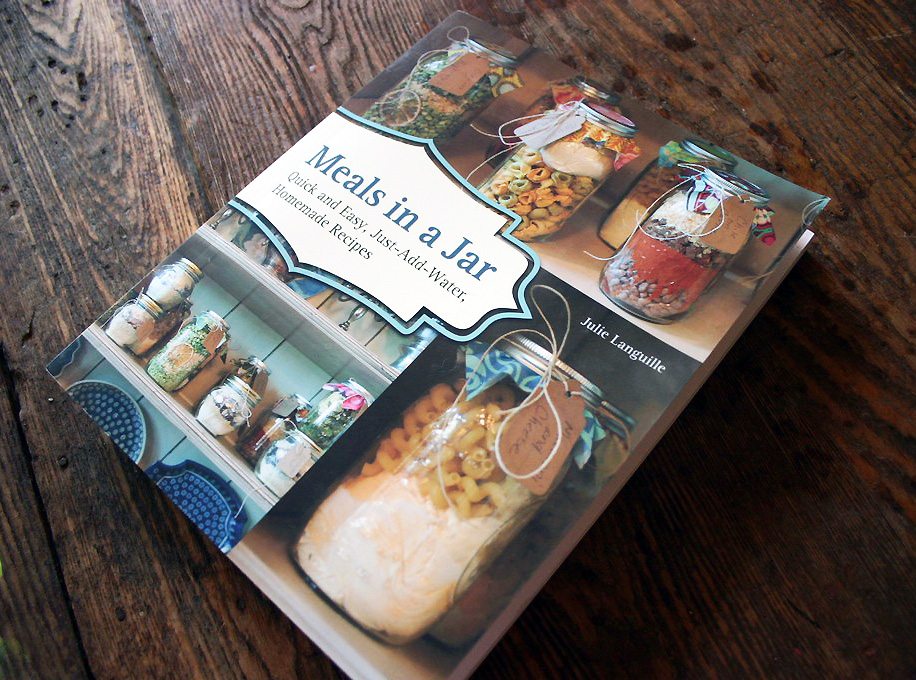 Lentil, Fereek, Rice and Noodle Soup
A soup in a jar recipe including a mishmash of ethnic grains and flavors, such as fereek, black Thai rice and nori sheets.
Ingredients  
1/3

cup

beef bouillon base

1/2

cup

dehydrated onions

4

small nori snack sheets

shredded

2

tsp

herbes de Porvence

or thyme

1 1/2

tsp

garlic powder

1/2

cup

lentils

1/2

cup

black Thai rice

or any rice

1/2

cup

fereek

or split peas

1/2

cup

barley

1

cup

small pasta
Instructions 
Mix beef base with onions, nori, herbs and garlic powder. In a vacuum bag or 4-cup jar, add in layers the lentils, rice, fereek, barley. Top with beef base. Place noodle in a zip lock bag and add to the jar. Seal jar.

Combine the soup mix and 12 cups of water in a large pot over medium-high heat. Bring to a boil and than sinner for 45 minutes. Add the noodles and beef for another 10 minutes or until tender.
Notes
If you have a pint of canned beef you can add it at the same time as the noodles.