Last Saturday, August 13th 2011, I had the pleasure of discovering a small festival I had never even heard about: Matsuri Japon.  Taking place in the backyard of the Japanese Canadian Cultural Center of Montreal, this great little festival is presented in the spirit of a traditional Japanese festival, as a means to develop greater awareness of Japanese culture among Montreal citizens and foreign visitors. This was actually their 10th year!
There were neat kiosks for Japanese items and official Matsuri souvenirs, a games area, lots of traditional Japanese cuisine food kiosks, and  2 performance stages dedicated to martial art and traditional  performances like dances, Taiko drums and much more. Not only was the festival a thrill already I got to enjoy it with two very special friends: Valerie of The Chocolate Bunny who is a local food blogger and a friend, as well as the visiting Mary of Mary Mary and Culinary from Ottawa. It was a lot of fun to share such ethnic foods with fellow bloggers.
I will now let you enjoy the pictures of our day there with a few comments when a food is in the picture.  But first enjoy this (shaky) video of a Taiko performance, I love these drums. Oh you should check out Valerie's post on this outing too, she has great pics of performances I did not snap.
Okonomiyaki is a Japanese savoury pancake containing a variety of ingredients. This one was predominantly a rice base with cabbage. it was served topped with a sauce, mayonnaise and Katsuobushi (dried, fermented, and smoked skipjack tuna).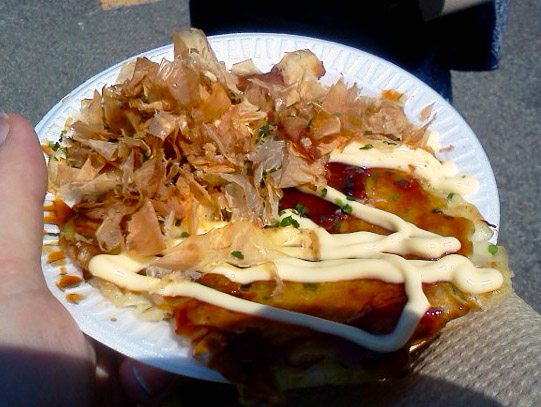 Hiyashi Udon is served cold and consists of  a bed of udon noodles with a sauce (made of soy, Mirin and Dashi) and covered with sliced negi and flakes of tempura batter.
Takoyaki are fried or grilled octopus ball-shaped Japanese dumpling made of batter and cooked in a special takoyaki pan (see above). It is typically filled with diced or whole baby octopus, tempura scraps, pickled ginger, and green onion.