Lately, reading my favorite food blogs has been a guaranteed catalyst to get into the holiday mood. Blogs of
Thanksgiving feasts are the kick in the rump I need right now since Montreal is not showing any signs yet of a white Christmas – or what ever holiday you celebrate. But I know one morning soon I will open the curtains of my bedroom window and feel the sudden urge to hang my mistletoe.
Thankfully the holiday cheer is quite present in the kitchen. The wonderful people at Faye Clack invited me to participate in a fun event hosted by California Walnuts. The theme: coming up with a completely original recipe that screams holiday gatherings and winter entertaining.
I humbly present you my entry post for the California Walnuts Holiday Blogger Challenge: my Matcha Fudge Fruit Cake.
Coming up with an original recipe with walnuts is not exactly a small feat! We are talking about a very popular nut here that graces most holiday recipes. This was a perplexing challenge, until I opened my kitchen cupboard and a bag of matcha powder fell out, bringing on inspiration.
Visions of sugar plums and fairies…oh wait that is the Nutcracker. Visions of a sliced fruitcake with gorgeous chunks of red cherries and chocolate coated walnuts dances in my head…all of it wrapped up in a melt in your mouth matcha fudge. I wanted to reinvent the fruit cake. To achieve my pale green fudge color I chose a basic white fudge recipe where I added a touch of matcha powder.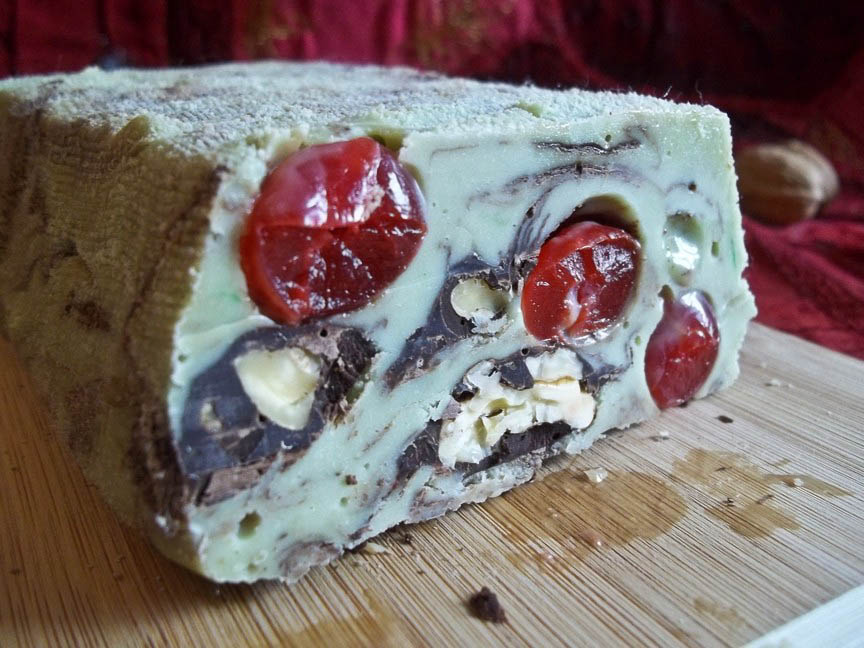 Ξ Matcha Fudge Fruit Cake Ξ
Ingredients:
250 gr dark chocolate
1 cup California Walnuts
3/4 cup maraschino cherries
500g white chocolate, chopped
1-300ml can of condensed milk
30gr of butter
2 teaspoons matcha powder
Directions:
Melt dark chocolate in a bowl. Dip the walnuts in the melted chocolate one by one plan place on a wrack to let excess chocolate drip off. Place the chocolate covered walnuts  in the fridge to harden
Drain and dry cherries on a couple of layers of paper towels.
Line with cheesecloth a 25cm x 10cm (10" x 4") loaf pan. Make sure the cheesecloth hangs over the edged of the pan.
Place all the white chocolate, condensed milk and butter in a microwave safe bowl. Microwave on high for 30 seconds. Remove and stir well. Microwave for 30 another seconds.
Remove, add the matcha powder and stir well. Microwave for 30 seconds. Remove and stir completely.
Add cherries, chocolate covered walnuts and stir once very fast (stir too much and the dark chocolate will melt).
Quickly poor mixture into the loaf pan, fold the cheesecloth over the top and press down to level the top.
Set fudge in the fridge for 8 hours. Remove from pan and slice.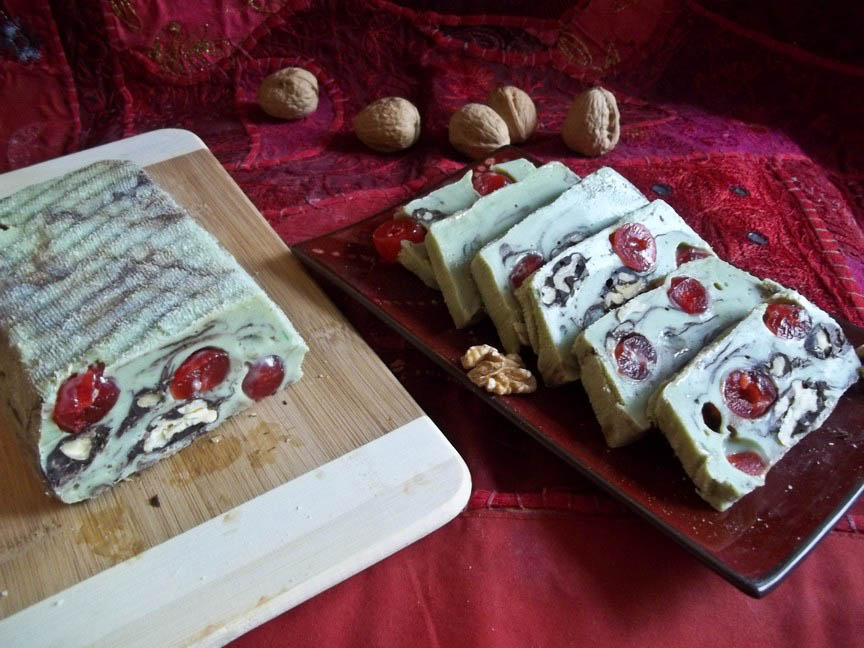 I was absolutely thrilled the results. The matcha flavor was subtle, the cherries were a juicy surprise and the chocolate covered walnuts gave the perfect amount of crunch. This makes a big log of fudge so you can slice it up, take what you need to a few parties and then just freeze the rest. Happy Holidays!