I hope everyone is having a wonderful time amongst family and friends for this Holiday Season. Tomorrow we welcome the year 2014, I wish you all health, love, a safe home, prosperity and everything else you could wish. Happy New Year 2014!
My calendar has certainly been busy with family gatherings and a little quick trip out of town to Ottawa. And I am very much looking forward to the 31st as I am hosting the party with my closest friends. It's pot-luck and so far it sounds like we will be having a real feast and lots of fun beverages. If my crock pot recipe turns out well I'll probably share it next week. But for today I wanted to show you the cake I made for December 24th which was spent at my parents. The Marzipan Topped Light Fruit Cake was a crowd pleaser!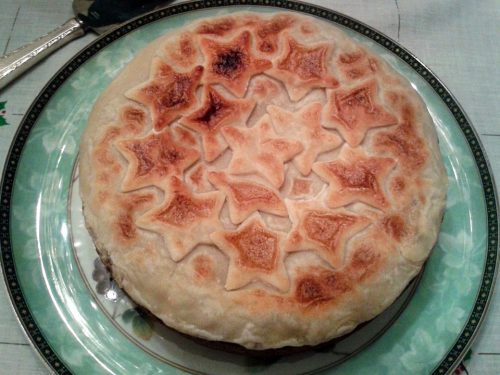 I am not a huge fan of the small brick fruit cakes we find in stores at this time of the year but I was very curious to try this lighter version you can serve as a full cake. I adapted the recipe from My Diverse Kitchen by making a few changes to reflect what I had on hand. It is still a very dense cake and it might be a good idea to do it 2 days before as I found it's time it the fridge 're-humidified' it a bit. A rum soak was quite welcome too a few days later.
I am now a big fan of this marzipan cake topper. It was really easy to make and I'll having fun creating different shapes to decorate.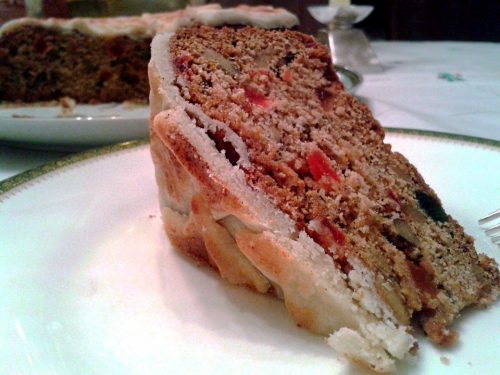 Its was a smaller family gathering this year for Christmas day so we decided to try something very different. We attended the 5pm mass at the famous Notre-Dame Basilica, followed by a dinner out in one of the great restaurants of Old Montreal.
None of us are particularly religious but I think we all really enjoyed the experience. I don't think I had set foot in this Basilica in a good 10 years so it was nice to see its absolutely gorgeous interior. It was my first Christmas mass ever, as well as my first mass at the Notre-Dame Basilica.
wiki …Montreal's Notre-Dame Basilica's Gothic Revival architecture is among the most dramatic in the world; its interior is grand and colorful, its ceiling is colored deep blue and decorated with golden stars, and the rest of the sanctuary is a polychrome of blues, azures, reds, purples, silver, and gold. It is filled with hundreds of intricate wooden carvings and several religious statues. Unusual for a church, the stained glass windows along the walls of the sanctuary do not depict biblical scenes, but rather scenes from the religious history of Montreal. It also has a Casavant Frères pipe organ, dated 1891.
And now on to the cake 🙂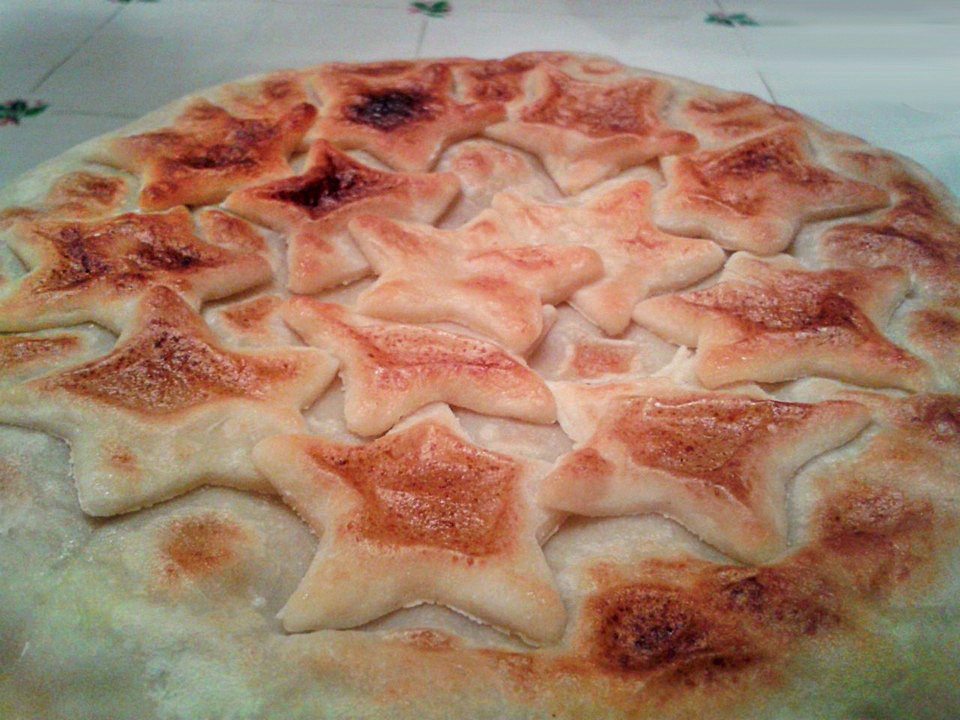 Marzipan Topped Light Fruit Cake
Ingredients  
For The Cake:
100

gm butter

softened

1

cup

granulated sugar

2

egg whites

beaten well

1

cup

all-purpose flour

1

cup

cake flour

or use 2tbsp cornstarch and top up with all-purpose flour

1 1/2

tsp

baking powder

1/2

tsp

baking soda

1/2

tsp

salt

1/2

tsp

cinnamon

1/2

tsp

ginger

1/4

tsp

nutmeg

1

cup

mixed chopped candied fruit

papaya, golden raisins, cherries

1/2

cup

nuts

2

tsp

orange zest

1

tsp

vanilla extract

1/2

cup

unsweetened orange juice

Marzipan
For The Glaze:
3

tbsp

apricot jam

or orange marmalade

2

tbsp

water
Instructions 
Put the flour, cake flour, baking powder, baking soda, the powdered spices and salt in a large bowl and whisk together a couple of times to mix. Add the dried fruits and nuts, and toss coat them well with the flour. This ensures the fruit doesn't sink to the bottom of the cake.

In another large bowl, cream together the butter and sugar with a hand held electric mixer till fluffy. Add the beaten egg whites, the orange zest and the extract and beat till mixed. Now add the half of the flour, and then half the orange juice, then the rest of the flour and the orange juice beating well after each addition until just mixed well. Do not over beat the batter.

Scrape the batter into a well-greased and floured (or parchment lined, if you prefer) 8" round cake tin. Smooth the top and bake at 180C (350F) for about 40 to 60 minutes till a skewer pushed into the middle of the cake comes out clean.

If you find the cake browning too quickly cover with foil about halfway through baking. This cake will rise but dome very gently. Let the cake cool in the tin for about 20 to 25 minutes in the cake tin and then unmould it. Cool completely on a rack.

Make a glaze by boiling the jam and water for a couple of minutes. Press this through a sieve to remove lumps and let it cool slightly.

Take a piece of the marzipan and roll it into a smooth ball and flatten it slightly. Dust your work surface lightly with icing sugar, and roll out the marzipan to a uniform thickness of about 1/8 of an inch. Cut out a circle, using a pizza/ pastry wheel, the exact diameter of your cake.

Brush the apricot glaze over the top of the cake, and place the marzipan circle on the cake to fit it perfectly. Press it down lightly so it sticks to the cake.

Take the scraps from the rolled out marzipan and a little more fresh marzipan and roll it together into a ball (about 3/4 the earlier amount) and roll out again to 1/8th" thickness. Using a star shaped cookie cutter cut out enough stars to cover the top edge of cake.

Using some of the apricot glaze to help stick them down, place the stars, in an overlapping manner, along the top edge of the cake and one in the centre if you want.

If you have a blow torch, use that to toast and brown the marzipan decoratively. Otherwise place the marzipan covered cake under the grill for about 3 or 4 minutes or in an 180C (350F) oven for a few minutes. Watch your cake to see the marzipan doesn't burn!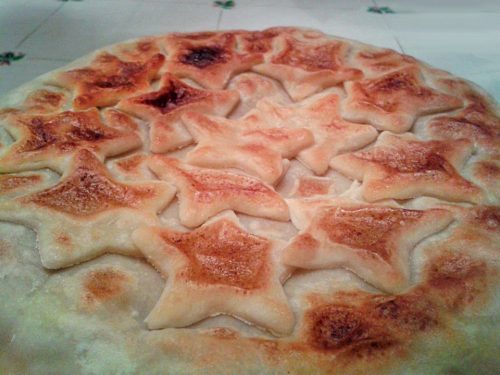 Gorgeous marzipan topping …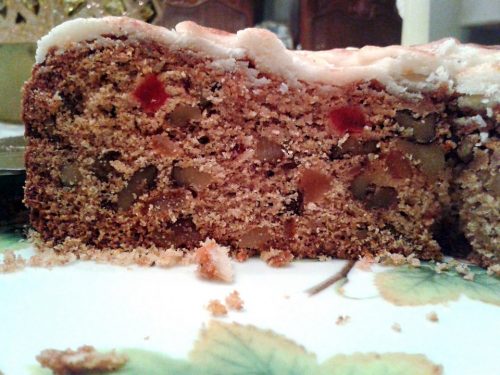 … and a beautiful jeweled interior!