Yet again, my second Baker's Challenge was a major challenge. I spoke to a few fellow DK members and they all agree the last two months have been tough ones. I am really hoping the next one is easy…ouff. So this month we had to make Macarons. This was kind of funny to me as I recently went and interviewed owners of a Macaron only shop in Montreal. So I already had in mind to get around to this recipe soon, this just brought it sooner then expected.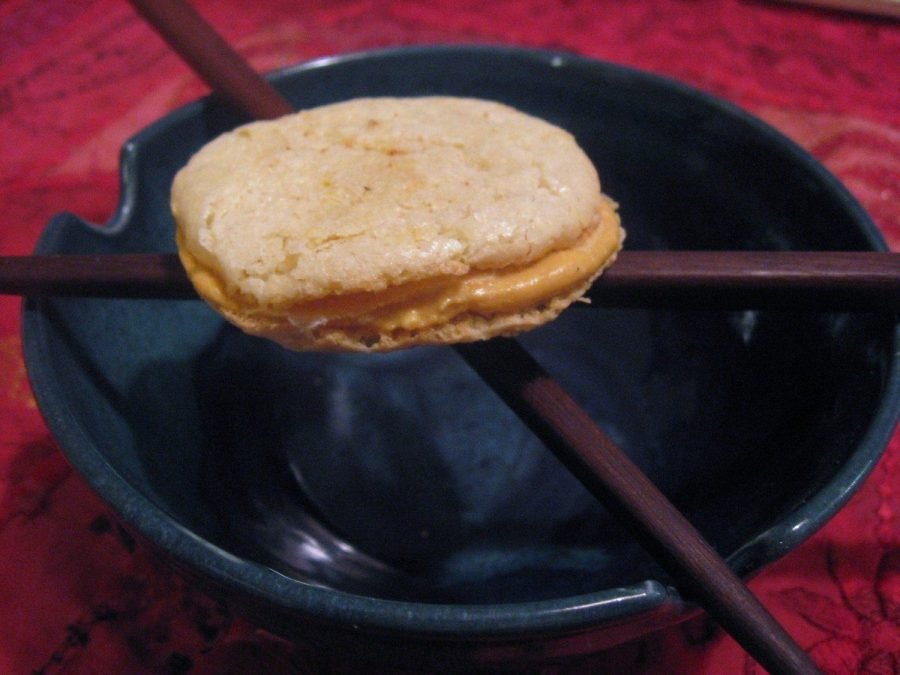 See Maccarons can be tough. Great pastry chefs can easily mess up this recipe. Mine did mess up esthically. But they were stupendous in taste! I am thinking my almond flour was not flour-y enough. I made Saffron and Pumpkin Macarons by adding 1/2 ts of Spanish Saffron (the real stuff) to the meringue (which I would half because it was a bit overpowering) and the ganache was made of pumpkin puree and cream cheese.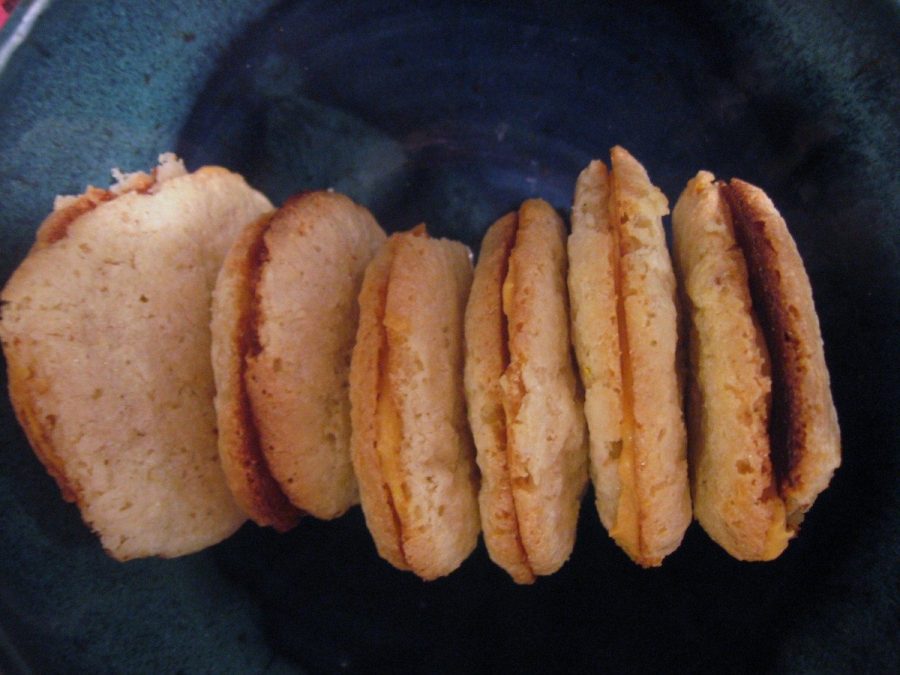 The 2009 October Daring Bakers' challenge was brought to us by Ami S. She chose macarons from Claudia Fleming's The Last Course: The Desserts of Gramercy Tavern as the challenge recipe.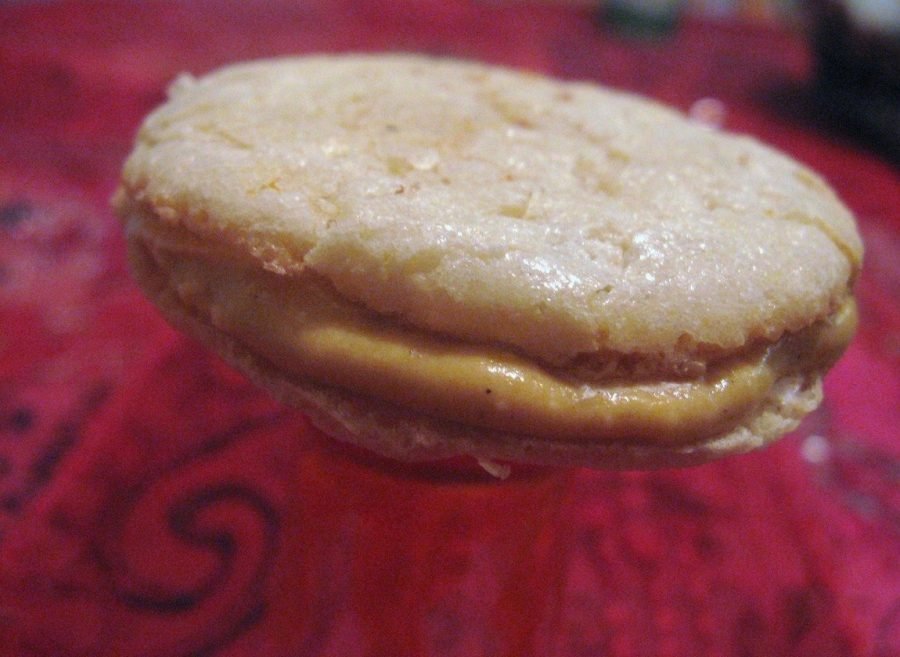 Ingredients
Confectioners' (Icing) sugar: 2 ¼ cups (225 g, 8 oz.)
Almond flour: 2 cups (190 g, 6.7 oz.)
Granulated sugar: 2 tablespoons (25 g , .88 oz.)
Egg whites: 5 (Have at room temperature)
Directions:
1. Preheat the oven to 200°F (93°C). Combine the confectioners' sugar and almond flour in a medium bowl. If grinding your own nuts, combine nuts and a cup of confectioners' sugar in the bowl of a food processor and grind until nuts are very fine and powdery.
2. Beat the egg whites in the clean dry bowl of a stand mixer until they hold soft peaks. Slowly add the granulated sugar and beat until the mixture holds stiff peaks.
3. Sift a third of the almond flour mixture into the meringue and fold gently to combine. If you are planning on adding zest or other flavorings to the batter, now is the time. Sift in the remaining almond flour in two batches. Be gentle! Don't overfold, but fully incorporate your ingredients.
4. Spoon the mixture into a pastry bag fitted with a plain half-inch tip (Ateco #806). You can also use a Ziploc bag with a corner cut off. It's easiest to fill your bag if you stand it up in a tall glass and fold the top down before spooning in the batter.
5. Pipe one-inch-sized (2.5 cm) mounds of batter onto baking sheets lined with nonstick liners (or parchment paper).
6. Bake the macaroon for 5 minutes. Remove the pan from the oven and raise the temperature to 375°F (190°C). Once the oven is up to temperature, put the pans back in the oven and bake for an additional 7 to 8 minutes, or lightly colored.
7. Cool on a rack before filling.
Yield: 10 dozen. Ami's note: My yield was much smaller than this. I produced about two dozen filled macaroons.
An important note about coloring and flavoring: liquid food coloring can be used, but be cautious! Use 1-3 drops maximum, otherwise, according to Helen, it increases the moisture in the batter, and that can ruin the macaroons. She suggests one trick: mix the liquid color with the almonds and powdered sugar and to let that air dry for a couple of hours. This reduced the moisture a little bit. If you use more than 3 drops of food coloring, you're going to have a disaster. That means using fruit puree is out. One way to flavor the macaroons is to use 1-2 teaspoons of citrus zest, 1-2 teaspoons of matcha (green tea powder), or 1-2 teaspoons of herbs or freeze-dried fruit powders. If you want savory macaroons, you can try 1 teaspoon of saffron or other savory dry flavorings. If you want to use powdered color, Helen says that up to 1 tablespoon is a safe amount.
Wish me luck for the next Baker's Challenge
Evelyne