I know if I'm not alone in the fact that when I see spinach and tangerine soup, my first thought is "What?" However, after tasting this Lesotho Spinach and Tangerine Soup, you'll never look at these ingredients the same way again.
It's an exciting recipe with a flavor profile unlike any other — from sweet to tangy to savory. And it's so easy! Give this Spinach and Tangerine Soup recipe a try tonight for dinner or lunch tomorrow. I promise you won't regret it!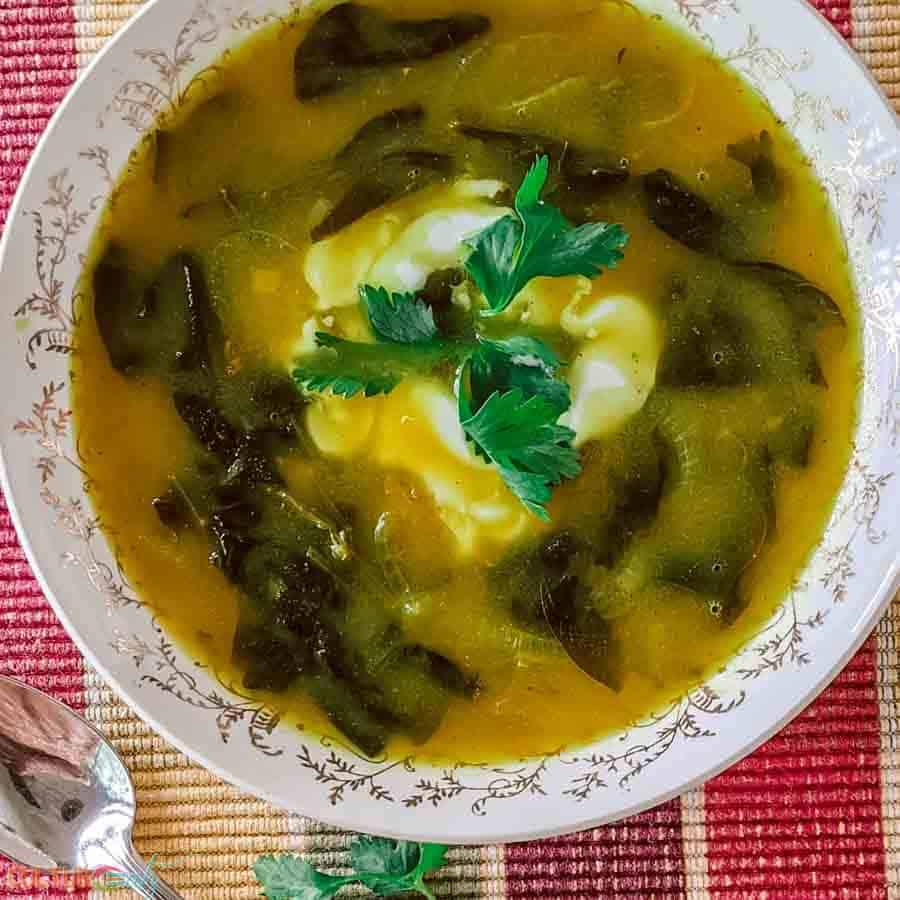 Where is Lesotho?
The Kingdom of Lesotho became an independent landlocked country in Southern Africa in 1966. It is located in southern Africa and borders South Africa to the south, Botswana to the east, and Zimbabwe.
 Lesotho is the largest of the world's three landlocked countries, after  Vatican City and San Marino.
A small mountainous area at 2,000 meters (6200 feet) high with a population that is mostly rural farming families who speak mainly Sesotho language as their first tongue with English being used for official business purposes.
The name 'Lesotho' means "the place where there are waterfalls." Basotho is the ethnic group take makes up the majority of Lesotho, so you will see that Basotho is often used instead of Lesotho.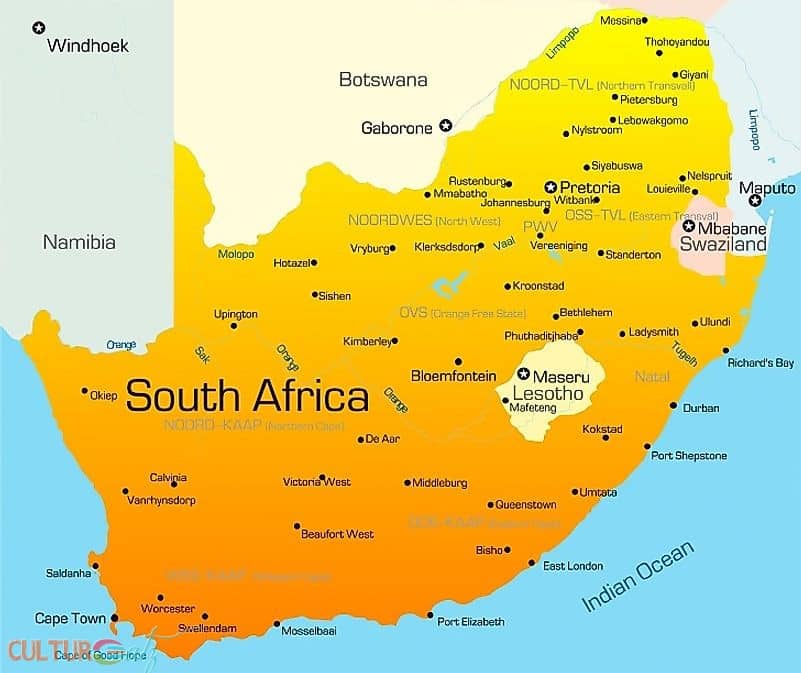 What is Basotho cuisine?
Lesotho has a rich culinary history. The cuisine includes dishes such as pitso (a beef and vegetable stew), motoho la lotlaasa kapa jakeekelehlo mapena (cornmeal porridge with sugar or milk) and biltong izishayela senyaneho Eastern Cape lamb jerky). Dishes are often made from ingredients native to the country, like maize and beans.
Sorghum porridge is usually served for breakfast with cornmeal pancakes or bread. Most meals consist of some combination of meat (such as dried beef), vegetables, rice, potatoes, or other tubers such as sweet potato and groundnuts. Biltong – delicious strips of cured meats that originated in South Africa – can be bought at any grocery store across Lesotho
Basotho cuisine is a fusion of traditional African cooking and a splash of British and Dutch influence.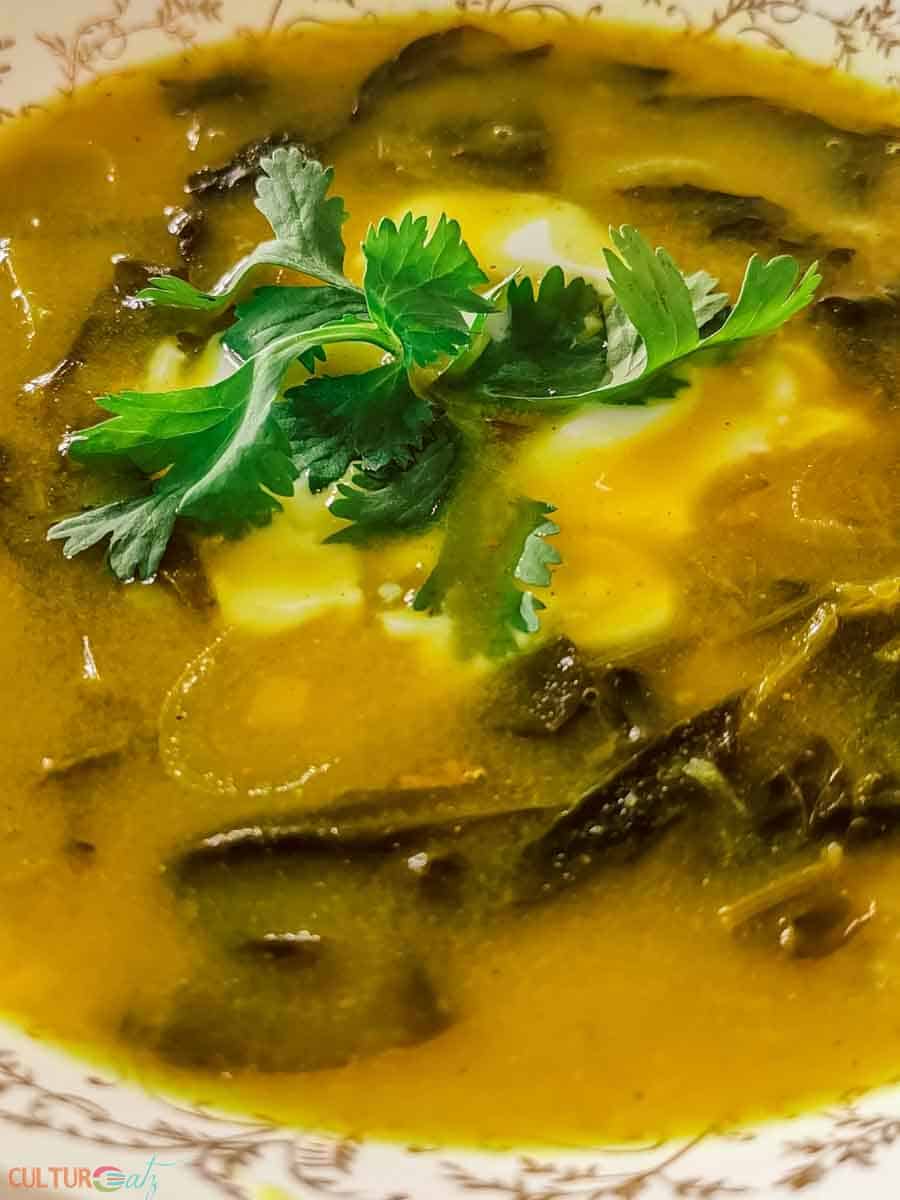 How to Make Lesotho Spinach and Tangerine Soup
I know you are looking for a soup that is both fresh and nutritious. Well, we have the perfect recipe right here! Spinach and Tangerine Soup has potassium from tangerines, Vitamin C, as well as fiber-rich spinach.
I originally got the recipe from 196 Flavors. The great thing about this soup is that is just as good servde hot on a cold winter day, as served cold on a hot sweltering day.
The delicious, healthy-eating recipe has subtle and unique flavors .but it is a tad bland Next time I would not mind kicking it u a notch with a bit of ginger along with garlic salt.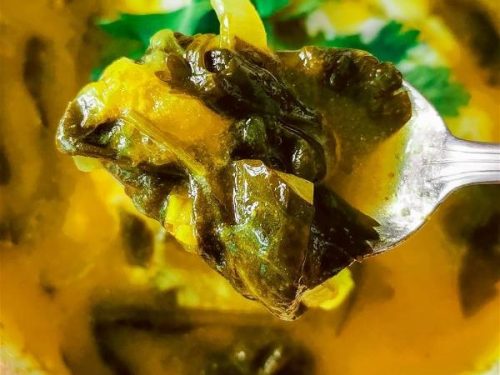 Lesotho Spinach and Tangerine Soup
This exciting Lesotho Spinach and Tangerine Soup recipe has a flavor profile unlike any other -- from sweet to tangy to savory.
Ingredients  
3

quarts

chicken broth

3

onions

thinly sliced

1

lb

fresh spinach

finely chopped

¾

cup

yellow split peas

3

teaspoons

turmeric powder

⅔

cup

rice flour

4

tablespoons

unsalted butter

2

lb

tangerines

or mandarins

1

bunch flat parsley

finely chopped

1

bunch cilantro

finely chopped

2

cups

plain yogurt
Instructions 
On the evening prior, rinse and soak the split peas in a large bowl of water.

On the day of the recipe, rinse and drain the split peas. Bring the broth to a boil in a large pot and add the split peas. Simmer for 20 minutes, covered.

In the meantime, melt the butter in a frying pan and cook the onions over medium heat until translucent, about 5 minutes. Stir in the turmeric constantly into the onions over low heat for 1 minute.

Stir in the rice flour into half a cup of cold water, mix in this mixture to the onions, and pour everything immediately into the broth.

Zeste 2 tangerines, and the juice all four. Add them to the soup with the spinach, parsley, and half of the cilantro. Cook for 20 minutes over low heat, stirring occasionally.

When ready, divide amongst 8 bowls, add a big dollop of yogurt in the middle and sprinkle with the remaining cilantro.