It's Food 'n Flix time again! In this monthly group a 'host' picks a movie of their choice that pertains to food. Everyone watches the movie and then makes a recipe which the film inspired. It can be any recipe you want. This month's pick is hosted by Tina at Squirrel Head Manor. Tina picked a movie A Good Year, which is based on a novel by Peter Mayle. Like most of his books, the setting is Provence, the land of lavender – my inspiration!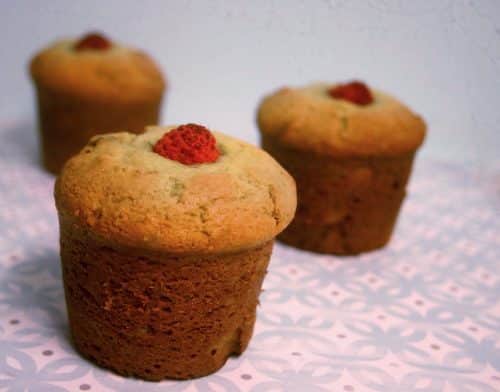 About 10 years ago I went on a Peter Mayle reading rampage. I read so many of his books I do not remember if I read this one. Apparently that would be a good thing not to remember as the book is very loosely based. That said it was a very cute romantic comedy movie.
Max, an unethical business go getter, inherits his uncle's house in Provence, the house where Max spent a many summers as a boy. His trip for a quick sale becomes extend as he is in hot waters with the UK government. Well his presence upsets many people in this small French town, including the wine maker who works on the now for sale land and Fanny the lovely eventual romantic interest. What does the future hold for all three characters? Well I hope I wetted your appetite enough to get your hands on the movie.
There is lots of talk about wine and food in the movie but nothing for me really stood out. What did stand out was a "situation" that occurred twice in the movie: the cleaning lady chases away scorpions with fresh lavender to save the terrified visitors. So I looked it up online and indeed lavender is a scorpion repellant. Who knew!
That is when I knew my recipe would showcase lavender buds. I searched high and low for a really 'out there' recipe. Most people would find a lavender recipe exotic but I have actually use it in cooking several times. For this event I settled on the curious Lemon Lavender Avocado Loaf by Sheena on Allrecipes.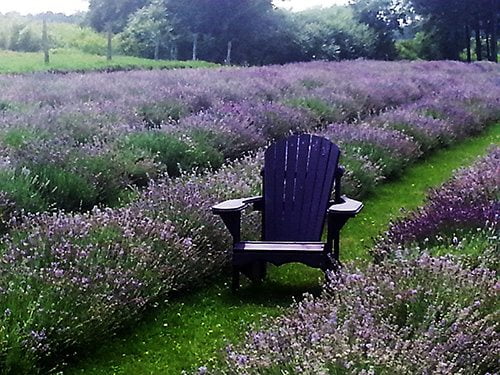 It so happens that this summer 4 of my friends and I headed out of town to visit a local lavender field. Walking along the 2 toned purple plants up and down the longs field was such an amazing experience. At the midway point the farm had set up a bunch of Adirondack chairs. Imagine 5 lovely ladies sitting in a row just enjoying the calming smell. We we so relaxed and happy, it was hard to leave the fields.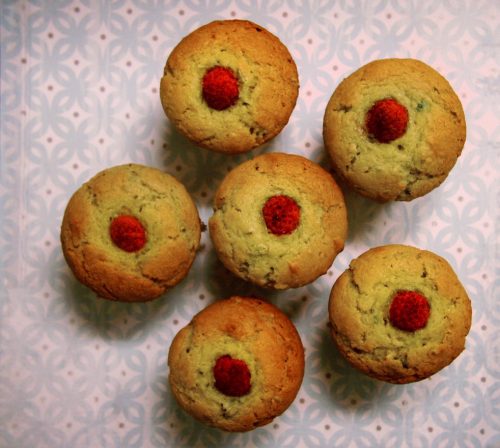 I had recently run out of edible lavender buds so I bought some while at the farm, perfect for this really creative recipe. I hope you were not to put off by this combination of lavender, lemon and avocado but actually it worked really well together. The avocado acts at the fat for the recipe and you only have hints of it on the palate. I will admit the lavender is intense here if you are not used to it. There recipe was for 2 loafs but since I only have one loaf pan I used half the batter for cupcakes which I topped with a pretty raspberry!
I found that the flavors mellowed a bit after a day, so if you have the willpower wait for the next day to try a slice. I brought only one cupcake to work for an adventurous colleague. When my other colleagues found out I was reprimanded quite severely for underestimating their open-mindedness. I made amends by bringing half the loaf in the next day. And they proved me wrong as I mostly got positive comments.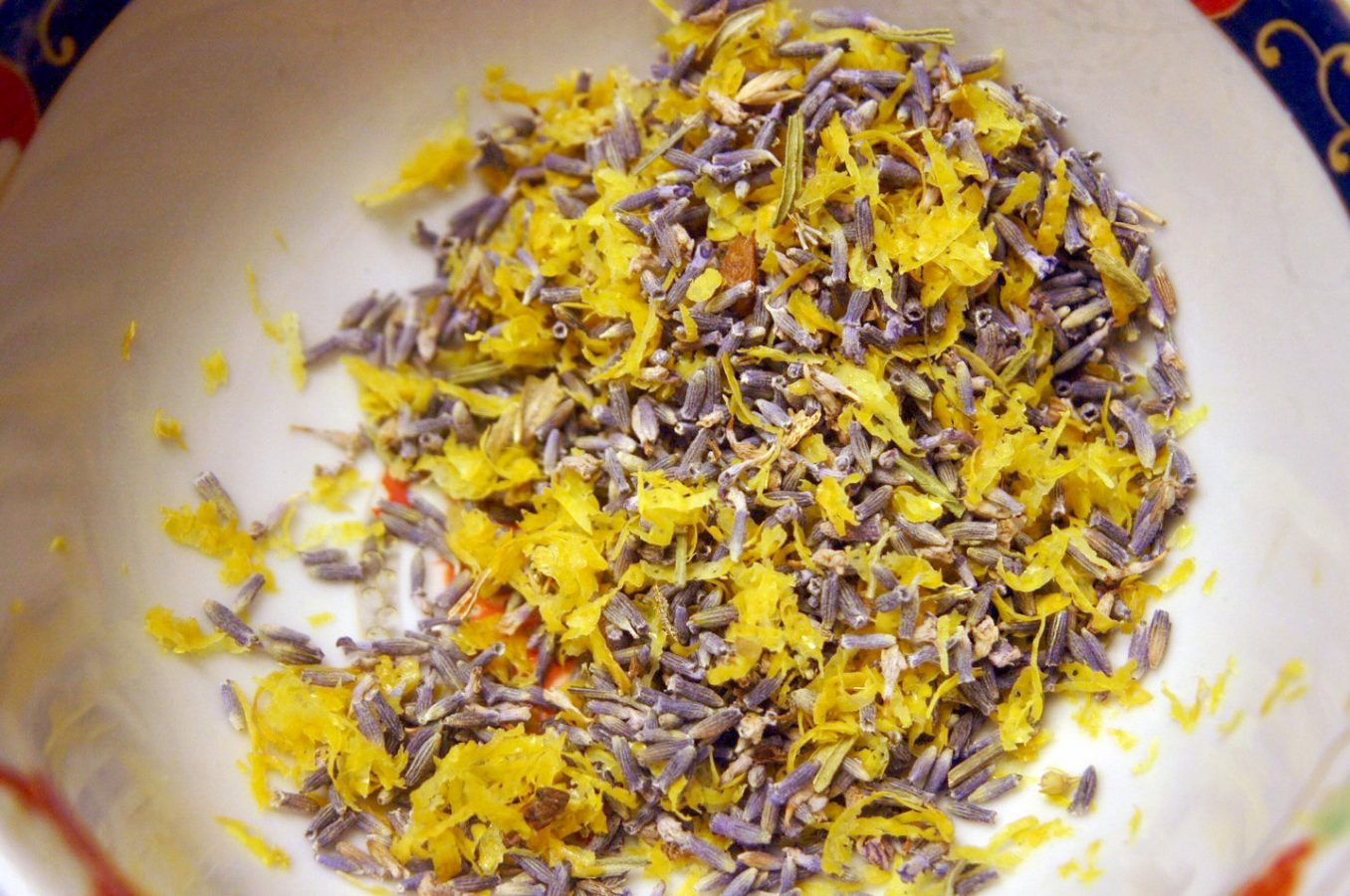 Lemon Lavender Avocado Loaf
Ingredients  
2 2/3

cups

all-purpose flour

1

tsp

baking powder

1 1/2

tsps

baking soda

3/4

tsp

salt

1/2

cup

butter

softened

1 3/4

cups

white sugar

3

eggs

1 1/2

cups

mashed avocado

2

Tbsps

lemon juice

3/4

cup

milk

2

Tbsps

dried lavender

1

Tbsp

grated lemon zest
Instructions 
Preheat an oven to 350 degrees F (175 degrees C). Grease and flour 2 9×5 inch loaf pans.

Mix flour, baking soda, baking powder, and salt in a bowl. Set aside. Beat the butter and sugar with an electric mixer in a large bowl until light and fluffy. The mixture should be noticeably lighter in color. Add the room-temperature eggs one at a time, allowing each egg to blend into the butter mixture before adding the next. Beat in the avocado and lemon juice with the last egg. Pour in the flour mixture alternately with the milk, mixing until just incorporated. Fold in the lavender and lemon zest; mixing just enough to evenly combine. Pour the batter into prepared pans.

Bake in the preheated oven until a toothpick inserted into the center comes out clean, about 1 hour (about 25 minutes for cupcakes). Cool in the pans for 10 minutes before removing to cool completely on a wire rack.
Such a gorgeous shot of the batter with the lavender and lemon peel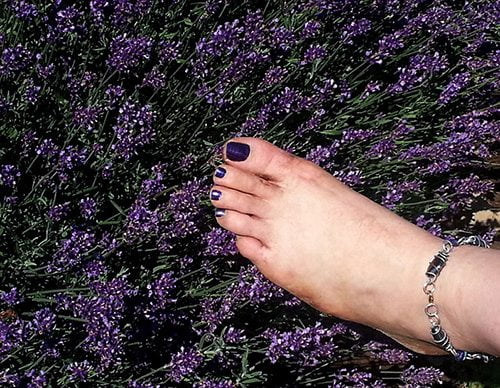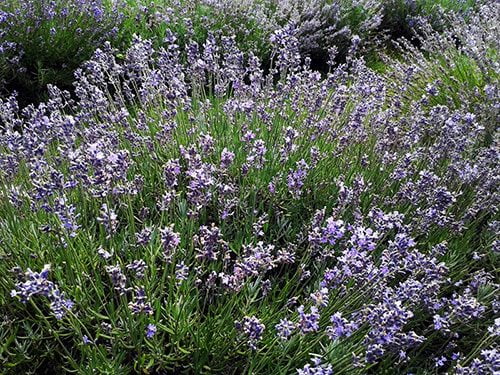 Total coincidence I was wearing purple nail polish, I swear.