Another long overdue post delayed by my hosting fiasco…
I had the pleasure a couple of week back to meet a fellow food blogger who had mentioned she would be in Montreal for a conference.  After a few very pleasant comments and email exchanges Mardi of Eat, Live, Travel, Write let this little information slip. Right away I wrote her an email suggesting we meet for drinks.
I was thrilled when  I got a quick yes and right away we planned the best time for us to meet: Friday evening at 6pm in the Lobby of her hotel. Great…now where do I take her. I really felt a bit of pressure wanting to pick something ultra in and trendy, the IT place. I wanted to make Montreal proud in the eyes of this Toronto foodie. After a process of elimination I settled on L'Appartement. I had yet to go as well so it was perfect.
Let me tell you…there was not a dull moment. As I had expected we hit it off and chatted away like ols school mates. I really enjoyed our outing and hope to meet up with her soon again. And I had picked a good spot. Normally this is a very expensive place but since we were only getting a drink, perhaps a snack, I was not worried about the bill.
We each got an exotic martini: hers was Basil-Blueberry (notice the real wood covered menu presentation…NICE).
Mine was Green Tea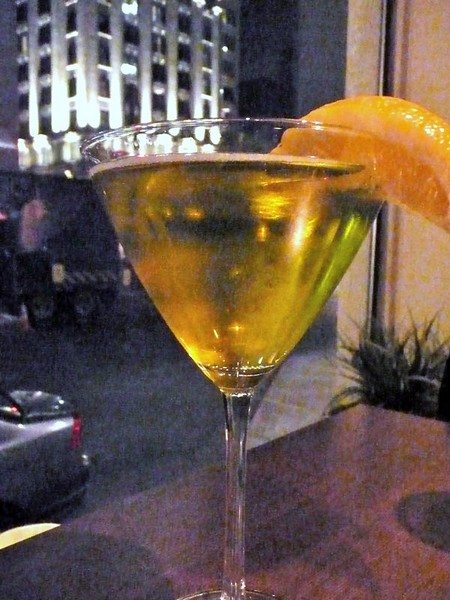 And f course even if we were a bit pressed for time (Mardi's husband was arriving soon by plane) we still ordered an appetizer each. Mardi had crevettes tempura, sauce teriyaki au sésame grillé. She seemed quite impressed and found it delicious.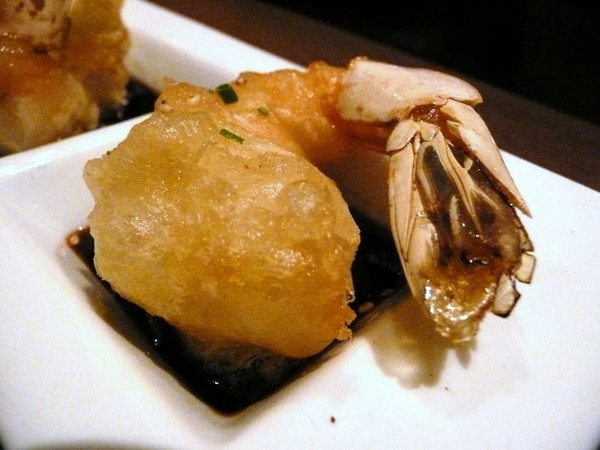 I had the Tartare de bison façon classique avec croûtons and the side dish Sauté de champignons sauvages avec basilic frais. Oh just yumm! It was very very good. Lips smacking!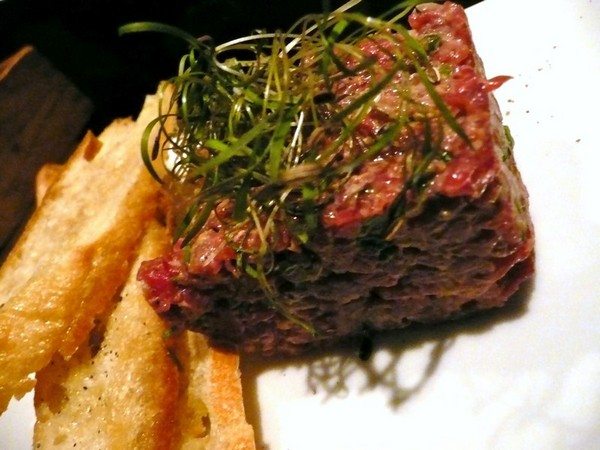 We were very early there by Montreal standards so the place was quiet enough. We got a lovely table right on the edge of a larg window. Byt the time we left the place was starting to fill up nicely.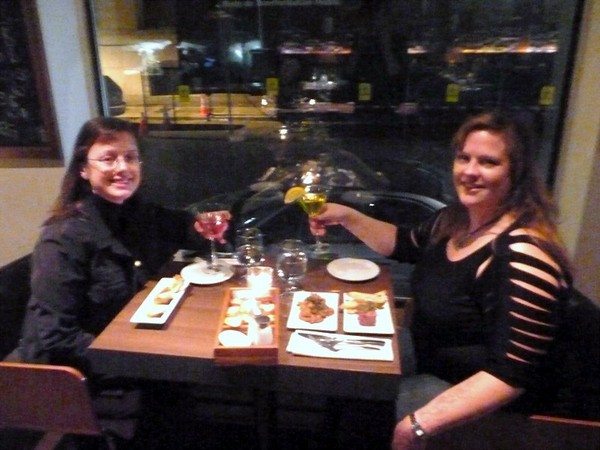 I was amused by the expected stress Mardi would have over the bill. I do not know why the rst of the world does not follow but in Quebec asking for a separate bill is totally normal. And if its on one bill it is also completely normal to give two cards and tell the staff to split it. Its always funny to see someone from eslewhere marvel at this. of course its extremely frustrating for us when we travel and a restaurant will not do the same.
We walked back to her hotel and parted ways after a wonderful couple of hours, a new in person friendship in tow and a  satiated palate. To our next dinner!