One of my foodie partner friends and I went on a secret mission. Much time was spent investigating and analyzing the content of the secret document found on the following blog post of Le Monde de CathIN.
This was a matter of culinary security. Discretion was essential. Lives depended on it. Fake identities were created. The mission:
Test out the Wednesday Night's Free Food
with the purchase of a Bond themed martini at the Bond Lounge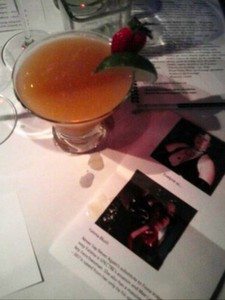 My secret identity was Fatima Blush of Never Say Never Again. Sexy Fatima is SPECTRE's assassin and Max Largo's key hench woman. She also has a massive ego complex — 007 is saved from her only by his special pen. Here is the identity profile along with a Dr William martini.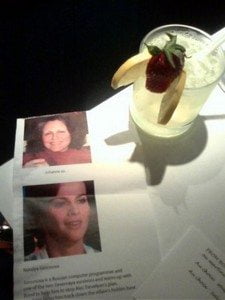 Johanne's secret identity was Natalya Simonova of Bond Girls are Forever. Simonova is a Russian computer programmer and one of the two Severnaya survivors and teams up with Bond to help him to stop Alec Trevelyan's plan. She later helps him track down the villain's hidden base. Here is the identity profile along with a Q martini.
The location of the mission: the Bond Lounge and Grill on the corner Fairmount and St-Urbain.
I adored the decor. It was totally kitched-out to the max. It felt like a bar James Bond would hang out in with a modern retro twist. Very swanky place, nice bar you can sit at, low lighting, cement ?? decorative blocks, wood floors, mirrors, a shiny gold mannequin bust, the huge flat screen over the bar with a continuous loop of Bond movies playing and (my fave) the huge bright orange crushed velvet sectional couch WITH matching coffee table.
The service was excellent. Remember your dinner is free but you should tip as if you had paid for a meal. I did expect an unexcited service staff lacking motivation (for some reason) expecting bad tips for the evening  but everyone who served us was genuinely happy and sincere at it too. Great fun service with a big smile. Loved that.
The martinis were thumbs up all the way. And no watering down of the booze. Great selection with funny James Bond names like Octopussy, Golden Eye, Pussy Galore and Russia with Love.
Finally, the food. I know my partner does not feel as strongly as I do (she thinks I am being to harsh)…but this is where things went downhill faster than the alpine ski chase Bond pursues in the Spy who Loved Me. The choice of appetizers was a chicken and rice soup or a salad. My friend had the salad and it looked simple but good. I opted for the soup…a canned soup. I am sure it was St-Hubert canned soup. Not impressed. Main meals choices included a chicken salad, Fettucini Carbonara or a hamburger. We both chose the pasta. I have no complaints about the taste…but it was pasta, a tiny bit of bacon, olive oil and probably Kraft Parmesan. It could have had a bit (a lot) more substance. That was the free meal.
I ordered and paid for a dessert. There are 2 desserts on the menu. I picked the first: a crême brulée. The waitress came back saying this dessert was not ready yet (at 8pm?????) and if I was willing to order the other one: a chocolate mousse. I was a little disappointed but I like mousse too so I said yes. It was horrible! I swear I think it was powdered hot chocolate mix, runny beaten egg whites and cool whip….served with 2 social tea cookies and strawberries. The presentation was kitch and at first I thought maybe it was part of the theme, but once I tasted it I realized it was lack of effort.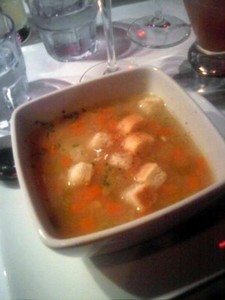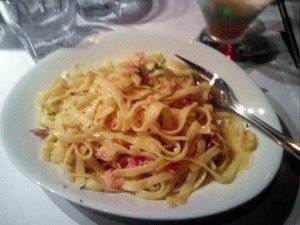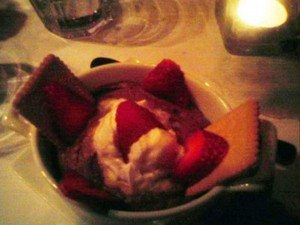 Now as my partner said beggars can't be choosers…in the sense that it was free. I agree but still…come on….canned stuff…a plate that costs pennies to make. And I did pay for the dessert. The everyday menu is simple but hopefully better.Come on Bond Lounge make an effort. If this is how you plan on getting the ladies back…you are doing a really bad job. Don't try to break even with 1$ dishin ingredients! See us as an investment, spend a little!
Would I go back? For drinks to hang out! In a NYC minute. To eat? No freaking way!!!!!
————————————-
Now let me point out this is not the case for all restaurants that offer Free Food for Ladies nights. Years ago we were 8 girls out for a free meal with the purchase of 2 drinks in Laval at Foxy's. Nothing gourmet but we had like 6 dished to choose from that was substantial food. We had so much fun that night.
From CathIn's post here is a list of other Montreal restaurants that offer similar concept evenings. Remember to check with the restaurant to see if the offers still apply, what are the requirements (reservation, purchase of drinks, number of guests, etc) and make a reservation! Also not all  place offer the same deal…READ THE FINE PRINT…at minimum you usually have to buy a drink or two.
Cafeteria (St-Laurent/Prince-Arthur) on Monday nights. offers change often here apparently.
ORA (St-Jacques/McGill College) on Tuesday nights
L'Assomoir (Bernard/St-Urbain) on the last Wednesday of each month. Food normally is awesome here.
L'Appartement (Wilson/MCGill College) on Wednesday nights too. I heard the waiters push other purcahses here but its a really good place for excellent food.
Bond Lounge and Grill (Fairmount/St-Urbain) on Wednesday nights.
Foxy's (Laval) on Thursday nights is free for 7 girls or more. A % rebate if less.
Restaurant Crésus (L'Acadie) on Friday nights.
Pizzeria Romeo (Mont-Royal/ west of St-Denis) on Sunday nights. Apparently excellent pizzas.