This Jordanian Tomato Soup gives a lovely buttery and slightly sweet taste with the exotic touch of cinnamon. Serve with rice or bread as the Jordanians prefer.
It's time for the MENA Cooking Group (Middle Eastern & North African). This monthly group has for goal to help us discover the culture and cuisine of the countries found in these parts of the world. The host of the month will choose a savory and a sweet dish from the country and the members pick one dish to make. This month we are exploring Jordan and I chose the Jordanian Tomato Soup.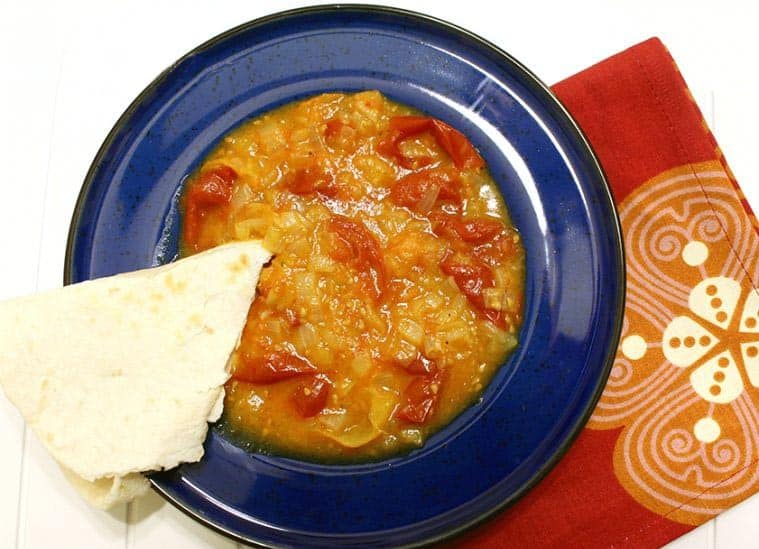 And I am happy to announce that I am the host of the MENA cooking group this month. Double-hosting duties with 2 different groups, a happy busy month.
About Jordan
Located in the Middle East, it has a small shore of only 28km on the Red Sea. Otherwise, it is bordered by Israel and the West Bank (Palestinian Territories), Syria, Iraq and by Saudi Arabia. Its capital city is Amman. There is evidence of human activity going back about 90,000 years and it has seen growing pains like many countries in the Middle East but the future looks bright.
Jordan acceded to the World Trade Organization in January 2000 and signed free trade agreements with the United States in 2000, and with the European Free Trade Association in 2001. There is no hostility between Muslims and Christians, and Jordan is one of the most modern and liberal nations in the region.
The biggest attraction in the whole country is the Archaeological Ruins at Petra, an ancient city carved out of sandstone. It is one of the new 7 Wonders. The cities of Amman, Jerash, Madaba, and Aqaba are full of fascinating tourist spots like churches, archaeological museums, Roman ruins and so much more.
One should also visit the Dead Sea to experience floating; the Sharhabil Bin Hassneh EcoPark; and the Bedouin Meditation Camp in the Wadi Rum World Heritage Area.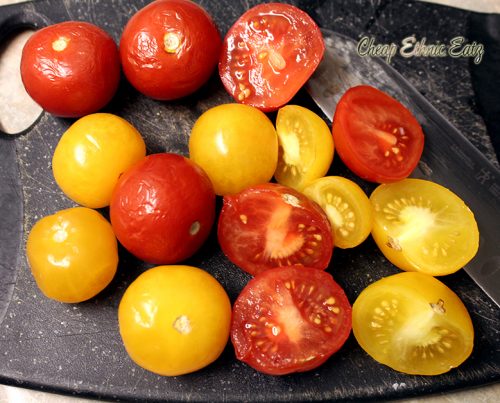 Meals are a time of celebration. Food is a very important aspect of Jordanian culture and meals are often a community event. In other words, food is used by Jordanians to express their hospitality and generosity.
Jordanian cuisine
There is a wide variety of cooking techniques used in Jordanian cuisine, ranging from baking, roasting, grilling, stuffing of vegetables (grape leaves, eggplants, zucchinis) with meat, and preparing special sauces.
Olive oil, herbs, garlic, spices, onion, tomato sauce, and lemon are typical flavors found in Jordan. Dishes can vary from extremely spicy to mild.
The most common and popular appetizers (or mezze) are hummus and Ful Medames (fava beans dish).  Other mezze are koubba maqliya, labaneh, baba ghanoush, and tabbouleh. Mansaf, the national dish of Jordan, is made of lamb cooked in a sauce of fermented dried yogurt and served with rice or bulgur.
Along with fresh fruit, dessert include baklava, hareeseh, knafeh, halva, and qatayef (wiki).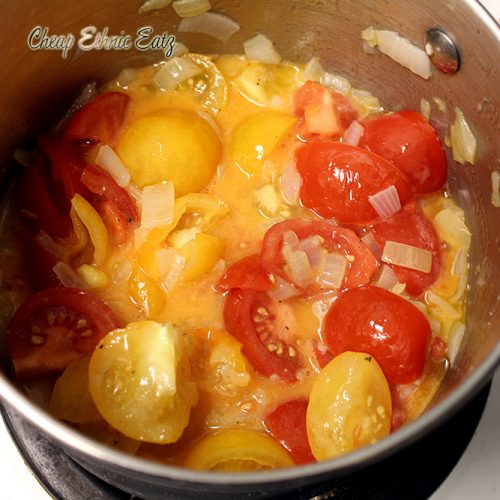 Jordanian Tomato Soup
This being a very cold month in my part of the world, I thought soup was in order. I adapted the Jordanian tomato rice soup I chose as part of the recipes one could pick from for this challenge.
I had leftover cocktail tomatoes from the holidays so I used these instead of normal tomatoes. It was a lovely color contrast of yellow and red. I omitted the rice. I also cut the water in half and reduced the liquid quite a bit to get a thicker mixture.
Technically this recipe is a soup but it closely resembles another Jordanian main dish (or dip) called Galayet Bandora which is made of tomatoes sauteed and stewed with garlic, olive oil, salt, and topped with pine nuts.
Same as with my soup, it can be served with rice but most Jordanians prefer it with bread. The result was a lovely buttery and slightly sweet soup with the exotic touch of the cinnamon.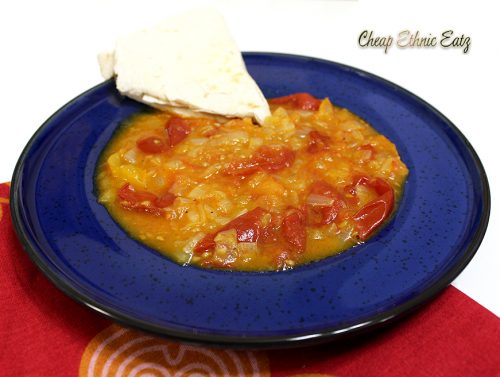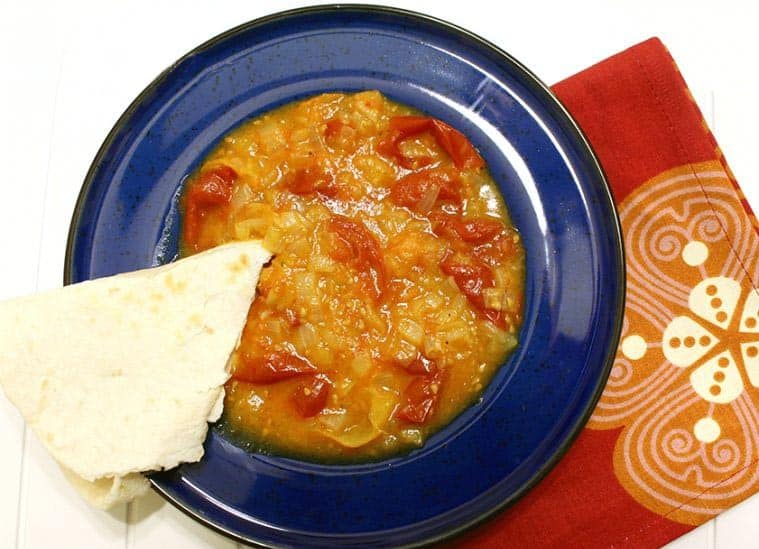 Jordanian Tomato Soup
This Jordanian Tomato Soup gives a lovely buttery and slightly sweet taste with the exotic touch of cinnamon. Serve with rice or bread as the Jordanians prefer.
Ingredients  
1/4

cup

butter

1

onion

chopped

2 to

matoes

chopped (or 10 cocktail tomatoes)

1

teaspoon

tomato paste

1

cinnamon stick

pinch

of black pepper

1

teaspoon

salt

4

cups

water
Instructions 
Melt the butter and fry in it the onions over medium heat until tender in a medium saucepan.

Add tomatoes, paste, black pepper, cinnamon stick, salt and water. Bring to a boil, reduce heat and simmer for 60 minutes. Add water if necessary.

Serve with a flat bread or rice.