For some reason my title makes me think of Butch Cassidy and the Sundance Kid (rolls off the tongue the same way). But this post is not related and and I will be jumping from one topic to another. You are warned, just go with the flow hi hi.
I am so happy to share my second post and participation with a new monthly group I have discovered called Food 'n Flix. Once a month a 'host' picks a movie of their choice that pertains to food. Everyone watches the movie and then makes a recipe which the film inspired. It can be any recipe. This month's pick is hosted by Camilla at Culinary Adventures with Camilla. She picked a documentary style movie called Jiro Dreams of Sushi.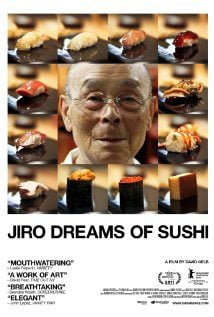 Oddly enough I have had this DVD sitting on my coffee table for months. Someone I know who hosts a yearly big movie festival gave it to me as it does not really go with the fantasia and sci-fi theme of the event. I don't know why it took so long for me to watch it. Maybe it was fate with this month's pick.
The movie focuses on Jiro Ono, an 85-year-old sushi master who owns a three-star Michelin restaurant. If you love sushi and have a fascination for it than you will really enjoy the movie. I found it a bit long at times. I was however flabbergasted by Jiro's views and his perseverance to achieve perfection after so many decades of doing the same thing. Perhaps he is the epitome of the successful and devoted Japanese entrepreneur. On that level I just could not relate to him, although I wish I had a bit more of him in me so I would actually see some projects to completion in my life lol. I learned a lot about making the best sushi and I would love to try Jiro's sushi one day in my life. I love the thought of a chef that makes critics nervous when they eat his food. Normally it is the other way around.
So, funny coincidence along the lines of Japanese food, I was recently invited with a few bloggers to a Teppanyaki restaurant and we were all offered a bottle of their Japanese vinaigrette they plan on marketing. I am all for supporting local ethnic food. The restaurant Shogun is located on the South Shore of Montreal, a more suburban area across the bridge. Since I rarely have gone there in my life I had never know of the existence of this 30 year old restaurant.
This restaurant specializes in Teppanyaki, a style of Japanese cuisine where the food is grilled, broiled or pan-fried on a flat surface grill, usually with the chef in front of the guests at restaurants.  This concept takes me way back to my childhood. We regularly went to such a place and I asked for it on my birthday a lot. At Shogun you will also find a sushi counter. Our chef was certainly the most entertaining: a younger chef who went by the name of Magic Mike. If you have seen the movie you can imagine the evening was filled with salacious jokes…definitely aimed at a younger crowd but we were i the mood for it.
The food is good and great for a family outing (with an older chef) or a fun birthday party. It is not perhaps ideal for a difficult foodie with high expectations. You have to go with the idea of fun and fraternization. We had a blast and enjoyed grilled meats, shrimps, scallops, lobster and chicken with vegetables and rice all prepared in front of us. The sake was being poured freely for us too!
Shogun
6155 blvd Taschereau
Brossard,Quebec
J4Z 1A6
And of course the meal was started off with a salad served with their homemade Japanese vinaigrette. It is a traditional vinaigrette found in almost all Japanese restaurants but I do have to say this one was particularly good. I like the ever so slighly coarser texture (onions and carrots?), as well the combo of tangy sweet flavors. With my new bottle in hand I decided to forgo making sushi for the Food 'n Flix post and chose instead a simple salad with watermelon and Japanese vinaigrette with an unusual twist served with this dressing.
I simply placed a bed of shredded lettuce on a plate and topped it decoratively with some sliced cucumber, red onions and shallots. My little twist is a bit of cubed seasonal watermelon. The sweetness goes really well the the vinaigrette. Pour it liberally on top of your salad and enjoy!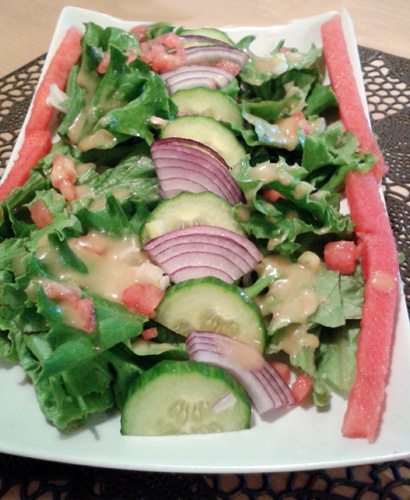 I am a rebel I know. In the film Jiro strongly insist on serving sushi and only sushi in his restaurant. Come to my place first for a salad if you want a starter hi hi. If you go to Shogun one day make sure to pick up a bottle of their vinaigrette and perhaps you will find it in stores soon in the greater Montreal region.