One of the privileges of having a blog with a certain following is getting products to try out and review. In my case I try my best to stay on the ethnic theme. And in this case it could not have been a better product to review on Cheap Ethnic Eatz. We will look at an affordable ethnic soda. Yes! Sodas from Mexico called Jarritos.
I was very excited and intrigued. I am not a huge soda drinker but I have a little story about an ethnic soda that marked a trip to Peru. Peruvians are obsess with Inca Kola. It is all over the place there and I liked the taste which I would say is a cross between cream soda and bubble gum. I digress, let's get back to the Jarritos family of flavors.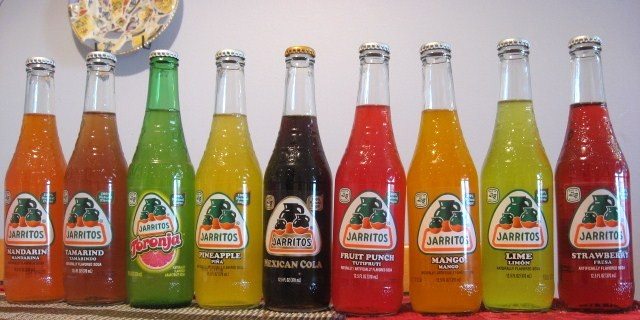 Jarritos reflects traditional Mexican flavors in 12 delicious varieties. I received Tamarind, Mandarin, Fruit Punch, Lime, Toronja, Pineapple, Strawberry, Mango and Mexican Cola. I did not get the Jamaica, Guava and Mineragua, a mineral carbonated water.
Before I get to my flavor reviews I wanted to tell you a bit more about the company. Jarritos or "Little Jars", was started by Don Francisco "El Güero" Hill in 1950. The Jarritos brand is currently owned by Novamex, a large independent-bottling conglomerate based in Guadalajara. In 10 years, Jarritos became available in 80 percent of Mexico. In 1989, the first importation of Jarritos to retail stores in the U.S. began. And will ever make it to Canada? Hopefully one day.
How pretty are those bottles all lined up? I love the the variety of flashy colors. You can practically guess which flavor it will be by the color. Now soda has a bad rap but this line is better then most health wise. For one only 100% natural cane sugar is used, they are made with natural fruit flavors and are more carbonated then the traditional soft drinks sold in the U.S.. Finally they are sold in cool glass bottles in individual portions of 12.5 oz which give a retro look I like. Let's look at the flavors I got to try…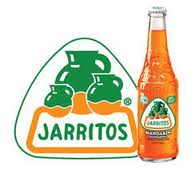 Overall I found all the sodas extra sweet but apparently that is typical of Latin countries. It is not unpleasantly sweet, just quite more then you would expect. I found the level of carbonation varied greatly to from one bottle to the next.
Toronja: this flavor is grapefruit and the carbonation in it was intense. Every sip was frothing in my mouth. The flavor was delicate and sweet without the tartness of the fruit. My 2nd favorite.
Fruit Punch: the carbonation was normal and lovely. I really could taste a fruit punch flavor with a balanced sweetness.
Mexican Coke: this cola is unlike what we are familiar with but I like it better. There is a lemony flavor too with the cola.
Mandarin: this would be comparable to a fancier orange crush but better. It did stain my glass until washing???
Lime: just simply nice and refreshing.
Pineapple: I got the pineapple flavor right away but my friend only tasted it after 3 good sips. We used the balance in a sangria
Strawberry: why is it so hard to make strawberry anything. I found this one to have the most artificial flavor, sad.
Tamarind: No.1, my favorite thus far, I really get the tamarind flavor and it is very unique for me. So nice.
Mango: this one was pretty good as well, 3rd favorite, and the flavor was close to the natural real fruit
Just to clear things up. Now lots of people think we get paid or bribed…..trust me companies want honest reviews, they want them fair and objective. All we bloggers get is a sample. And I would like to thank RocketXL for this review opportunity.