Ah the first International Incident party of the year 2011! And this month we are scrutinizing hot dogs! The all-American food, the ball park staple, the wiener of fast food. Alas I am not a major league fan. If I had to chose between a hamburger and a hot dog, hamburger wins. Also after a less then healthy holiday diet hot dogs was not an inspiration for me, sorry.
But I have learned that lack of inspiration can mean you take an idea and run with it in the complete opposite direction with great success. And that is just what I have done here: a fondant hot dog.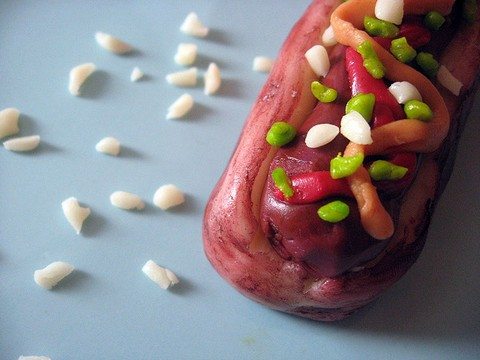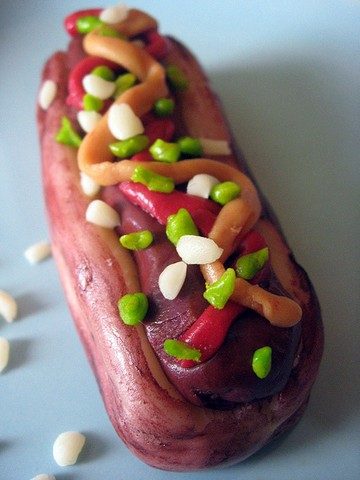 Yes ladies and gents my submission for this month is not a savory version but a sugary tooth-ache-inducing hot dog. I had tones of fun shaping this little wiener in a bun…and with all the fixings. best advice I can give you when playing with fondant is let your imagination run with it.
The tough part was picking a hassle free fondant recipe. And I found a great uncooked fondant recipe here.
Uncooked Fondant Recipe
Ingredients:
1/3 cup softened butter
1/3 cup light corn syrup
1 tsp vanilla extract
1/2 tsp salt
1 lb sifted powdered sugar
1. In a large mixing bowl, blend the butter, corn syrup, vanilla and salt on medium speed until smooth and well-combined.
2. Add the powdered sugar all at once, and mix on slow speed, gradually increasing speed to medium until well-combined. The mixture should cling together in the bottom of the bowl and be smooth to the touch.
Then play with food coloring!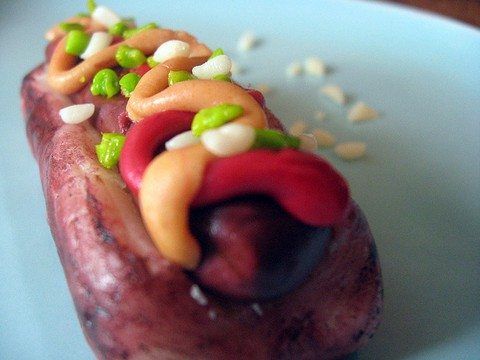 Thanks Jeroxie for another great IIP