So I had my first brush with a real live famous Chef, but more on that later. This past Wednesday I went to the Guilde Culinaire for a very special event: a exclusive party were guests tested, tasted and cooked with In Foods newest line of healthier, ready in two minutes mashed products, In Cuisin. And in case we hadn't yet, try some samples of their In Snax pita crisps too!
Yes this event was just prior to my last CEE dinner with Meetup so I was not able to stay till the very end. And I actually missed the best part of the night but oh well, next time. At least I got to sample some foods and played spectator for one recipe preparation.
The food stars of the evening were the pita crisps and the new already prepared mashed potatoes that only require a quick warm up. They are made with 100% real potatoes seasoned naturally with the very best natural ingredients: cream, butter and fresh herbs with absolutely no compromise to the taste or quality of side dishes. Can you believe I had to leave before trying the mashed potatoes? But I have read many blogs and comments from my fellow Montreal foodie friends and bloggers…they all had good things to say.
I did however get to try many little bouchés…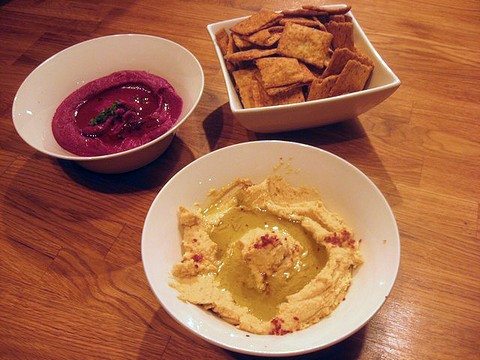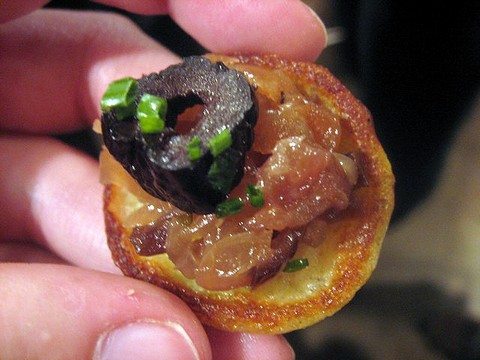 A chef of the Guilde Culinaire was assisted by two of the guests in the preparation of a homemade mayonnaise. The mayonnaise was added to some smoke salmon and then served on some pita crisps. Yummy!
Now the tastiest thing of the evening though was the star chef Chuck Hughes who gave a cooking demo of the mashed potatoes. Although I did get to meet him and chat a bit I had to leave before he cooked. Apparently he did perfectly cooked scallops on a bed of mashed potatoes and a great dessert too. Grrr.
Ladies, this chef is hot and yummy all on his own: a sweet personable guy in a bad boy tattooed hot body lol. Many of his tattoos are food related. Wanna see him? Perhaps you can catch him at his acclaimed restaurant in Montreal, Garde-Manger, or on his show on the Canadian Food Network.
Even if I left early I was able to snag a sample package bag. In it were several flavors of the pita crisps, a t-shirt and bag clips. I did like the pita crisps, especially the multi-grains with garden herbs. They may be a bit on the dry side though on their own. I cannot comment on the potatoes but would love to try them.