Nostalgia! Talk about a theme that made me panic at first for this month International Incident party brought to us by the FAB  Jeroxie. This is what I love about this challenge, you have to rack your brains before hitting the kitchen.
I remember reading it, panicking and purposefully forgetting about it for a while. Food that makes me nostalgic! You would think it could be easy but I got a blank page in my memory file.  The day came where I had to face my demons and pick a dish. So I thought what marked me food wise. I figured I would go with the very first thing that came to mind. And then it hit me like a bolt of lightning. I knew what I had to make. Cracker Jack Caramel Popcorn!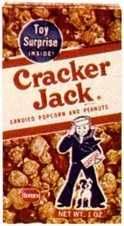 No it is not a recipe from my mother that came to me or a first special exotic meal, it was Cracker Jack. Why? It reminds me of a person I wish I had gotten to know much better in my life: my maternal grandfather. His name was Charlie and I did get to know him a bit but he passed away when I was about 7 or 8 years old. I remember him as a good nature happy but pretty quiet person. I can't remember what he had but by the time I was born he was somewhat sick, and then he had a stroke. He spent if my memory is correct about 18months in the hospital paralized on the right side and unable to speak before passing away. So my memories of him are limited.
But once he did pass and I was older I always reveled in the stories my mother and grandmother would tell me about him. He was, before being sick the first time, a real 'bon vivant' as we say in French, someone who really enjoyed life, laughed, smiled…and he was a MAJOR trickster. You would not believe some of the stories I heard. Still in the brief time I had him in my life I have developed 2 very precise memories of him and both are from what is now my parent's cottage.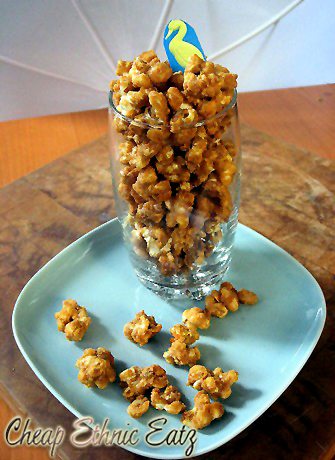 My first memory is swimming. I love water and I cannot get enough of swimming. He had a habit of taking a quick dip in the lake every morning upon waking up before doing anything else in the summer. Of course I usually went swimming with him. The second memory is the food related one. Back then we had a small convenience store maybe 5-10 min by foot and when ever he had to go buy something, usually his newspaper, he would take me and he always bought me a candy. I almost always picked a box of Cracker Jack. Every time I see Cracker Jack I think of my grandfather. So this is my little piece of nostalgia I wanted to share with you. And here is  my version of this nostalgic treat…..a prize included as well!
Cracker Jack Popcorn
Ingredients:
1 bag microwave popcorn
3/4 cup packed brown sugar
1/4 cup butter
1/2 cup corn syrup
1/2 teaspoon vanilla
1/2 teaspoon baking soda
1 cup peanuts
Directions:
1. Prepare popcorn as per package instructions in microwave. You should get about 4 cups of popcorn. Put popcorn on a baking sheet and add peanuts on top.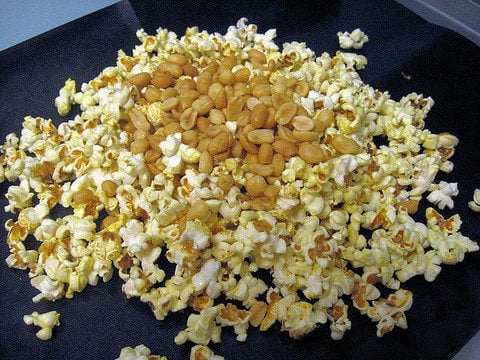 2. In heavy saucepan mix sugar, butter and corn syrup. Stir over medium heat until boiling and continue boiling for 5 minutes at medium heat without stirring. Remove from heat and add vanilla and baking soda.
3. Pour over popcorn and peanuts and stir to coat quickly.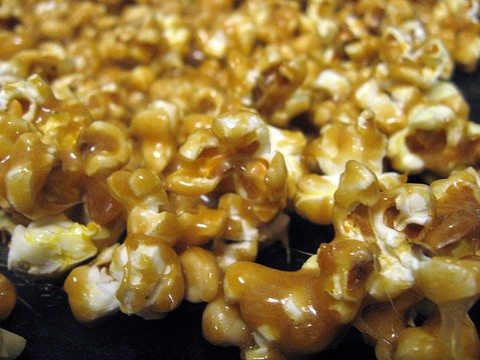 4. Bake in preheated 250F oven for 1 hour stirring several times. Cool, break apart and store in a tightly covered container. Makes 5 cups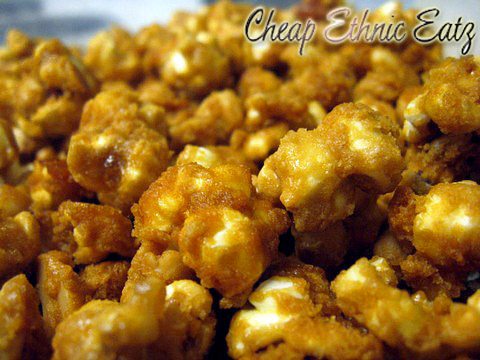 A truly dangerous recipe to have lying around the house. I would only make it again for like a part where I know there would be no left overs because now I have to snack on some everytime I pass near the kitchen…not good for the waist line!