Does a sweet and spicy beverage tickle your fancy? Try out this very traditional Jamaican Ginger Beer, an incredibly refreshing tropical drink.
Have you ever tried a can of ginger beer before? All spicy and bubbly? Well, that is actually nothing like the real traditional Jamaican ginger beer recipe one would find in Jamaica. Which just so happens to be this month's country for the Eat the World Challenge.
The real deal is more like juice so there is no alcohol in ginger beer and it is not carbonated. It will keep you refreshed in the summer and leave you all tingly warm inside in the winter. Let's learn how to make ginger beer today.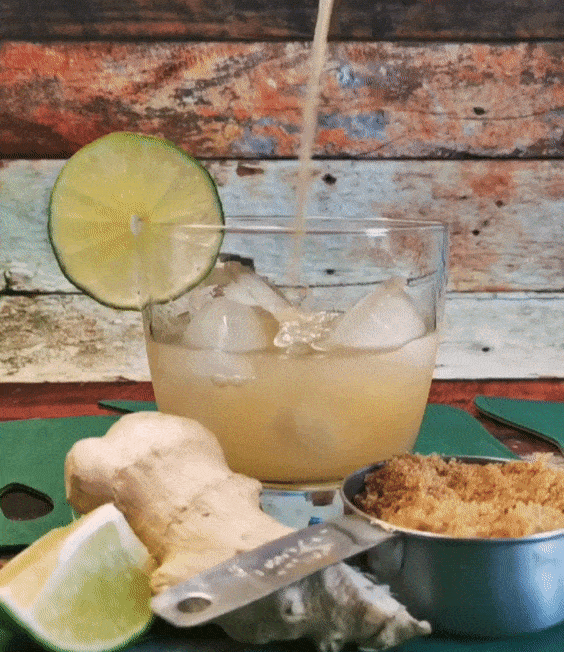 What is Ginger Beer?
Jamaica is famous for making the best ginger beer. Ginger was imported to Jamaica in the early 1700s. And it turns out ginger grows very well on the island's fertile soil. Jamaican ginger is considered to be superior to Asian ginger. The spice ginger is actually not a plant but the rhizome (root system) of a plant.
Homemade ginger beer is so easy to make. Basically, ginger beer is ginger juice. Chunks of ginger are blended with large quantities of water and then strained. Sometimes it is left to 'brew' with few whole cloves in it for a few hours. Once the juice is made, freshly squeezed lime juice is added and a generous amount of brown sugar.
All the ginger beer ingredients are easy to come by and a recipe makes a really big batch. Highly prized as one of the most famous Jamaican recipes, spicy ginger beer truly is one of the most refreshing beverages to enjoy on a hot day.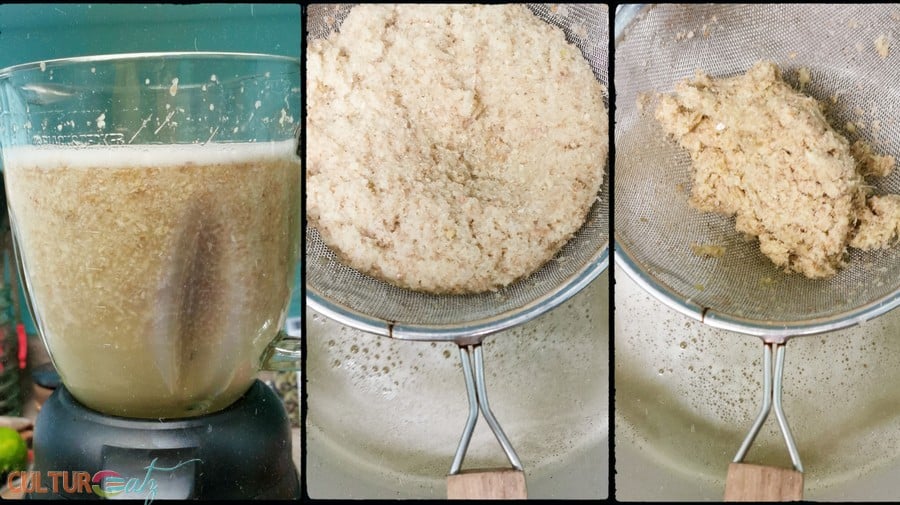 Does Ginger Beer Have Alcohol in It?
When we see the word beer, we automatically assume that alcohol must be involved. So, is ginger beer alcoholic? The answer is a resounding no. There is no alcohol involved when you make this beer. It's like a root beer, same concept. And note that real ginger beer is flat and not bubbly like a soda can.
However, fermented ginger beer is popular as well but there are many extra steps to take. You may optionally add 2 tablespoons of Jamaican rum to your batch of ginger juice. This is really just for a touch of flavor and it will be completely diluted.
So non-alcoholic ginger beer is the norm. But it does mix well with some alcohols to make very popular cocktails. The top drinks with ginger beer include the Moscow Mule and the Dark and Stormy.
Is Ginger Beer Good for You?
Definitely! Where to start when naming the many health benefits of ginger?
ginger is a powerful anti-inflammatory
and has many antioxidants as well
it may have the power to reduce excess free radicals in your body
it relieves nausea and morning sickness in pregnant women
could be good for those suffering from osteoarthritis
if you have a case of bad digestion ginger can soothe your stomach
it may help lower blood sugar, cholesterol, and risks of heart disease
some believe it helps with cancer and Alzheimer's
infections from bacteria and viruses, such as colds and flus, fear ginger. Winter is coming!
For sure some of these statements are not fully studied claims. But if you are not convinced by now that ginger is good for you, I give up.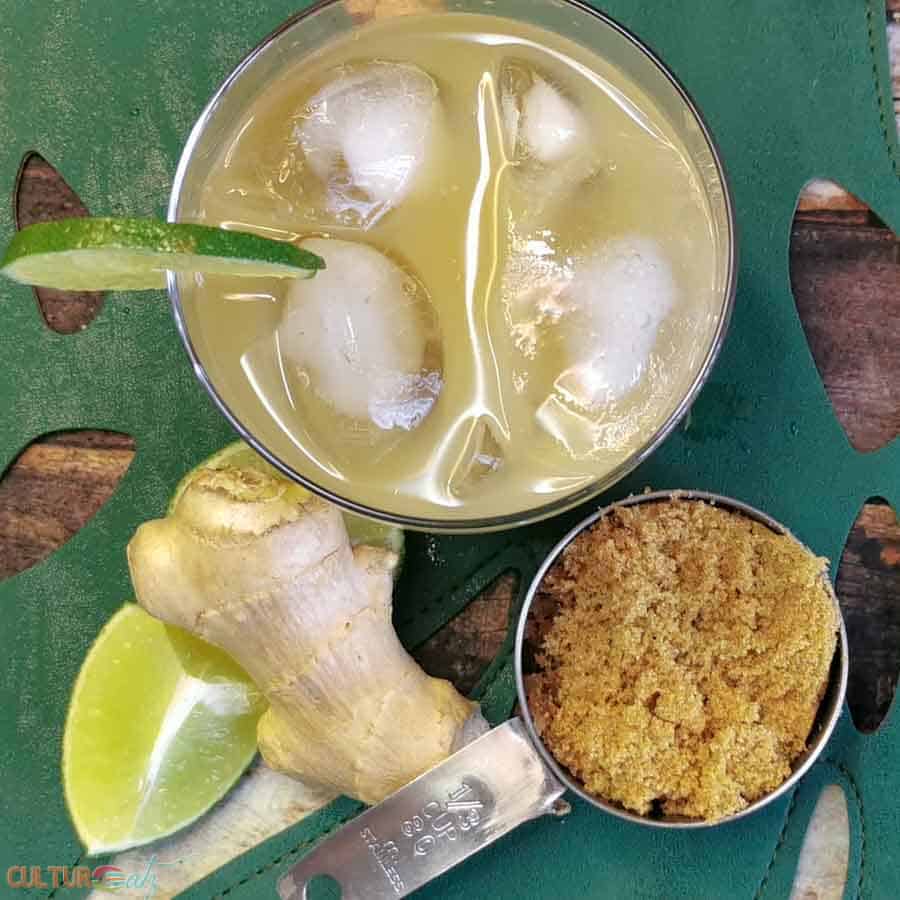 Jamaican Ginger Beer, the recipe
Making ginger beer is so simple and it goes a long way. There are plenty of recipes out there but I wanted to be sure that mine would be authentic. So I turned to YouTube to find real Jamaican women of all ages. I ended up combining a few methods, mostly inspired by Fay DeLeon over on Youtube at Cook Like A Jamaican and Juliana from How to Cook Channel.
This recipe for Jamaican ginger beer yields 10 cups. It is perfectly normal for the juice to be cloudy. And you are expected to serve it in a glass filled with ice, turning your 10 cups into 20 glasses. The melting ice will gently dilute the intense piquant.
Thankfully it keeps well in the fridge for up to two weeks. Just remember that the spiciness will get stronger with time.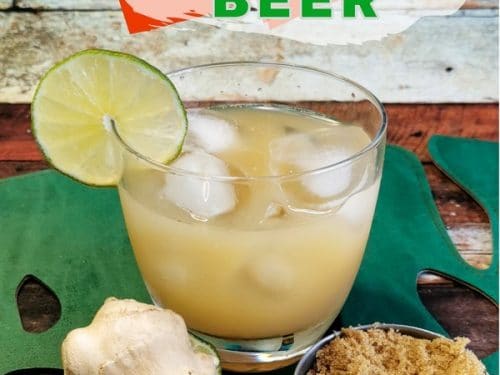 Jamaican Ginger Beer Recipe
Does a sweet and spicy beverage tickle your fancy? Try out this very traditional Jamaican Ginger Beer, an incredibly refreshing tropical drink.
Ingredients  
1

lb

Fresh ginger root

roughly chopped

10

cups

hot water

3-5

whole cloves

1/3

cup

fresh lime juice

1 to 1 1/2

cups

of brown sugar

2

tbsp

Rum

optional
Instructions 
In a large blender add all the ginger and 5 cups of hot water. Blend very well and strain the liquid from the pulp into a large bowl. Squeeze the pulp until you have gotten all the liquid out.

Place the pulp back into the blender and repeat the steps above with the remaining 5 cups of hot water.

Add the cloves and let the liquid steep for at least 4 our to overnight in the fridge.

Line your strainer with cheesecloth and strain again into another bowl. Then add the lime juice, brown sugar (to taste) and the optional rum. Stir until all of the sugar has dissolved.

Serve in a glass that is filled with ice. Keep the rest in large bottles and store in fridge.
PIN IT HERE FOR LATER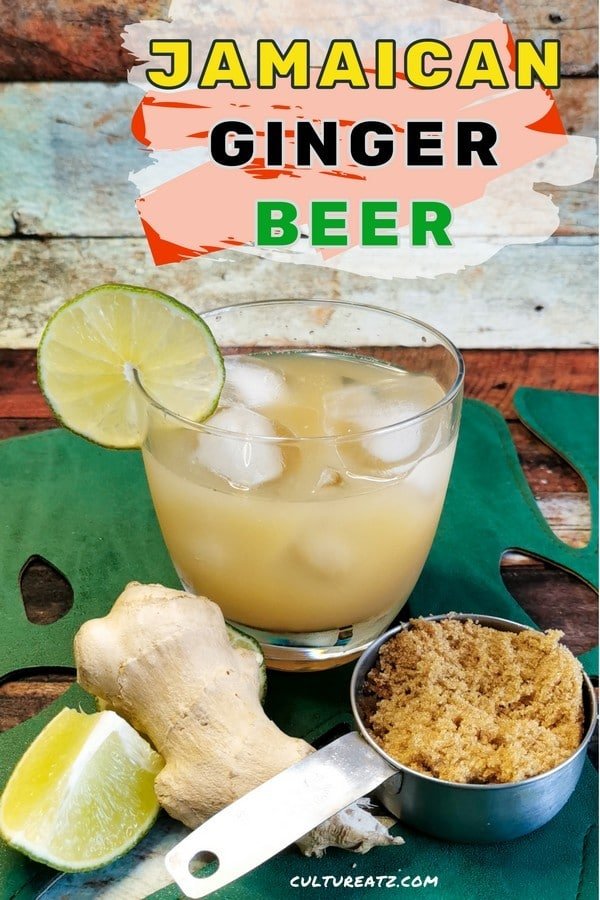 Eat the World Challenge
Check out all the wonderful Jamaican dishes prepared by fellow Eat the World members and share with #eattheworld. Click here to find out how to join and have fun exploring a country a month in the kitchen with us!
Pandemonium Noshery: Pumpkin Rice
Culinary Adventures with Camilla: Jamaican Stew Peas
Amy's Cooking Adventures: Jamaican Chicken & Pumpkin Soup
Palatable Pastime: Jamaican Jerk Chicken Burger
Sneha's Recipe: Jamaican Saucy Jerk Chicken Wings With Homemade Jerk Seasonings
CulturEatz: Jamaican Ginger Beer Recipe
A Day in the Life on the Farm: Banana Fritters
Sugarlovespices: Jamaican Beef Patties