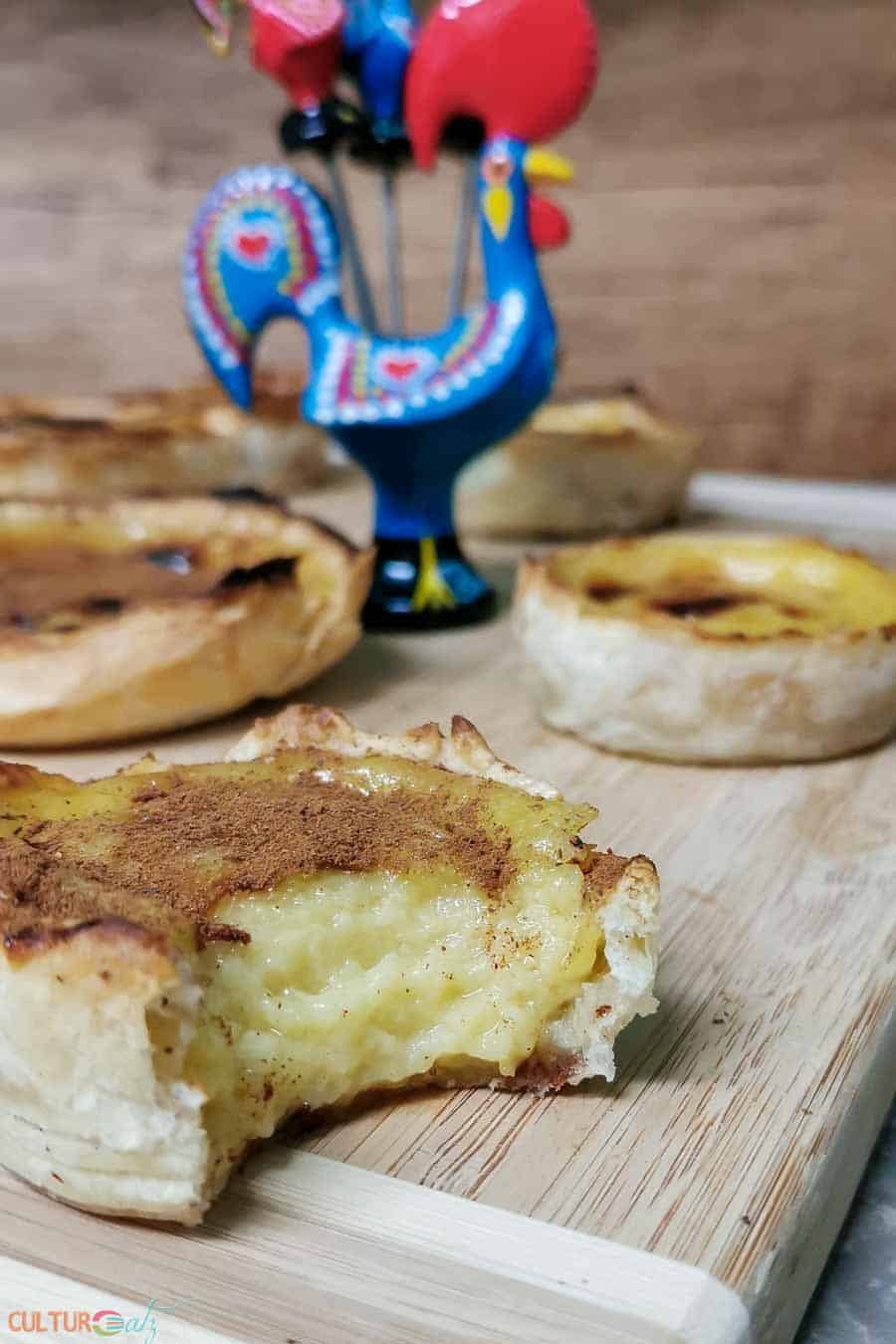 Have you ever wondered how to make custard tarts from Portugal? Turns out that making the heavenly Portuguese egg tart pastry, or Pasteis de Nata, is pretty simple.
I must admit that choosing Portugal for this month's Eat the World Challenge was a totally selfish decision. Why do you ask? Because Lisbon was one of my favorite cities that I visited recently during a month-long trip. Learning how to make custard tarts from Lisbon has been on my bucket list for a long time. But I was afraid. After eating lots, well I won't even tell you how many, of Lisbon custard tarts I knew it was time to give it a try.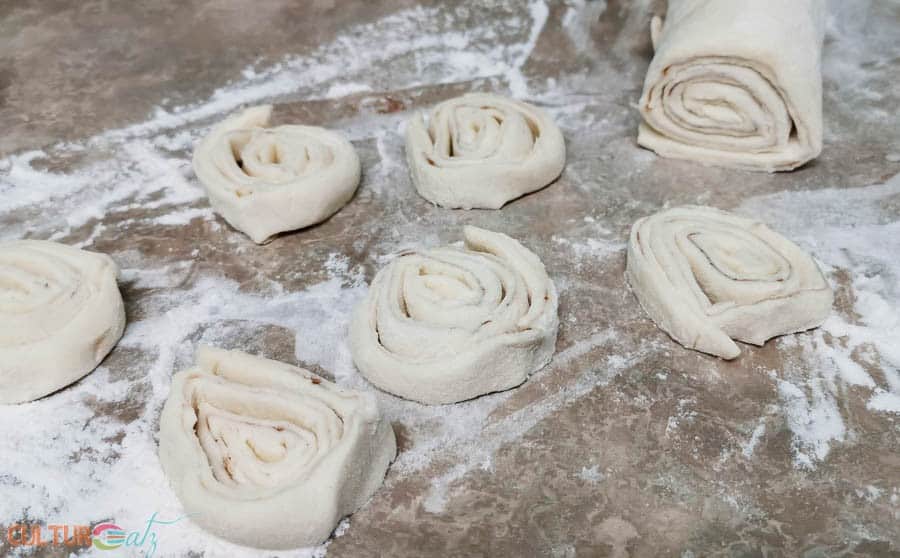 Before we dive further into this post I want to share a minor discovery that has been puzzling me for some time. Online I saw the spelling pastel de nata and pastéis de nata. Pastel sounds more Spanish to me. Turns out the both are Portuguese, pastel is one tart, pastéis is the plural.
History of the Portuguese custard tartlets
The pastéis de nata are an authentic Lisbon creation. The Portuguese egg tart recipe was developed towards the end of the 17th century by Catholic monks at the Mosteiro dos Jerónimos. I did visit the monastery, here is a photo below. At the time, egg whites were used in massive quantities for various tasks, one of them being the starching of clothes of religious habits.
So what to do with all those leftover egg yolks? Religious orders created several Portuguese dessert recipes with them. This is why Portugal is famous for so many rich pastries and cakes. The Mosteiro dos Jerónimos is in the neighborhood of Belém and these monks created this now-famous Portuguese custard tart recipe.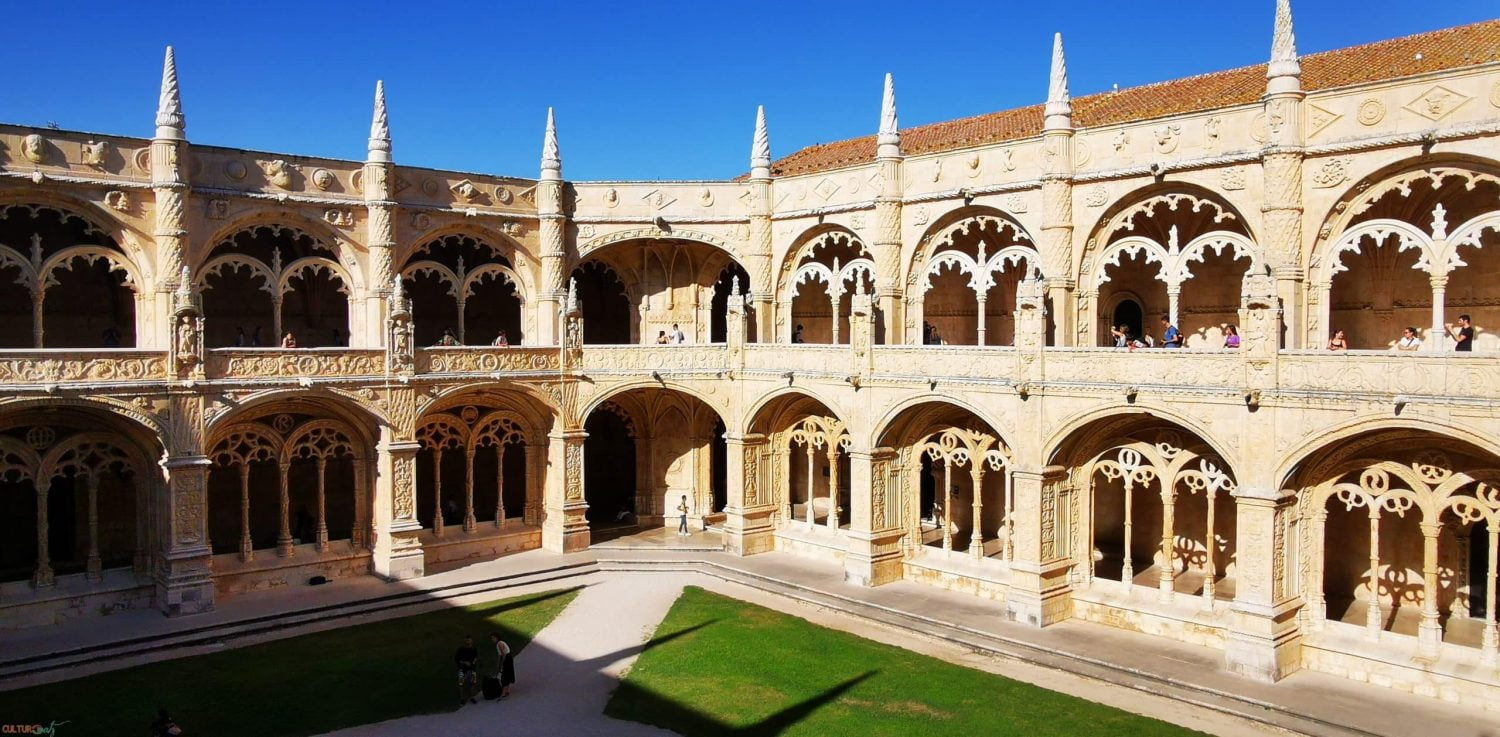 The Liberal Revolution of 1820 caused the closure of many of the convents and monasteries. To survive, the monks began selling pastéis de nata to bring in some money. But when they were forced to close in 1834, they sold the recipe to a sugar refinery. Soon after, the owners opened the Fábrica de Pastéis de Belém in 1837.
The shop is still opened to this day and I did queue to buy a small box of there pasteis de nata in Belém. You must enjoy one sitting in the park across the street. They give you a packet of powdered sugar but I prefer them dusted with cinnamon which is also provided.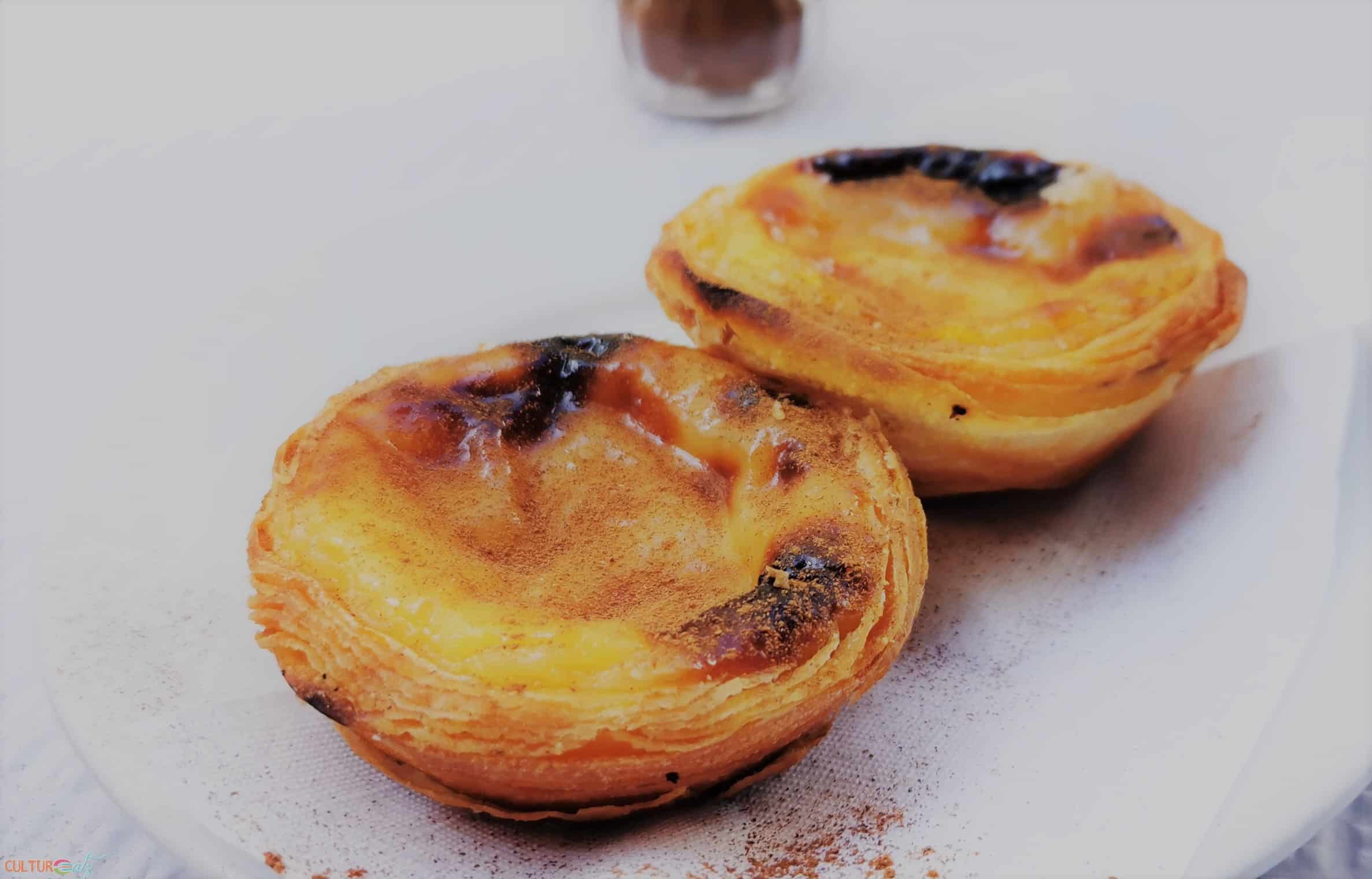 Personal side note: I know I have been very quiet since my return. A lot is going on in my private and business life. I will be posting less often for now but I will be sharing my trip with you soon enough. It was amazing.
Pastel de Nata: everywhere vs Lisbon
There is a Portuguese neighborhood in Montreal so I have enjoyed the occasional pastel de nata from Portugal many times. How would the real deal taste in comparison? Would the pastel de nata in Lisbon blow my mind compared to the Montreal version of Portuguese egg tarts?
The answer is a hundred times YES! That is if you go to the right place. There are plenty of average pasteis de nata to be found in Lisbon. So to save you the trouble and only try the good ones, head to the Fábrica de Pastéis de Belém or the Manteigaria factory. They also have a counter at the Time Out Lisbon food court.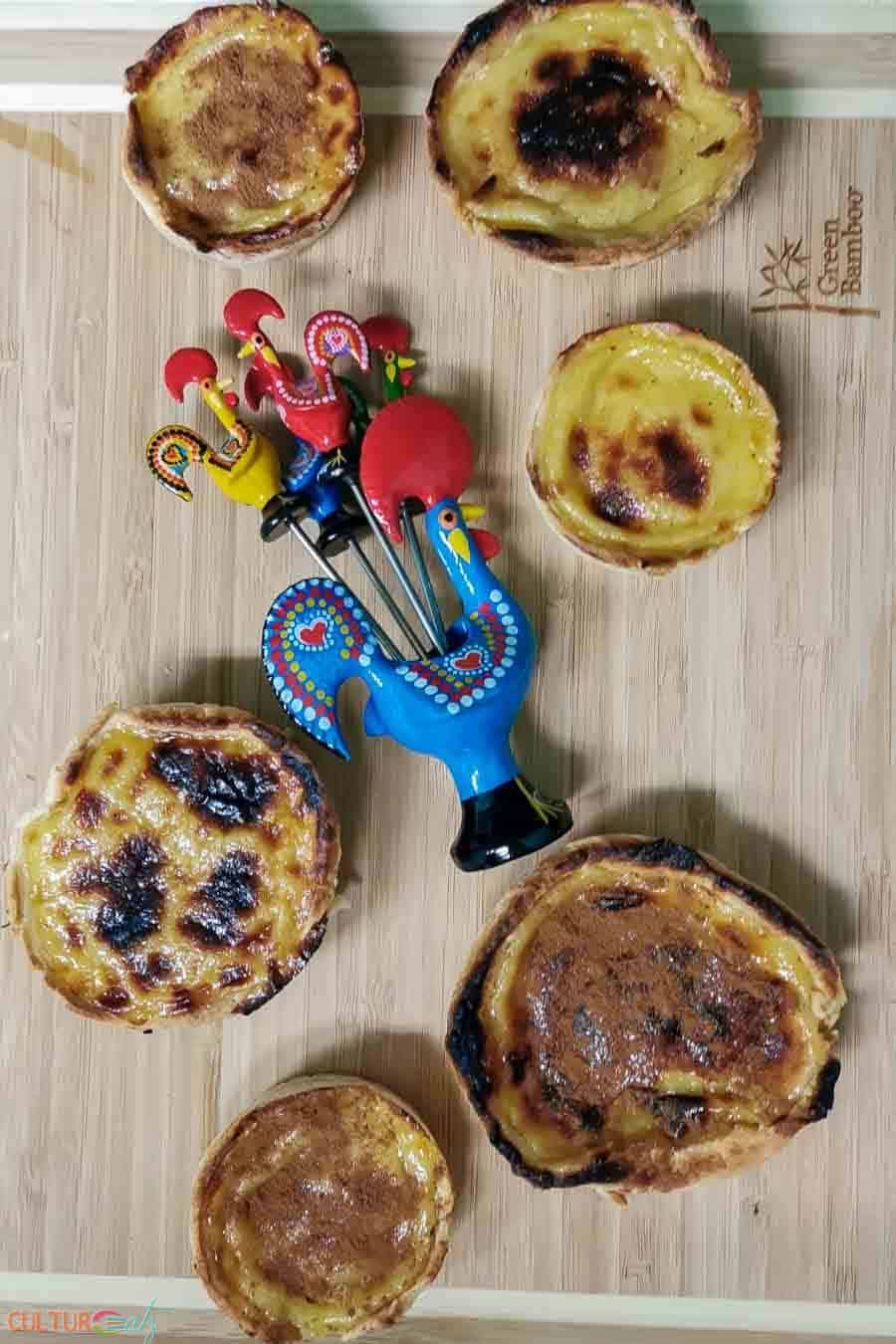 How to Make Custard Tarts – the Cup
Now on with the recipe for Portuguese custard tarts!
There are two components to the egg custard tart recipe. The first is the base of the cup. It is made of rolled out puff pastry which you can buy premade in the freezer aisle.
The dough is rolled into a log and shaped into a cup with the help of a muffin tin. I will explain in the recipe the procedure and I am including a photo below of the steps.
Since I only have a silicone muffin mold, I only pressed the dough up to the average muffin tin height. I also played around with other sizes of small dishes and it worked as well.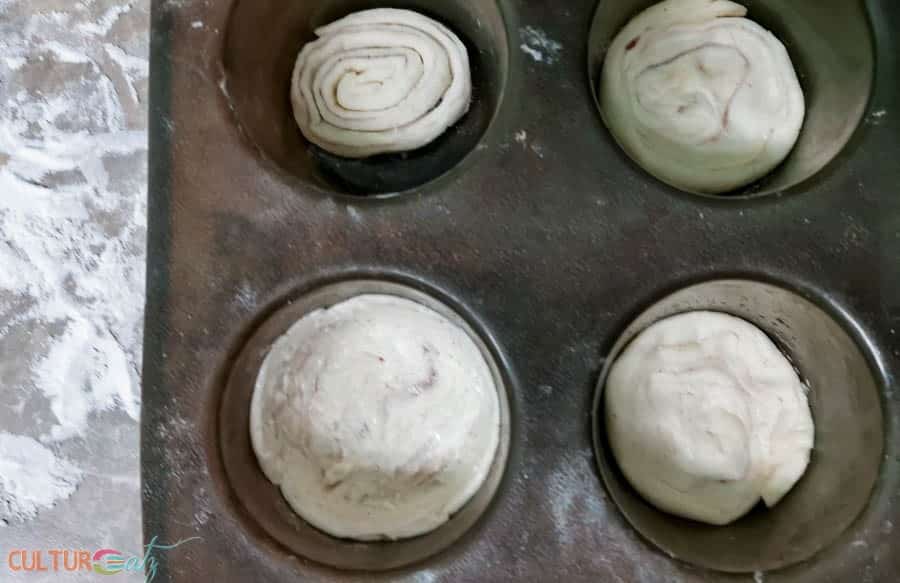 How to Make Custard Tarts – the Filling
The second part you need when you learn how to make pastel de nata is the filling.
First, you create a flavored sugar syrup that is cooked to the thread stage. This is one of the first stages and it reaches the correct temperature really fast.
Next, we create a pudding with milk and flour that is cooked until thickened. Honestly, it looks like glue. Not my favorite part of the Portuguese pastel de nata recipe. This is then cooled.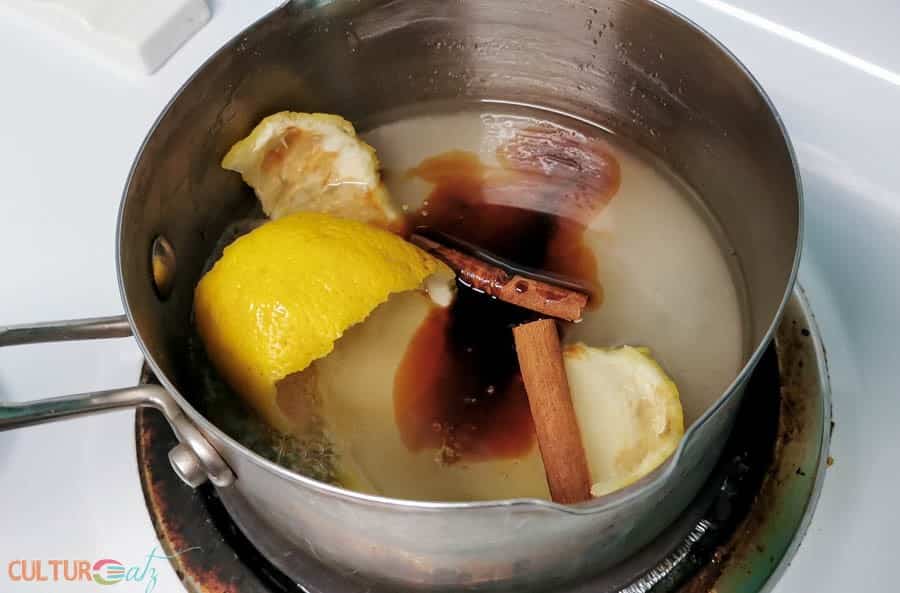 The final component of the Portuguese tart recipe is beaten egg yolks, lots of egg yolks. Take all three parts of the filling and mix it very well together. Once baked in the shell, you can bite into these heavenly rich egg tarts.
Oh and one last note. You do want some burned little areas on top of the custard. Make sure you boil them long enough. And that is, dear reader, how to make Portuguese tarts. Enjoy!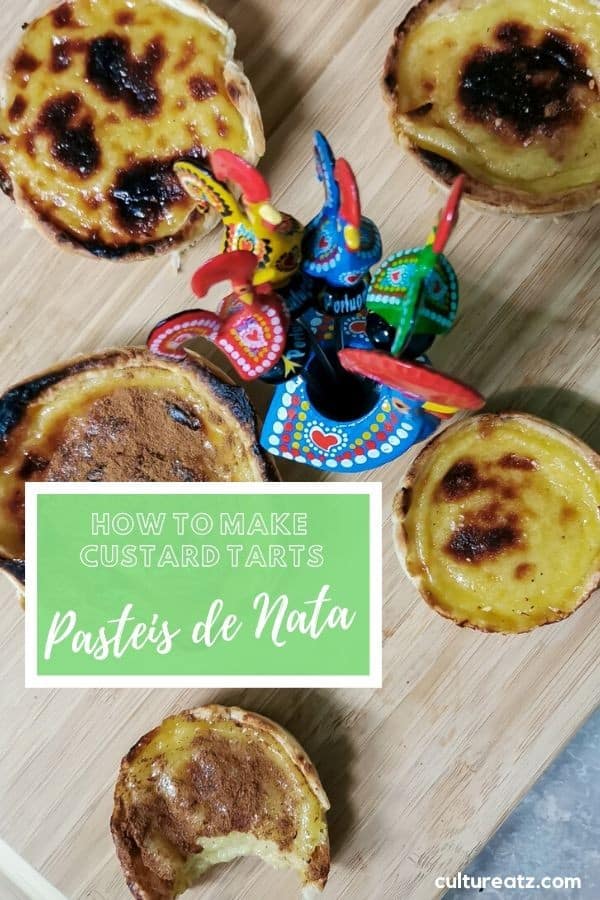 Portuguese Custard Tarts ( Pasteis de Nata)
Have you ever wondered how to make custard tarts from Portugal? Turns out that making the heavenly Portuguese egg tart pastry, or Pasteis de Nata, is pretty simple.
Ingredients  
1/3

cup

all-purpose flour

1/4

teaspoon

salt

1 1/2

cups

of whole milk

1 1/3

cups

white sugar

1/3

cup

water

6

large egg yolks

1

teaspoon

vanilla extract

1

cinnamon stick

1

lemon

peel only

1

sheet puff pastry

Powdered sugar or cinnamon for dusting
Instructions 
Preheat your oven to 550°F (290°C), and lightly grease a 12-cup muffin tin.

In a saucepan, bring to a boil the sugar, water, vanilla extract, lemon peel, and cinnamon stick. Cook until a thermometer reads a temperature of 220°F (100°C) which is the thread stage. Do not stir!

In a bowl, whisk the milk, flour, and salt together very thoroughly. Cook over medium heat, whis constantly for 5 minutes or until well combined and thickened. Let cool for 10 minutes.

Next, whisk in the egg yolks, the followed by the sugar syrup, first discarding the cinnamon stick and peel). Mix until everything is well-combined. Strain the custard and set aside.

Cut the puff pastry sheet into two pieces and place them on top of each other. With the short side facing yoiu, tightly roll the sheets into a log. Cut the log into 12 evenly sized slices.

Place one slice in each of the muffin tin. Regularly dipping your thumb in cold water first, press down into the center of the dough piece and press outwards to form a cup. The cup should be just above the top of the well of the muffin tin.

Fill each pastry cup 3/4 of the way to the top with custard.

Put the tray in the oven and bake for 10-12 minutes, or until the custard starts to caramelize and blister and the pastry turns golden.

Serve warm, with powdered sugar and/or ground cinnamon.
Eat the World Challenge
Check out all the wonderful Portuguese dishes prepared by fellow Eat the World members and share with #eattheworld. Click here to find out how to join and have fun exploring a country a month in the kitchen with us!
Sue at Palatable Pastime:Air-Fryer Peri Peri Chicken Wings
Culinary Adventures with Camilla: Less than Traditional Pastéis de Bacalhau (Salt Cod Fritters)
Making Miracles: Portuguese Vina Dosh Wine
Amy's Cooking Adventures: Bitoque (Portuguese Steak & Eggs)
Kitchen Frau: Portuguese Tuna or Sardine Fish Pâté
CulturEatz: Portuguese Pasteis de Nata
A Day in the Life on the Farm: Broa (Portuguese Corn Bread)
Pandemonium Noshery: Portugese Tremocos Beans
Sneha at Sneha's Recipe: Chicken Cataplana#EatTheWorld
Loreto and Nicoletta: Home Style Portuguese Shrimp and Chorizo