Can you believe Christmas is 39 days away? I know we do not want to think about it yet but if we don't the next thing we know is we will be scrambling with the masses in the shopping centers. Urgh.
But in the last decade holiday shopping has changed dramatically. There has been 2 movements getting stronger every year: the internet shoppers and the back to basics home made gifts.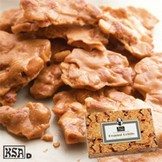 If you know what you want to buy online NOW is the time to shop. Get a cup of coffee while in your jammies and keep your credit card in hand. I know of several people who do all their shopping online. That is good if you know what you want to buy. Then the opposite movement is those who choose to give simpler gifts (because a gift is about the thought…not the materialism, right?) that they made themselves: a knit sweater, a painting, baked goods, recipe mixes.
Now…let's combine the two for the culinary challenged who want to give simple gifts? Perhaps a nice box of peanut brittle, truffles, toffee or maybe nuts as a hostess gift. A simple treat can be just as wonderful as a gift then an unnecessary 10th body lotion or scented candle!
What do you plan on giving this holiday?