On the last dinner with the CEE dinner group I met a new member and we really hit it off on a possible friendship level. She also seemed to be quite the foodie and said she worked as a concierge in a hotel downtown. As a concierge she often gets free invites to restaurants or other cultural outings so she can then reference hotel guests if she likes the place. So when she sent me an email asking if I would like to accompany her at such an event I jumped at the chance.
We went for a complimentary High Tea service at Le Maitre Chocolatier at 3 o'clock. This place is centrally located on the elegant part of Sherbrooke Street close to the museums and shopping areas.
The small first floor is the shop. Here you can buy fine classic style chocolates and wonderful teas. All the chocolates are made in house by the owner, Nada, a young Moroccan lady. The staff was perfectly polite, perfect attentive service and very friendly without overstepping the personal boundaries. Shaun (I think) was the tea connoisseur and wonderful to chat with.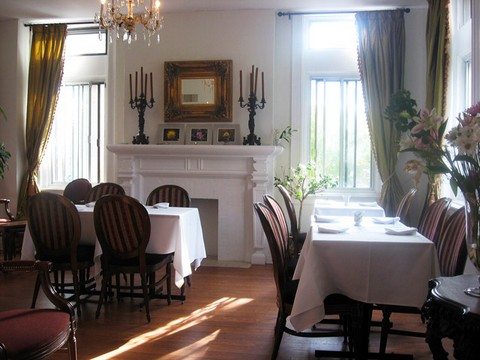 If you go up the stairs you will find the lovely English style tea room. There will be a new addition very shortly to the menu but there are several available services such as the breakfast tea, a scones and tea service, a full tea service as we had, and soon added a Moroccan version with that country's specialties. I WILL have to go back for that one. Also there are sometimes small classical music concerts held here.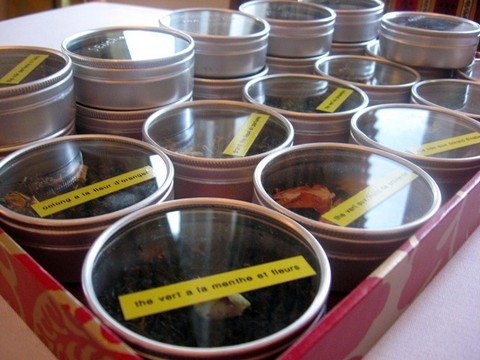 After being seated the waiter presented us with a box of all the teas being offered. All teas were in round canisters, labeled, that we could open them up to smell the tea. I really loved this concept. We had a good idea of what we wanted but if you are not familiar the staff will assist you in choosing the right teas for you. We chose 3 over the course of our afternoon: Anis Black Tea, Green tea with Orange Blossom and Roobos (a red tea). All were excellent.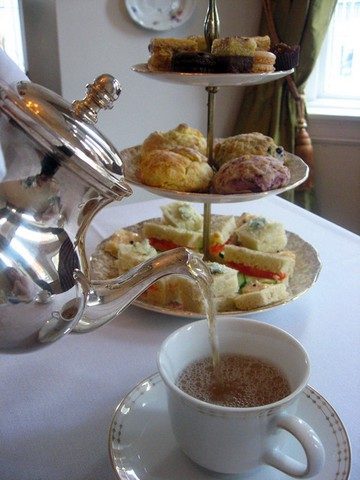 Here is a our full service as a cup of tea is being poured for us. Never do we pour our own tea.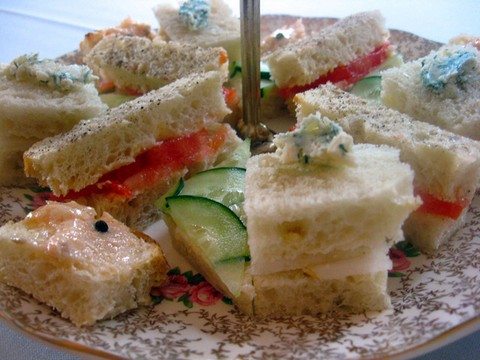 We started off with the bottom row of sandwiches. I have a sweet tooth and tea sandwiches are relatively simple so it was my least favorite yet all was excellent. The selection included a salmon rillettes toast, a tomato and pepper sandwich, my favorite one the Asian pear and blue cheese sandwich, and the quintessential cucumber sandwich. The bread used was lovely and dense, not flimsy white bread.
Next level was the scones. There were 4 in total: 2 plain, 1 blueberry and 1 raspberry. These were served with a beautiful selection of jams and a homemade crême fraiche which was divine. The scones were delicious and not too heavy but definitely filling. Thank god I did not have lunch and was starving. My tea companion and I split the fruit ones in two so we got to taste everything. I wish I could take home a bucket of that crême fraiche.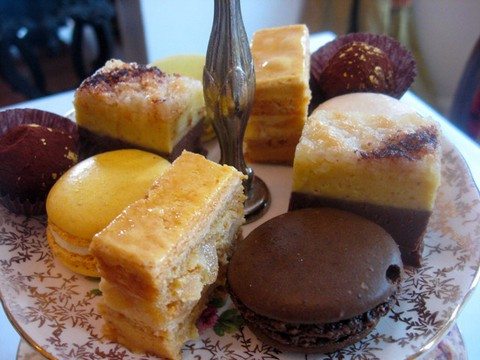 And finally, the pièce de résistence, the sweet top level. We each had 5 different sweets to try. Not sure what one cake was but had apricot in it I think, one was a chocolate marzipan combo, then 2 macarons each and a house chocolate truffle. What a great way to end this experience.
I am not sure how much this service goes for, I believe around 20 or 30$. If you have never had a tea service I highly recommend the experience, it is a great outing with the girls. I know of some expensive hotels that offer such a service but I really liked it here as it was small and quaint. Surprisingly there was a quiet but constant flow of customers. Oh and great for a different kind of date with your beau. Let me know if you go!
Le Maitre Chocolatier
1612, Sherbrooke Ouest
Montréal (Québec) H3H 1C9
(514) 544-9475