Old Montreal welcomes Happening Gourmand 2018 for its 11th edition A delicious post-Holiday tradition you don't want to miss!
Many people in Montreal like to think that winter is meant to hibernate and stay indoors. Well, I have never let a little snow or cold stop me from going out and having a good time. And many Montreal establishments try to get the lazy bears out with clever ideas. One of my favorite ones is the annual Happening Gourmand 2018.
From January 11th to February 4th, 2018, foodies will rejoice! The annual festival, Happening Gourmand 2018, proudly invites you to discover the best selection of restaurants in Old Montreal, offering fixed menus at reduced prices. BEVO Bar + Pizzeria, Taverne Gaspar, Kyo Bar Japonais, Méchant Boeuf, Modavie, Brasserie 701, Verses Bistro, Vieux-Port Steakhouse and Maggie Oakes are offering countless decadent meals to satisfy all your cravings. From authentic wood oven-baked pizza to elegant Japanese cuisine, Happening Gourmand has something for every palate.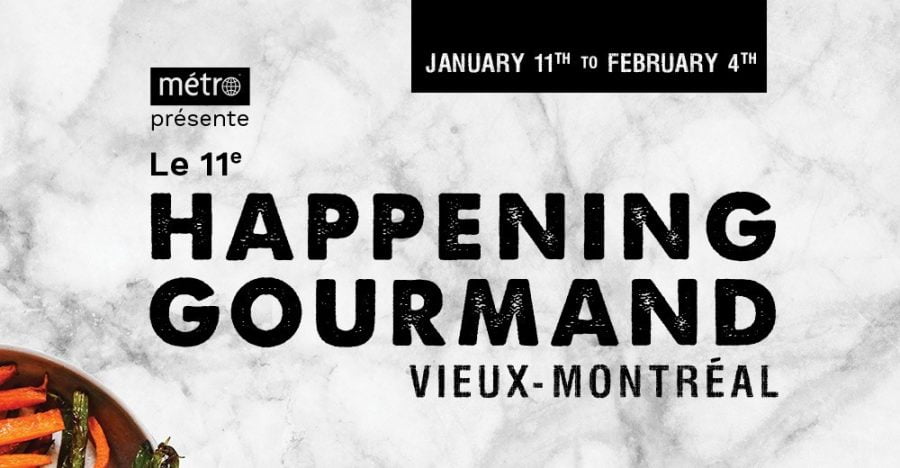 The nine participating restaurants will offer three-course menus at a reduced fixed rate.
Menu at $23: BEVO
$27  Menu: Vieux-Port Steakhouse, Taverne Gaspar, Modavie, Brasserie 701, Méchant Boeuf
Menu at $31: Maggie Oakes, Kyo Bar Japonais, Verses Bistro
New in 2018 – Brunch lovers will also be delighted this year. Happening Gourmand will be offering reduced prices on delicious brunch menus!
Menu at $17: Taverne Gaspar, Brasserie 701, Méchant Bœuf, Maggie Oakes, Verses Bistro
Menu à $27: Gourmet Buffet at Vieux-Port Steakhouse
As an additional special feature, Happening Gourmand has once again partnered with Igloofest to give you the option of adding reduced priced tickets, at $25, to your dining experience!
Montreal foodies are invited to share their favorite Happening Gourmand dining experiences on social media with the hashtag: #happeninggourmand
For more details, please visit the Happening Gourmand website: happeninggourmand.com or the Facebook page @HappeningGourmand
And check out all my post in my Montreal Buzz section of the blog.