I am so proud to share with you today a link to my guest post on ici et here, entitled…
Ethnically Tasting Montreal, Frugally
In this special post I discuss why we are a city of foodies and tell you about my favorite ethnic hangouts.
PLUS you can listen to an audio interview I did with Fait Ici this week.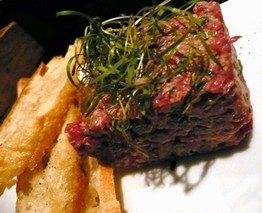 The ici et here concept is simple and brilliant: ici et here is a group blog with a fixed lifespan of 52 weeks where 52 posts will be published by 52 different people in both French and English. This blog endeavors to document the interplay of food and life in Montreal. Today is my turn for post number 29.
We had also a fabulous pot-luck launch party back in November 2010 where we got to meet most of the participants and our host Fait Ici. Remember my Best Thai Curry Tofu Ever, our hosts loved it so much they make it once in a while for their lunch menu.
I encourage you to check out the other guest posts on ici et here if you want the real inside-scoop of food in Montreal!