As you read this post I am gallivanting somewhere across the North Carolina state probably eating some local BBQ dish or causing trouble am sure while I am away on my summer vacation. I want to send a big thank you to the wonderful Penny of Jeroxie @ addictive & consuming for preparing a wonderful guest post for me for your enjoyment. Penny is also the founder of a great new monthly cooking challenge I have been participating in, the International Incident Party. Check it out. Thank you Penny, I am honored you accepted my guest post request!
———————————————–
I am so envious that it is lovely summer weather in Canada while it is has been seriously cold in Melbourne. With so much outdoor activities, it is always good to have a quick and easy summer vegetable dish on hand. This simple pickled vegetable dish is really versatile and can be used as a side dish for BBQ, curries and many spicy dishes. The Vietnamese will usually julienne all the vegetables instead of cubing them and use it as a dipping sauce or a sauce for some of their dry noodle dishes.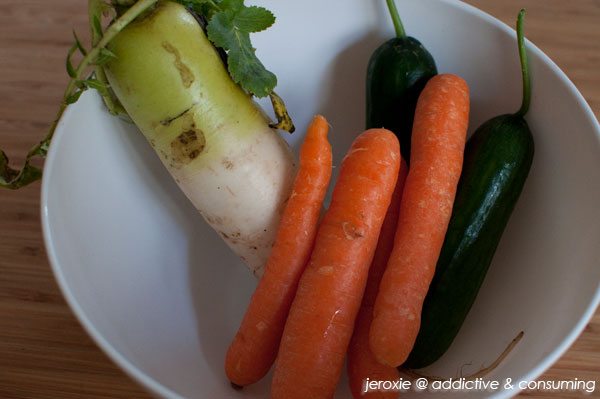 Ingredients:
180g of daikon, skinned and cubed
180g of carrots, skinned and cubed
120g of cucumber, deseeded and cubed
500ml of white vinegar
300g of raw (white) sugar
Method:
Prepare all the vegetables. Set asiden
This will keep in the refrigerator up to a week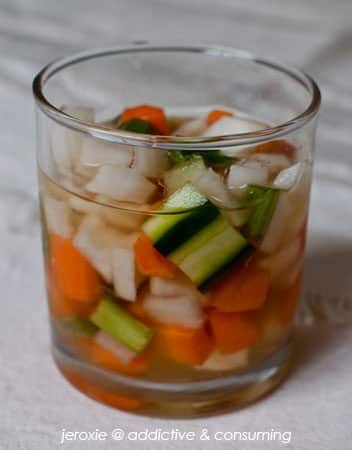 Thanks Evelyne for asking me to guest post! I hope you enjoy this very simple recipe and please do pop over to Jeroxie to say Hi! 🙂
Did you make one of my recipes? I would love to see it. Take a photo and tag me on Instagram @cultureatz.
EDITOR'S NOTE: This post may contain affiliate links (disclosure policy). Please support CulturEatz by clicking on the links and purchasing through them so I can keep the kitchen well stocked. It does not alter the price you pay.