Got to bring something sweet for a celebration? These vegan no-bake Greek Almond Biscuits (plus Keto options), called Amigdalota, grace most weddings in the Greek Isles.
It's Food N' Flix time and this month we are singing our way to the kitchen after watching the film "Mama Mia! Here We Go Again". To represent the movie, I prepared a no-bake version of this Greek Almond Biscuits recipe, know in Greece as Amigdalotas. These sweet protein bites will have you singing their praises in no time.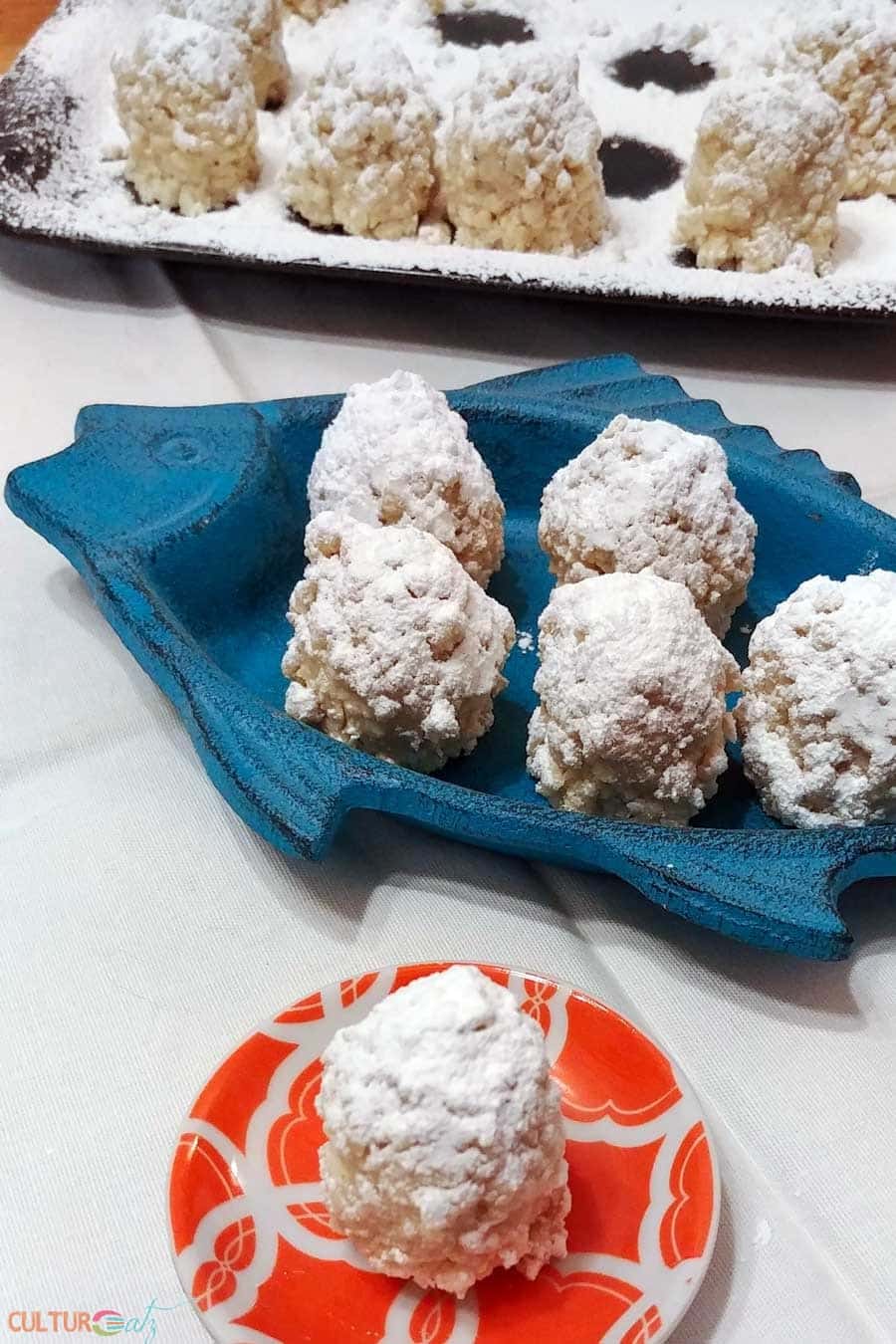 This month's movie selection was Mama Mia! Here We Go Again, a 2018 jukebox musical romantic comedy with a gazillion famous actors in it, including a rare appearance by Cher.
And of course, as in the first movie, the story is intertwined with all the musical catalog of the famous band Abba. This time we travel through time, both past and present, where we find out how Donna first made her way to the Greek Isles and encountered the three men who could be Sophie's father.
In the present, the whole gang is back in Greece to support Sophie's reopening of her mother's hotel, which passed away a year earlier. There is a lot of intertwined adventures and love stories from the past and present that make up the movie, but it all ends with a big reveal by Sophie which I will not spoil for you have not yet seen the movie.
If you like Abba and romance plus female-oriented movies, this will totally be for you. Alas, it was not for me but I had actually seen it before it was on the schedule…so curiosity still got the better of me lol.
I have a FREE PRINTABLE for you
Surprise! I have prepared a Cheat Sheet that includes 41 Cooking and Baking Ingredient Substitutions that are commonly found in a kitchen. Click here to get your FREE Ingredient Substitutions Cheat Sheet right now!

And the inspiration for my recipe goes to…
Since the movie is all about various kinds of celebrations or hard moments when close ones come together, I thought to prepare something sweet and traditionally served at gatherings, a recipe truly from the Greek islands.

The island of Kalokairi in the movie is fictional but it was shot on Skopelos, in the Sporades islands. A few Greek islands lay claim to Amigdalotas, including this area. The Greek almond biscuits were the perfect Greek recipe for this month.
Almonds are commonly found in sweets in Greek desserts. That is because almonds are a symbol of happiness, prosperity, and good luck, especially at Greek weddings and baptisms.
Don't you love exploring the world and culture through cookie recipes?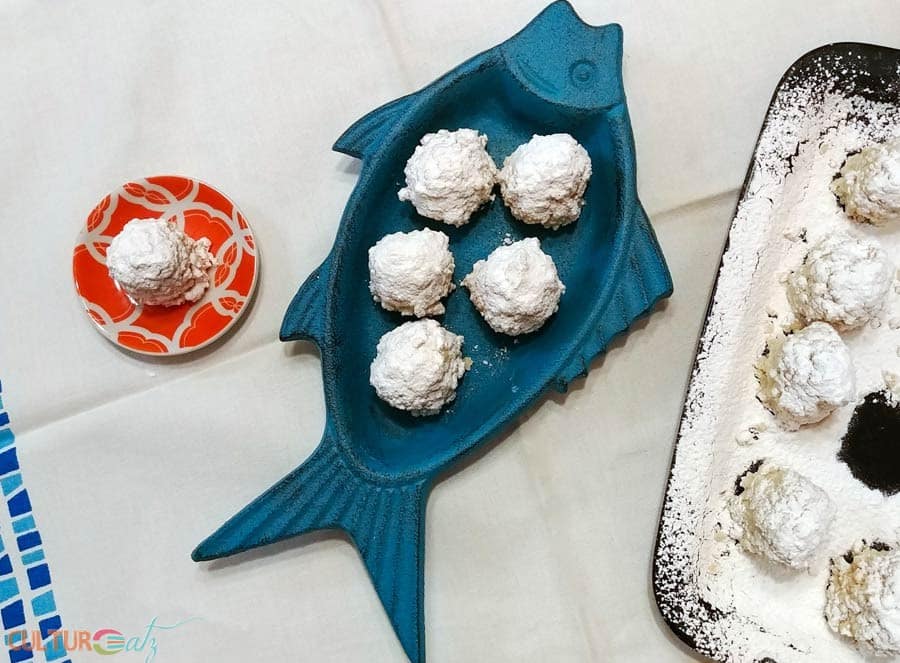 Greek Almond Biscuits, Amigdalota
I used this no-bake Amigdalota recipe which I believe is probably closer to the original preparation method.
Many modern recipes include egg whites and are baked. My version is simply making syrup but cooking water and sugar, and mixing it in with ground blanched almonds. And one must not forget to add a touch of orange blossom water to add a delicate floral note. Once set, you dust the mounds with lots of icing sugar.
They are somewhere in between coarse marzipan and an amaretti cookie, almost like a sweet rather than a cookie. And an addictive one! Food 'n Flix is hosted this month by my friend Wendy at A Day in the Life on the Farm! In this monthly group, a host picks a movie of their choice that pertains to food. Everyone watches the movie and then makes a recipe which the film inspired. It can be any recipe you want.
Τα λέμε
Or in English, until next time. On a bittersweet note, this will be my last Food n' Flix participation. I have been a part of this group for a long time and you can find many Food n' Flix recipes on my blog, and have hosted so many movies over the years too.
I have so many fond memories of this group and it has been my favorite group challenge. But it is time to move for several reasons, I won't go into them. But I wish a long life to this awesome gang!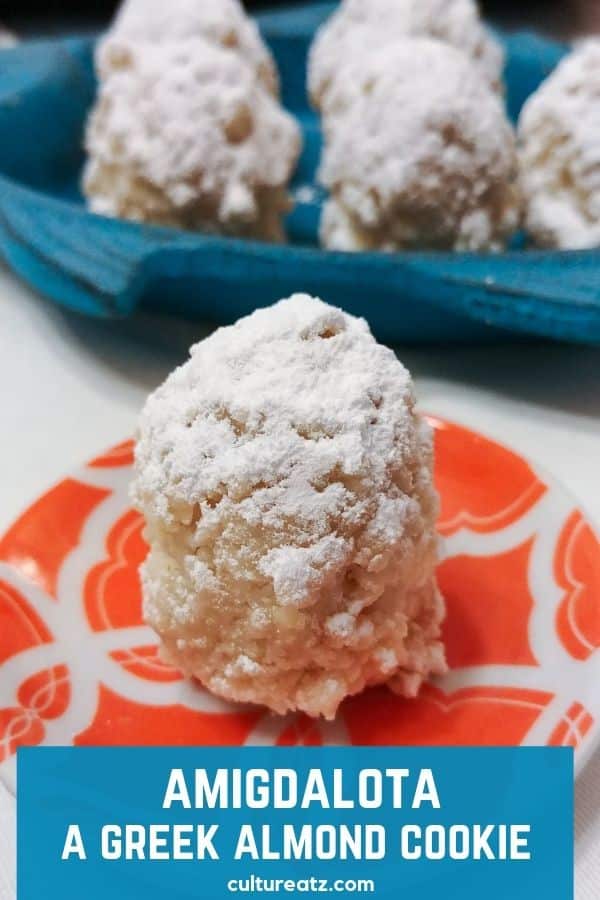 Amigdalota, Greek Almond Biscuits (with Keto options)
Got to bring something sweet for a celebration? These vegan no-bake Greek Almond Biscuits (plus Keto options), called Amigdalota, grace most wedding in the Greek Isles.
Ingredients  
1

pound

blanched almonds

1

cup

sugar

(Keto: allulose or erythritol)

1

cup

water

1

cup

icing sugar

(Keto icing sugar)

2

tbsp

orange flower water

cloves

optional
Instructions 
Pulverize the almonds into a coarse powder in a blender. Set aside in a bowl.

Bring the sugar and water to a boil and simmer for about 8 minutes, or 112C (234F) on a candy thermometer.

Remove from heat. Mix in the orange flower water and poor over almonds. Stir continuously until the almonds start to stick together in a ball and stcik when you pinch them with your fingers.

Take a handfull of the almonds and shape into a cylinder. Pieces will fall off so grab more than you think you need. Place on a plate and dust them with plenty of icing sugar. You can also insert a clove on the top of each biscuit.