This is my first year participating in The Great Food Blogger Cookie Swap, a great fundraising effort partnered with Cookies for Kids' Cancer, a national non-profit organization committed to funding new therapies used in the fight against pediatric cancer. I cannot remember the exact amount raised last time we were notified but it was in the 5 digits, and I beleive about 1,000 bloggers joined. That is amazing! My cookies of choice for the swap were Chocolate-Dipped Orange Peel Cookies. What is this Cookie Swap?

"The Great Food Blogger Cookie Swap brings together food bloggers from around the world in celebration of all things scrumptious. The premise is this: sign up. Receive the addresses of three other food bloggers. Send each of them one dozen delicious homemade cookies. Receive three different boxes of scrumptious cookies from other bloggers. Eat them!"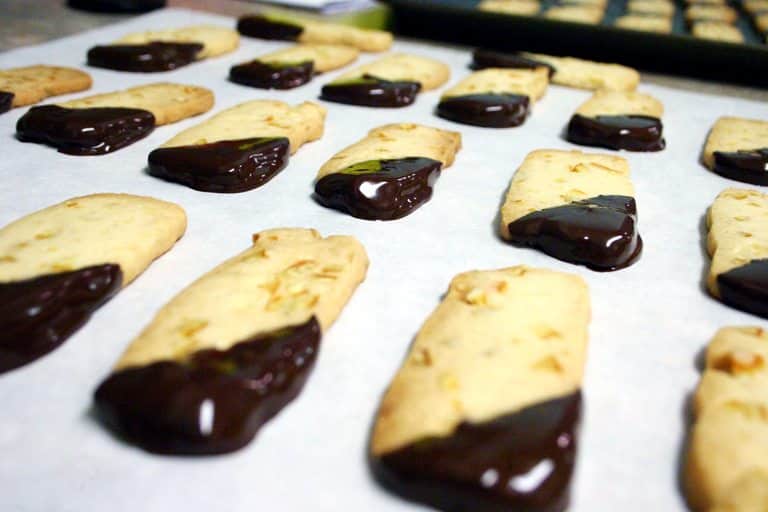 It is very hard to come up with a recipe that is manageable and hopefully amazing to send to your toughest critics: other food bloggers. Of course this is all done in good spirits and for charity. When I came across these Chocolate-Dipped Orange Peel Cookies I felt I hit the jack pot. Orange flavors and candied orange peel are very festive for the holidays and who does not like dark chocolate. It was a great pairing. My only regrest is that I did not make enough to keep for myself.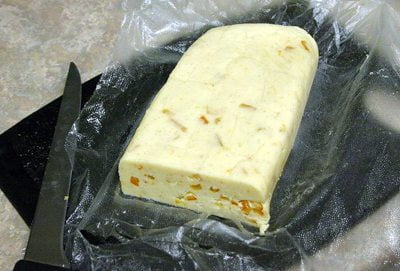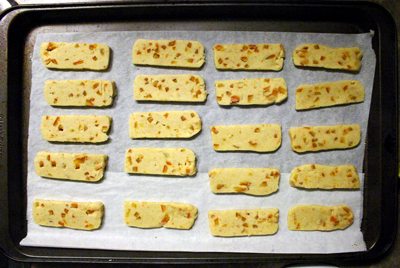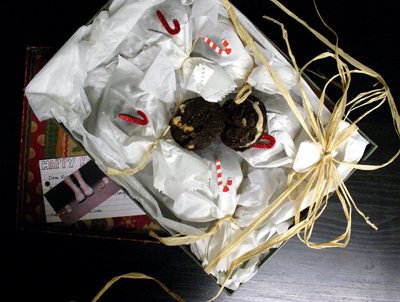 Chocolate-Dipped Orange Peel Cookies
Ingredients  
1/2

lb.

butter

softened

1/2

cup

confectioner's sugar

2

cups

flour

1/2

tsp

salt

1

cup

candied orange peel

chopped

1

orange

zest of

1

tbsp

orange juice

1/2

tbsp

vanilla extract

8

oz.

semi-sweet chocolate

chopped
Instructions 
Preheat oven to 325°F. Beat the butter and sugar until creamy and smooth. Beat in the salt and flour until large clumps form. Add orange peel, zest, juice, and vanilla.

Mix well and press the dough into a tight ball. Shape according to how you want your slices to come out (rectangles, squares, rounds, wedges), wrap in plastic wrap and refrigerate for a couple of hours.

Slice the dough to 1/4 inch thickness and place on cookie sheet with enough space between for spreading. Bake 25-30 minutes or until golden. Let cool completely on cooling racks.

Melt chocolate gently. Dip cooled cookies in chocolate or drizzle with chocolate and let cool until chocolate sets.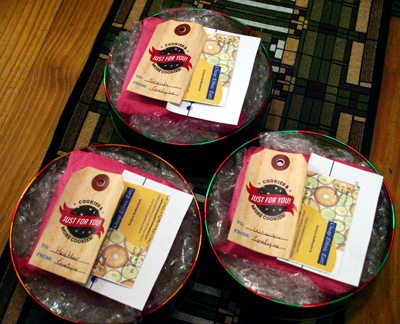 Here are my three dozens packed and ready to go. Hopefully they made it safe and were appreciated. My recipients were The Tasty Gardener, Feasts for All Seasons and bakersbeans.
Where does one find great quality Candied Citrus Peel in a pinch? Make them! This was really one of the simplest and quickest recipes out there. I had to stop myself from eating all the peel before baking the cookies.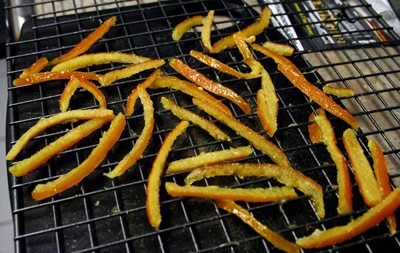 Candied Citrus Peel
1 cup orange peel, cut into strips
1/2 cup white sugar
1/4 cup water
Place peel strips in large saucepan and cover with water. Bring to a boil over high heat, then reduce heat and simmer 10 minutes longer. Drain. Repeat this process two more times.
In a medium saucepan, heat sugar and 1/4 cup water over high heat until boiling. Place peel in sugar mixture, reduce heat and simmer 15 minutes, until sugar is dissolved. Remove peel with slotted spoon and dry on wire rack overnight. Store in airtight container.
Cupcakes Always Win sent me a dozen Vegan Brownie Walnut Cookies. I have not eaten a lot of vegan cookies in my life but honestly if I was not told they were I would not have known the difference. Loved the walnuts in there too. Thank you Anna!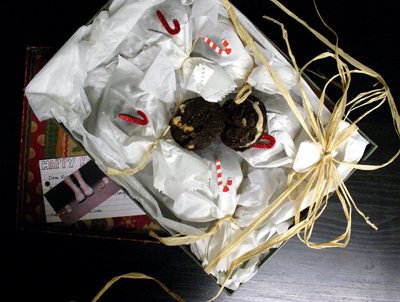 The Yum Yum Factor sent me a dozen Cardamom Quince Layer Cookies. Totally suprising and very exotic in perfume and taste. I was totally smitten by them. Thank you Carole!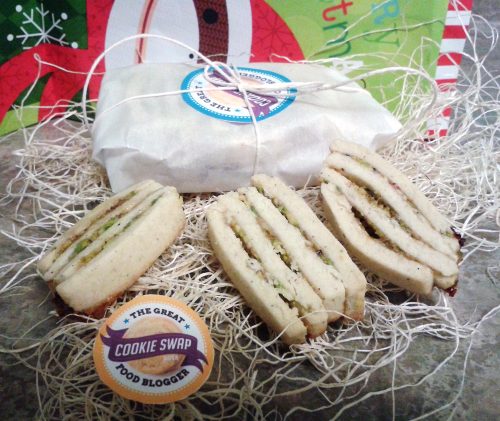 Alas I have not gotten my third dozen yet. They will be delayed but I look forward to getting them.