Meet Lindsay and Jackson. They are officially opening the doors to their new urban general store FAIT ICI today, June 09th 2010, in Montreal's Saint-Henri district. This opening will be marked at 2pm with an information session on sustainable, organic production in Quebec. Bloggers, journalists, social media figures, marketing agencies, family and friends will be present…some taking notes for the first public write ups of this new store.
I however got a very special tour of the store and an interview with Lindsay and Jackson during a much needed break prior to the arrival of their contractor for last minute touches on Monday evening. We quietly sat down and I got to chat with the couple for a good 2 hours. It was laid back and in no time Jackson offered me a beer. We traded stories and personal experiences. We talked about food…a lot.
They are a fun, energetic, positive, happy, easy to talk too couple. I liked them both instantly. I would also bestow both with what I consider the highest compliments I can give: sincere and genuine in their motives. I truly believe those very two qualities will be the key to their eminent success.
I hope you will enjoy learning more about this lovely couple and about this new store by reading the interview (below) I had with Lindsay….
Fait ici is an eco-conscious general store that showcases high quality products primarily made in Quebec. What does that mean in laymen terms?
We wanted to create the old style general store feel, take things back to a feeling of simplicity and make it an environment where we can connect with our customers and the community. Our goods include an eclectic mix, like the general stores of the old days, of Fresh Food, Prepared Food, Home Life, Body Care, Baby Wear and Care, and Gifts like ceramics and paper products. We tried our best to deal with socially and environmentally responsible  producers and  suppliers, and to source locally as best we could. Not everything is local but when we can we do.
CEE notes: Lindsay plans on setting up workshops on topics like canning, natural food preservation, etc.
How did the idea for the store start?
Like most brainstorm ideas this concept came out of a problem. I grew frustrated when shopping in big grocery stores. The most upsetting was the lack of information about where the products were from or how they were made/grown/raised. In our store we did our homework on everything we sell.
Do you have partners working with you on this?
We are a 2 person team. I (Lindsay Davis) run the store and I work with my partner Jackson Wightman: right hand man and PR agent.
How do you split the work?
CEE notes: On paper Lindsay is the owner and runs the whole store; and Jackson does the PR. In reality both say they could not do anything without the other (awwww).
Your products: you know who makes them, where they're made, and how their produced. A business is based on creating relations of trust with clients, suppliers, employees… How do you create and maintain yours?
We spent some time visiting the farms and fields where we considered buying our products, such as Ferme Diane Victor Blais and Ferme Sanders.  Those were some very happy cows, or the lambs would follow us like house pets. We also spoke directly to certain companies like Kashi (which yes is owned by Kellogg's so we are keeping an eye on things to make sure it falls in our criteria). We have come up also with unique tags for our products that tells the buyer who made this product, where are they, how far are they from the store, and if it is an organic product.
CEE notes: Lindsay wants her customers to tell her what their needs are and what products they would like to be able to buy. If she can stock it she will so talk to her!
How did you come to choose this neighborhood and what is the reaction, if any.
I love the area and we live very close by. I went out to meet the neighbors and introduced myself. The reaction was very warm and welcoming. I knew I wanted this specific local as I loved the vibe. The past renter was hesitant to stay for a while so I visited every few weeks and one day she said she was ready to let it go. It was ours.
What is the competition like (Atwater Market, Super C)?
We don't see it as a problem as we stock some quite unique products. The big stores are not a threat. As for the market sure they have organic products but often they come from very large corporate organic farms and the guy behind the booth has no info on what he is selling.
Describe two moments of maximum fear and maximum satisfaction that you have lived or may face.
For the satisfaction part it is seeing how well received our business ideas is and how we already have a feeling of  a community being established. We want to have fun and we want our customer to have fun when coming to the store.
For the fear it would be the consequences of dealing with small scale farmers: will the delivery be dependable, how consistent will availability be, constant quality could be an issue. In general re-inventory is scary for now.
Where does your passion for food and the environment come from? When did you adopt this lifestyle change?
For food definitely from my mother as she encouraged us to cook at a young age. I love to cook.
For the environment I just grew up with it. I am from Nova Scotia and as a child the city had regular pick up of compost, garbage and recycling. It was the standard and was accessible. I find Montreal is light years behind.
CEE notes: Lindsay is neither a vegetarian (but is cutting down on weekly meat nights) nor a granola freak. You won't be hassled to change your life style when visiting.
What is your professional background? What were you doing before?
I was in interior design with a a big firm. I got laid off during the recession but was not enjoying my work either. I am not an office 'behind the desk' person. I looked into SAJE Montreal Metro which helped make this store a reality.
CEE notes: SAJE Montreal Metro offers a number of services for entrepreneurs, including the self-employment support program and the Young Promoters program. Check it out.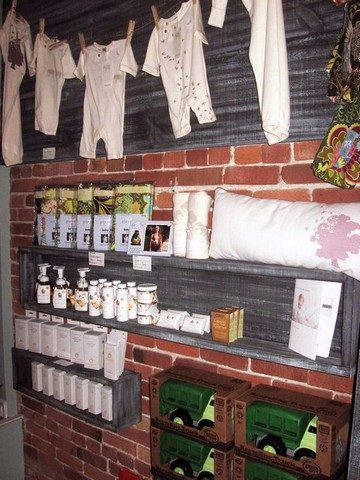 Is there a website or social media link where we can see more about your project and/or yourself?
Yes our website is FAIT ICI. We are also on Facebook, Twitter and You Tube.
You have a blog since March 2010, what direction do you want to take it in?
Made Here [the Fait Ici blog] is our blog and I want to fill it with useful info, help the readers make educated choices on their consumption decision, I want to SCREAM out loud who is doing bad practices, and share related news in general.
_______________
Thank you again to Lindsay and Jackson for welcoming me so warmly into their store and sharing so much with me. I strongly recommend you go and check out the store when you can and stop by for a sandwich and a chat. You won't regret it.
FAIT ICI
2519, Notre-Dame O corner Charlevoix
Montreal, Québec, H3J 1N6
514.439.3888