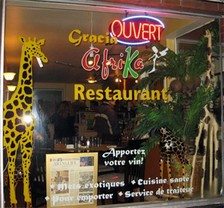 Seems like its bean a while since I have done a restaurant review.  Perhaps because the last events were hosted by either assistant organizers or guest organizers. But now my time has come around again. And this time I will tell you about a tropical find, or should I say escape with winter on our heels, from the Congo (DRC).
Our latest Cheap Ethnic Eatz dinner took us to Gracia Afrika, a Congolese restaurant owned and run by a lovely lady affectionately called Bibi. Now two things to keep in mind here…when we went it was CASH ONLY and even better Bring Your Own Bottle (BYOB). We were 16 people and there is a maximum capacity of 20 seats. It is a tiny place with a very warm and homy feeling. The service is a tiny bit slow but it is expected with a big group and we have experienced much worse  in the past at other dinner events. But the service is done with a smile by Bibi.
The menu is written on a black board and the only thing listed are the main dishes. I don't even know if they appetizers. There are about 8 choices ranging from grilled chicken, various forms of goat, lamb and fish. The prices when we went were between 12$ and 19$. With your plate you get rice and beans, plantains and a salad.
So how was the food. I had the same dish then Mary and I second her comments: "the food was delicious – my goat stew in mushroom sauce didn't even have bones. That's a first, so OMG – what a treat!" Bernard said: "My Cabria – grilled lamb was perfect and was tender throughout". Bibi also treated us to a small free tasting of fresh ginger juice. Again Bernard exclaimed: "The Fresh Ginger juice was an eye opener". It was indeed yummy. Although not the best I have ever had the plantains are quite good (I love them) and we got extra helpings for free too. The rice was also quite nice inspired from a Haitian recipe. Dishes are served with a spicy condiment seen below.
The only thing missing from the meal was dessert. Apparently the homemade beignets are just divine but none were made and waiting for them to be prepared from scratch (whcih was offered) would have taken about 1 hour. So everyone sadly declined. But I keep hearing about them though. I thought I had requested them but I guess there was a miscommunication, but hey it's an excuse to go back and try them.
All pictures taken by Bernard Reischl
Gracia Afrika
3506 Rue Notre Dame Ouest
Montréal, QC H4C
514.932.0250