Giant Pillow fight Sat Aug 15 3pm in Montreal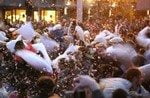 http://www.facebook.com/event.php?eid=107234247097&wall_posts
Details are in French…buy hey if you are here and maybe going you,ll get the gist!
I might go, sounds fun and different!
Evelyne
Did you make one of my recipes? I would love to see it. Take a photo and tag me on Instagram @cultureatz.
EDITOR'S NOTE: This post may contain affiliate links (disclosure policy). Please support CulturEatz by clicking on the links and purchasing through them so I can keep the kitchen well stocked. It does not alter the price you pay.