What a surprise this Fruity Santa Bread will be when it is brought to the table with the other sweets! Chock-full of fruits and nuts, the bread will be sure to please all the good and naughty kids around.
Lots of bread baking in the air and #twelveloaves is a great group where we bake a bread with the addition of the monthly theme flavor or ingredient. And keeping with the season, we were asked to prepare a Holiday bread. An online search brought on a list of the same old thing until this chosen one grabbed by attention big time. Could I actually make the Fruity Santa Bread to look like Santa?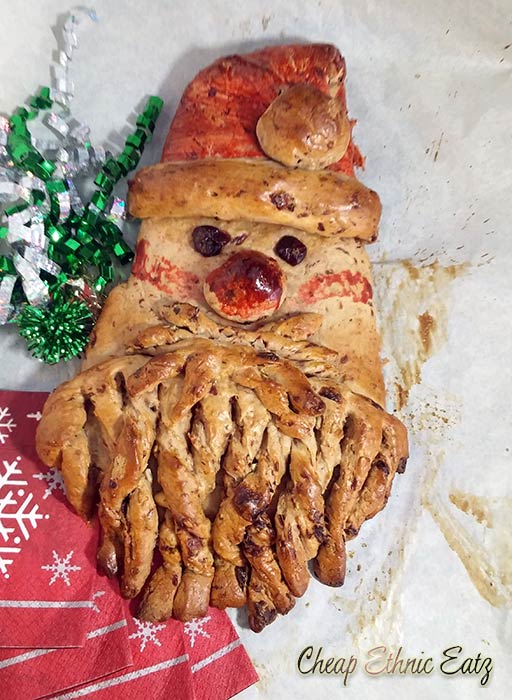 Turns out the answer is yes! Do not get intimidated by the Santa shape. I have included the steps from the Golden Santa Bread original post at Taste of Home. I could not get over this find and just had to try it.
I changed it to a Fruity Santa Bread recipe a lot by using whole wheat flour and filling it with dried cherries, raisins and nuts. I feared it may interfere with the shaping but it did not. The red hat, cheeks and nose are just so clever: just add a few drops of red food coloring to the egg yolk wash!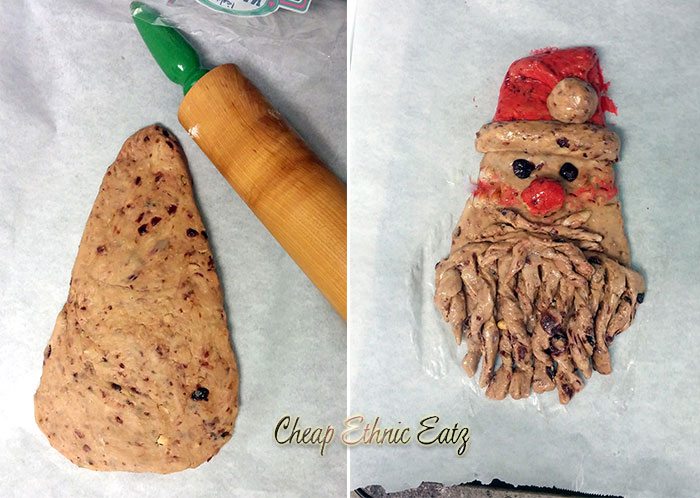 #TwelveLoaves is a monthly bread baking party created by Lora from Savoring Italy and runs smoothly with the help of Heather of All Roads Lead to the Kitchen, and the rest of our fabulous bakers.
This month we are baking Holiday Breads that are perfect to celebrate the holiday season. For more bread recipes, visit the #TwelveLoaves Pinterest board, or check out last month's inspiring selection of #TwelveLoaves Thanksgiving Biscuits and Rolls!
If you'd like to bake along with us this month, share your Holiday Breads using hashtag #TwelveLoaves!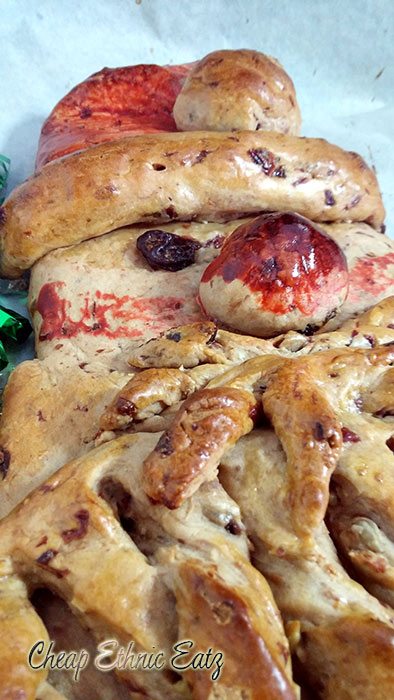 This is definitely a sweet bread that one should serve with coffee or desserts. And it is a very dense bread that barely rose at all. Perhaps it was my switching completely to whole wheat flour or adding too many fruits? If you want a lighter one you should follow the original recipe with regular flour and not filling. But I like my Fruity Santa Bread as is and he lost parts of his beard as soon as he cooled enough to eat hi hi!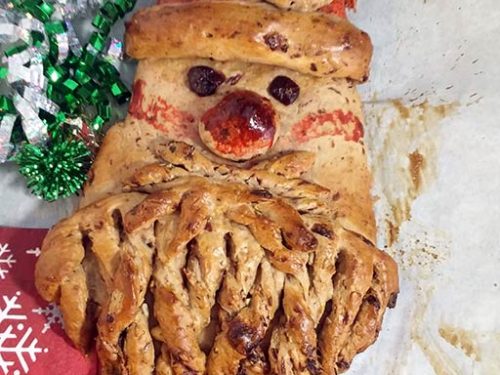 Fruity Santa Bread
Ingredients  
3 to 3-1/2

cups

whole wheat bread flour

1/2

cup

sugar

2

packages

1/4 ounce each active dry yeast

1-1/2

teaspoons

salt

1/2

cup

milk

1/4

cup

water

1/4

cup

butter

cubed

2

eggs

1

cup

dried cherries

1/2

cup

raisins

1/2

cup

nuts

1

egg

2 to 3

drops red food coloring
Instructions 
In a bowl, combine 1 1/2 cups flour, sugar, yeast and salt. Heat milk, water and butter to 120°-130°. Mix in with dry ingredients until moistened. Beat in eggs until smooth. Add cherries, raisins and nuts; mix well. Stir in enough remaining flour to form a ball dough. Kneed on a floured surface until smooth and elastic, about 6-8 minutes. Place in a greased bowl, turning once to grease top, and cover and let rise in a warm place for 1 hour.

Preheat oven to 350°. Divide into two portions, one slightly larger than the other.

Shape the larger portion into an elongated triangle with rounded corners for Santa's head and hat.

Divide rest of dough in half. Make a elongated half circle with one half of dough for the beard. Using scissors cut into strips to within 1 in. of top. Place on Santa's face; twist strips.

Use the remaining dough for the mustache, nose, pompom and brim. For the mustache flatten and cut the ends into small strips with scissors. Place above beard. Place a small ball above mustache for nose. Fold tip of hat over and add pompom. Roll out a narrow piece of dough to create a hat brim; position under hat. Keep 2 dried cherries and use as the eyes.

Separate yolk from egg white. In a bowl beat egg yolk and add red food coloring; brush over hat, nose and cheeks. Brush egg white over remaining dough.

Cover loosely with foil and bake 15 minutes. Uncover; bake 20 minutes longer or until golden brown. Cool.