Did you know French Eclairs are the new 'it' pastry? These retro desserts are making a huge comeback right now at you local chic bakery. But it's even more fun to make them at home. Let you inner artist run wild when decorating!
Raise your hand if you devoured a many eclairs in your youth? This French pastry is made with pâte à choux, shaped in an oblong vessel that transports whipped cream or custard cream to your mouth, formerly finished off with a chocolate ganache. The new modern French eclair sheds it's ganache coat for gorgeous and artistic edible works of art.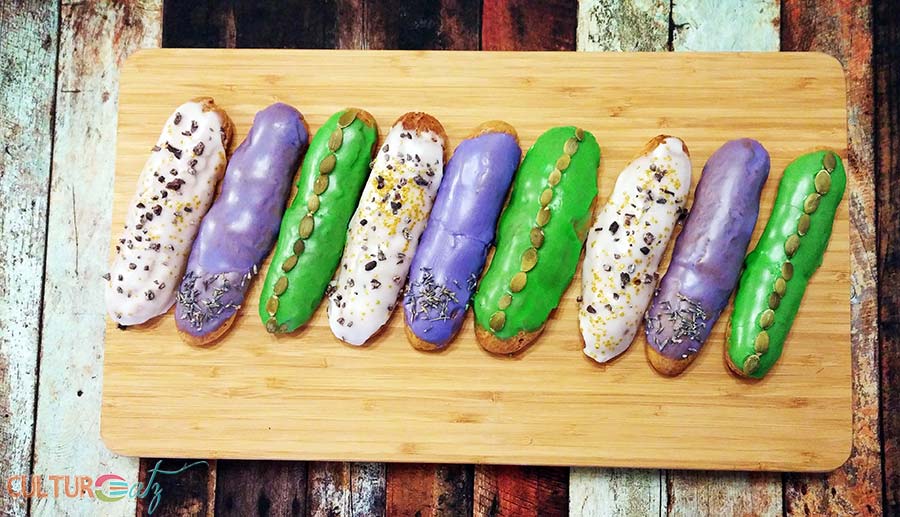 French Kiss is a 1995 romantic comedy film starring Meg Ryan and Kevin Kline. The story is about a woman named Kate who flies to France to confront her cheating Canadian fiancé and finds trouble, then love, with the charming crook named Luc which is seated next to her on the flight over to France. OK so I am not a fan of chick flicks and I really can't stand Meg Ryan. This film was not for me, but I guess for the genre it is good. There were two saving graces for me: I do like Kevin Kline a lot and it was fun for me to watch without the need of subtitles since I am French Canadian.
Times change! One now ridiculous comment in this movie was a character mentioning a 14% interest rate return on an investment. Wow gone are those days right? Also I spotted a funny 'mistake': the Air Canada flight attendant spoke European French on the speakerphone. I can assure you that this would not happen, in reality she would have a Canadian French accent. It would be the equivalent of a British flight attendant speaking on an American Airline flight, would not happen right?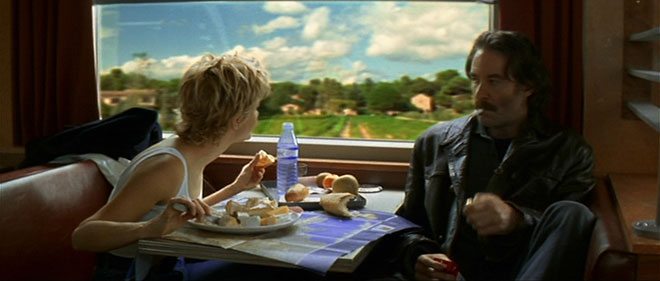 So funny story: on my first time across the pond alone as a adult I sat next to a really hot French guy and we chatted the whole way, like in the film. Actually it was 1996 so a year after the movie came out. Thankfully my guy was not a crook and we did meet up for dinner at the end of my 2 month jaunt across Europe. Can you believe we could still smoke at that time on a plane? I think we chain smoked the whole way. As a now non smoker, the thought of such a flight is revolting.
Gimme French Food
Food 'n Flix itself hosted this month! In this monthly group a host picks a movie of their choice that pertains to food. Everyone watches the movie and then makes a recipe which the film inspired. It can be any recipe you want. Join us!
Food sightings in French Kiss: pizza with cheese, pumpkins, beer, en crême sauce, wok, fennel bulb, mushrooms, carrots, endives, airline booze bottles, champagne, french cheese plate, apple, baguette, red wine, vine for family vineyard, cakes and pastries at many Café terrace, sea breeze cocktail. Also rosemary, currant, lavender, cassis, mint and mushroom tinctures.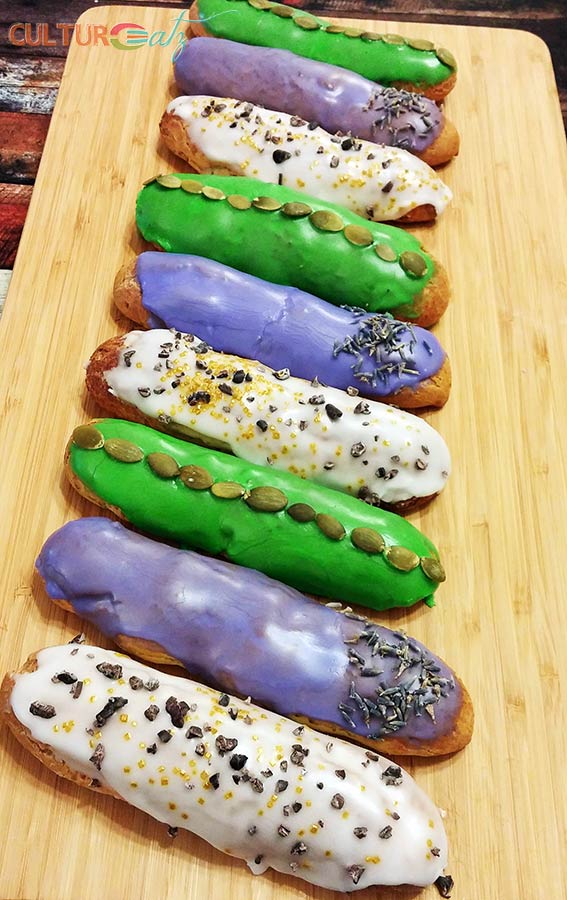 So where does my inspiration for making eclairs come from? I actually had a hankering to make French eclairs for a while and this was a French movie. Another reason was this line, when talking about how she felt when meeting her fiancé, Kate says: "it was not exactly a thunder clap or lightning bolt, it was more like a…." Luc answers: "a light drizzle".
OK people that is a funny line! Éclair is the French word for a flash or a lighting bolt. These pastries are called éclairs because they can be eaten so fast or in a flash, which in French is "manger comme un éclair". And my third reason is that the movie starts off in Toronto and right now there is a really hip pastry shop called Nügateau that sells eclairs exclusively. Eclairs are making a comeback right now!
The Modern Eclair
Gone are the days of the plain chocolate ganache icing. Today's chefs see eclairs as a fun blank canvas to create artistic edible decorations. I have prepared a video for you all where you can see me make my eclair recipe from start to finish. All three recipe parts are presented and in the video I mention a whole bunch of tips and tricks. I hope you will enjoy it.
My recipe sources are: the eclair pâte à choux recipe is from Iron Whisk, my custard cream is from the Dr. Oetker site, and the fondant icing is from the freaking amazing Punschtorte cake I made this fall.
For my three toppings here I used a little bit of a violet liqueur in the fondant and  lavender buds, pepitas, cocoa nubs and gold sprinkles. Other ideas I had that I did not use (an inspiration for your eclairs maybe) were flavored sugars, almonds, pistachios, raspberries, and poppy seeds.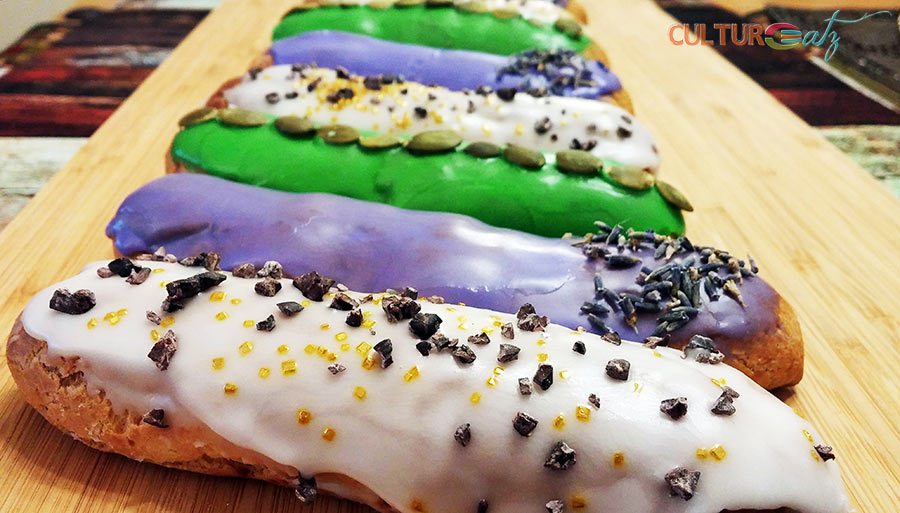 When did you eat your last eclair?
Which new fun toppings would you like to try?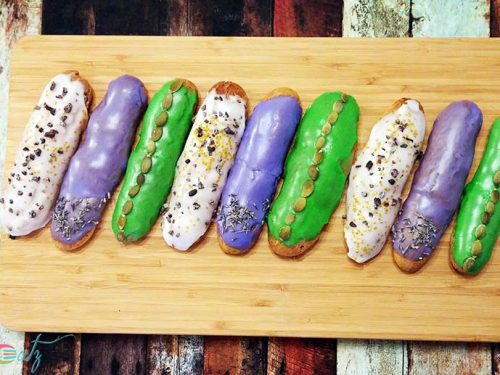 Modern French Eclairs
This French pastry is made with pâte à choux, shaped in an oblong vessel that transports whipped cream or custard cream to your mouth, formerly finished off with a chocolate ganache. The new modern French eclair sheds it's ganache coat for gorgeous and artistic edible works of art.
Ingredients  
30

g

AP flour

30

g

corn starch

4

egg yolks

125

g

sugar

600

ml

milk

5

ml

vanilla extract

75

g

water

75

g

milk

75

g

butter

5

g

sugar

5

g

salt

100

g

bread flour

sifted

150

g

eggs

about 3, room temperature and lightly beaten

Icing sugar

for dusting

3

cups

icing sugar

4 to 6

tablespoons

hot water

Gel food colour

Toppings of your choice
Instructions 
Making the custard cream first, sift the flour and the cornflour into a bowl. Mix in the egg yolks and sugar to form a smooth granular paste.

Bring the milk to light boil in a saucepan. Pour the boiling milk onto the egg mixture, bit by bit, and stir very well. Return the mixture to the stove on a medium heat and whisk continuously until it returns to the boil. Lower the heat and cook until thickened, about 1-2 minutes. Remove from the heat, mix in the vanilla, cover the surface directly with saran-wrap and cool completely.

For the pâte à choux, in a saucepan over medium heat, bring the water, milk, butter, sugar, and salt to a simmer.

Remove from the stove and add all the bread flour in one shot. Stir very vigorously until you get a ball of dough. Return to the stove on a low heat and cook while mixing until the dough reaches 75°C (170°F).

Drop the dough into the bowl of a stand mixer and mix with the paddle attachment (or hand mixer) on low with half of the eggs. When well combined , add the rest of the beaten eggs. When incorporated, keep mixing for a minute or two until the dough is smooth.

Fill a piping bag with a 1/2 inch tip with the dough. On a parchment paper lined baking sheet, pipe the eclairs 5 inches long and and about 1 inch wide, while holding the bag at a 45°. Leave a space of about 2 inches between the eclairs.

Dust with icing sugar and bake in a preheated oven at 180°C (350°F) for forty minutes, or until a dark a golden brown.

Transfer to a wire wack and poke 3 wholes on the underside of the eclairs to let the steam escape. Cool completely before filling.

Fill a piping bag with the cooled custard cream, fitted with a #12 tip, and pipe the cream into the eclairs through the 3 wholes until the eclair is full.

Place icing sugar in a bowl. Mix in 4 tablespoons of hot water. Divide if you plan on doing different colors. Add the food coloring to each batch and mix well. Now add a little of the hot water at a time until you get runny but still thick smooth texture.

Dip the top of each eclair into the fondant icing and clean the edges around with your finger. Decorate with your topping immediately. Repeat for each eclair.
—————————————————–
Hey did you know I am now on Youtube? Please SUBSCRIBE! And check out below one of my latest videos