This is my first time participating in this fun exchange idea, Foodie Penpals. The idea is to send and receive a foodie care package of around 15$. Actually it has a lot of similarities with my old defunct program The Foodie Exchange where people chose each other. In the Foodie Penpals case the assigning is done for you and everyone posts on the same day.  Person A is assigned to person B (me). And person B (me) is assigned person C. They match you up with people in your country. There are now over 1000 participants.
My first exchange was with Lisa who unfortunately does not have a blog so I can't link her up. But still I want to send Lisa a big thank you. She is from Calgary and obviously a snack fiend! Here is what I got!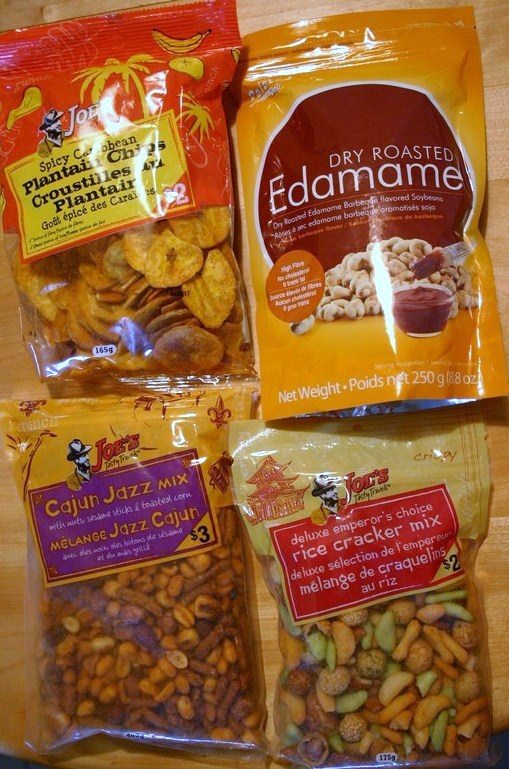 – Two items for a sweet tooth like me:
Taste of Nature California Almond Valley bar
Tunnocks Bûche Caramel roasted coconut coated wafers
– A box of Celestial Seasonings Madagascar Vanilla, a Rooibos tea. Rooibos is one of my favorite teas so I really enjoyed discovering this product.
– A big selection of salty treats from Joe's Tasty Travels:
Deluxe Emperor's choice Rice Cracker Mix
 Cajun Jazz Mix with nut, sesame sticks and toasted corn
 Spicy Caribbean Plantain Chips (my favorite item of all)
– And finally, Palace Deli Dry Roasted Edemame
If you're interested in participating for August, please CLICK HERE to fill out the participation form and read the terms and conditions. You must submit your information by August 4th as pairings will be emailed on August 5th! Hashtag for Twitter #foodiepenpals