Have you ever ordered a pudding for dessert in a Persian, Middle Eastern or Indian restaurant? I bet if you have you were quite surprised the first time. It is nothing like the thick, very sweet, creamy pudding we are familiar with. It is much lighter in the creamy department, usually a lot less sweet, it may have a stiffer consistency and flavors can include rose water (Gulabjal ), pistachio or saffron. To the North American palette it is usually a big hit or a big miss. These puddings take on a perfumed quality. Personally I love it and it has way less calories the instant pudding.
I came across this Cardamom flavored pudding on a site that associated it with Indian cuisine. Actually this particular recipe is referred to as an Afghan recipe, called Firnee, but you will find very similar versions in the Indian cuisine (called Phirni or Kheer, made with added rice), Pakistani, Persian or the various Arab cuisines.
Traditionally Firnee is topped wit pistachios but let's throw caution to the wind and top it with fruit, in this case strawberries.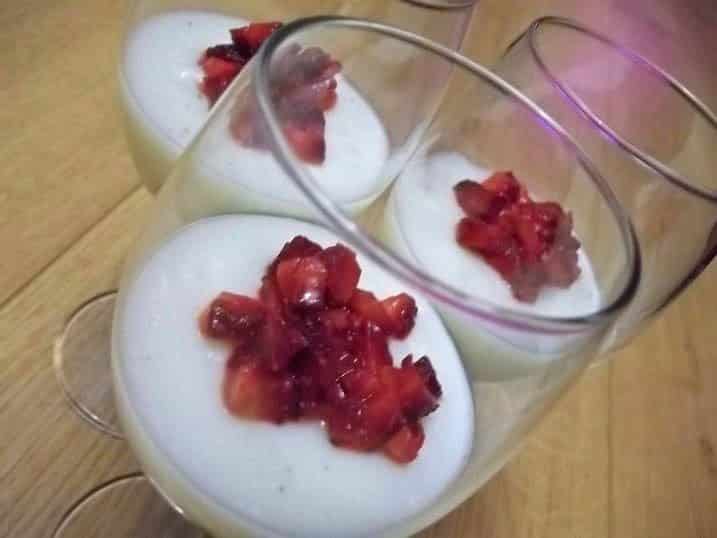 Ξ Firnee – Cardamom Pudding Ξ
adapted from Sunset
Ingredients:
5 cardamom pods
4 1/4 cups whole milk
1/2 cup sugar
1/3 cup cornstarch
1/4 teaspoon ground cardamom
10 strawberries
lemon juice and a bit of sugar
Directions:
Crack cardamom pods gently with a rolling pin. Combine with 4 cups milk in a pan; stir occasionally over medium-high heat until milk is boiling, 9 to 15 minutes.
Meanwhile, in a small bowl mix sugar, the cornstarch, and the ground cardamom. Stir in remaining 1/4 cup milk. When the milk in pan is boiling, remove from heat and gradually whisk in cornstarch mixture. Return to medium-low heat and stir just until mixture comes to a boil, 3 to 7 minutes.
Pour through a fine strainer set over a bowl; discard residue. Ladle pudding into 6 small bowls or ramekins. Let cool about 10 minutes, then cover and chill until cold and set, at least 1 1/2 hours.
Chop strawberries into small pieces. Place strawberries in a bowl and add a bit of lemon and sugar to them. Mix, cover and chill. Drain the strawberries  if there is liquid. Just before serving, spoon strawberries evenly over puddings.
—————————————
And see how the strawberries match my new couch slipcover? I know very weird segway! But I was asked by the fabulous people at Wayfair to pick an item for review. And they sell everything…and I mean EVERYTHING, yes they even sell kitchen sinks.
So usually I would pick something kitchen related like a small appliance or something but I opted for a sofa slipcover because my 14 year old couch is in a pathetic state. Well the cushions are as I would need to replace the seating foam and have them upholstered in a different material since the current material is ripped.
A new couch is not in the financial cards right now and this couch has a lot of significance for me: it is the first big piece of furniture I ever bought as I was planing to move out of my parent's house. This couch represents my independence. Yeah yeah I am being to sentimental. Anyways I decided to get the  Sure Fit Stretch Sullivan Sofa Slipcover T-Cushion to give my sofa a revamped look for the next little bit it still has to live out.
Now I knew this was going to be a bit of a challenge because I have what is called a T-cushion couch and the back support is pillows which I move all the time. I thought this model would mold well enough to my couch and I could stuff away the extra back material easy enough. It was a bit of a puzzle to put on but eventually I got it. I really like the claret color and the pattern, a real instant decor makeover for the living room. It's like a stretch velour.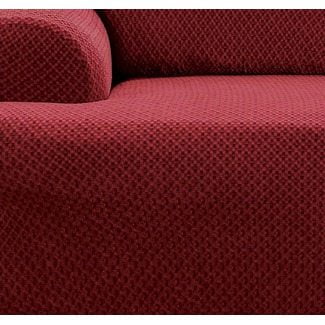 Now that I have been using the slip cover for a while I have mixed feeling about it. This is really not a big deal but every so often you do have to readjust the seems and bit. Overall I am really happy with the functionality. My big problem – and this is not the product's fault – is that the cover is a cat hair magnet and the hairs gets really tangled up in the weave of the cover making hard to keep fur free. So if you have been on the fence about getting a sofa slipcover I say go for it with the Sure Fit collection…unless you have a furry pet that goes on your furniture.