Murphy's Law! You know that darn Murphy? During the preps for the challenge I could not find a fresh fig. I made my recipe 2 weeks ago. Yesterday what do I see at the store??? Yep, fresh figs. Oh well this was still absolutely delicious.
I liked the idea of using these luscious jewels in the form of an appetizer or or a hors d'oeuvres instead of a dessert of part of a meat dish. Guests will oh and ah!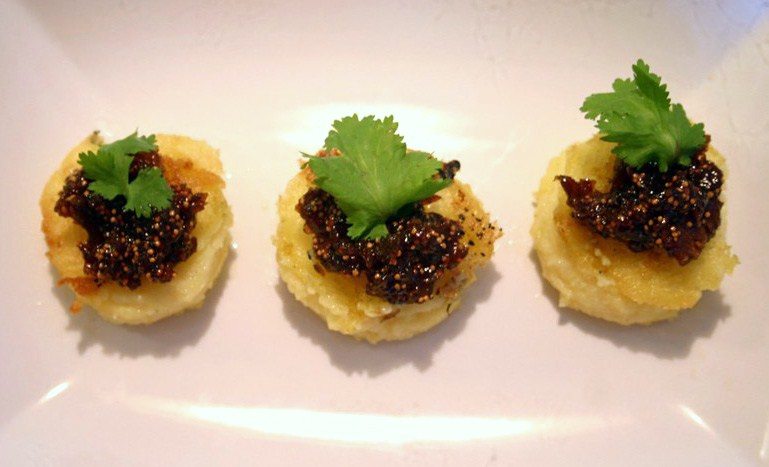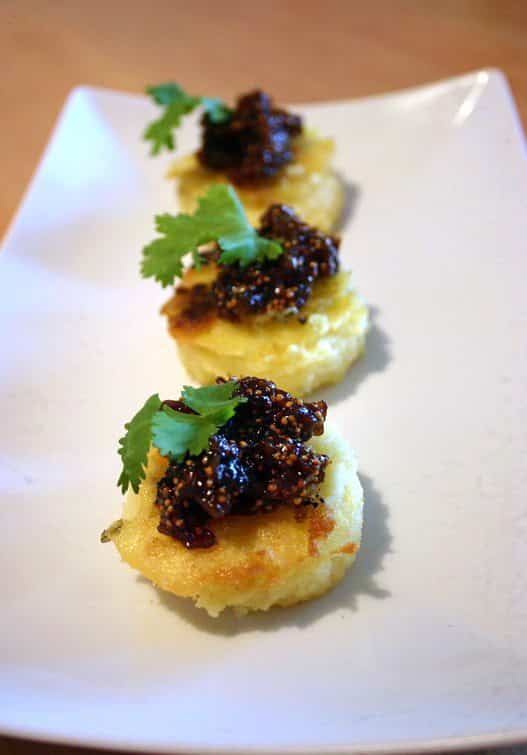 Ξ Polenta Bouchées with Fig Balsamic Jam Ξ
adapted from Stacey Snacks and the Ad Hoc Cookcoob
1 lb. dried mission figs (I got Izmir figs ), roughly chopped
1 cup sugar
1/2 cup balsamic vinegar
1/2 cup water
1 tbsp lemon juice
1 tsp black peppercorns tied in a sachet (optional)
Place the figs, sugar, balsamic and water in a medium-sized sauce pan over medium heat. Once it comes to a bubbling simmer, reduce the heat to low, add the sachet and simmer for 20 minutes, or until the figs have absorbed most of the cooking liquid.
Remove from heat and carefully use a blender or food processor to puree the jam, pulsing only once or twice. Stir in the lemon juice and let cool completely to room temperature. Store in an airtight container in the fridge. Makes about 2 cups jam.
For the polenta, In a pan bring to a boil 4 cups of water. Add 1 1/4 cup of polenta, some fresh herbs, 1/2 tsp salt and 2 tbsp butter. Stir until om the heat until it reaches a thick consistency. Pour into a greased 9″ x 13″ glass dish and cool in the fridge until firm, about 20 minutes. Cut the polenta with a biscuit cutter or shot glass into rounds. Heat some olive oil in a pan and  fry the polenta rounds a bit on each side until crispy.
Place about a tablespoon of fig jam on the polenta round. Serve as an appetizer or a hors d'oeuvres.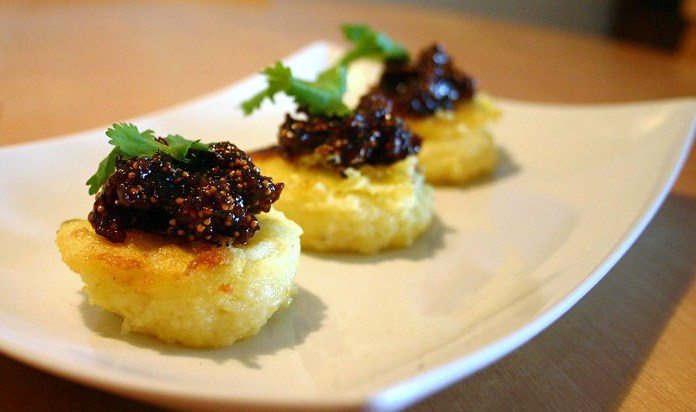 October is #figlove month!
Please join in on the #figlove fun by linking up any fig recipe from the month of October 2012. Don't forget to link back to this post, so that your readers know to come stop by the #figlove event! The twitter hashtag is #figlove :).
Check out the wonderful fig creations of my fellow co-hosts
Angela Roberts
Valerie
Deanna Segrave-Daly
Food Wanderings
Evelyne
Sheila
T.R.
EA Stewart
Becky
Susan Pridmore
Powered by Linky Tools
Click here to enter your link and view this Linky Tools list…