Devil's Food Cookies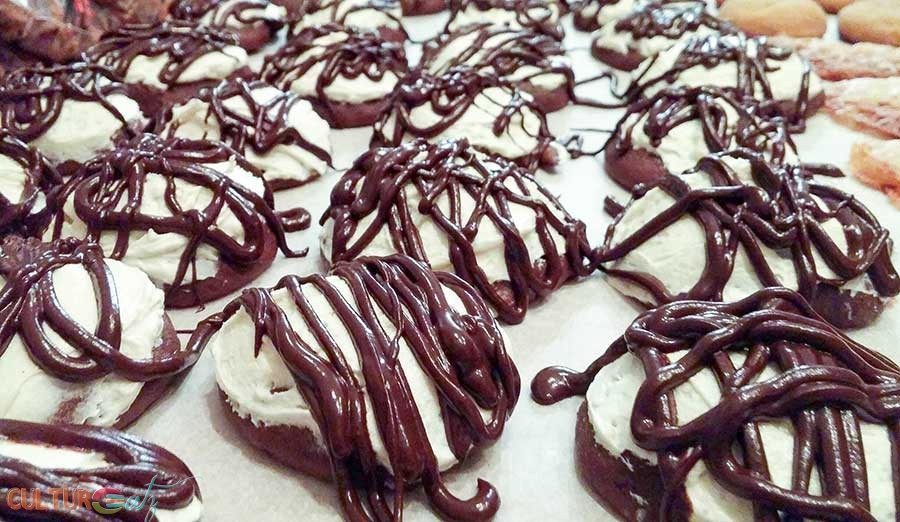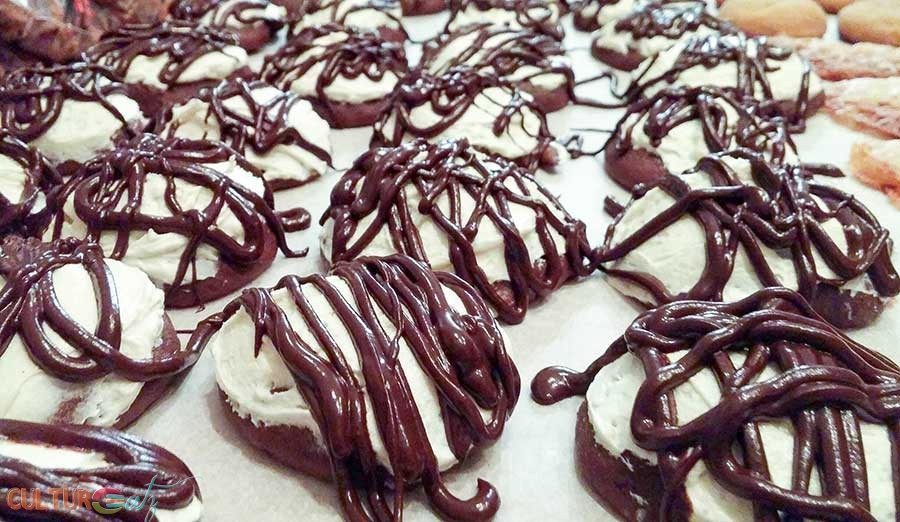 Devil's Food Cookies
Ingredients  
1

cup

all-purpose flour

1/4

cup

cocoa powder

3/4

teaspoon

baking soda

1/4

teaspoon

salt

1/2

cup

brown sugar

packed

1/4

cup

1/2 stick unsalted butter, at room temperature

2

eggs

at room temperature

1/4

cup

buttermilk

or combine milk with 1/4 teaspoon lemon juice

1/2

cup

1 stick unsalted butter, at room temperature

1

cup

confectioners' sugar

1

teaspoon

vanilla extract

1

cup

marshmallow spread

4.5

ounces

milk

or semi-sweet chocolate

3

tablespoons

unsalted butter

1

tablespoon

corn syrup or honey

1/2

teaspoon

vanilla extract
Instructions 
Preheat oven to 350 degrees. Line baking sheets with parchment paper.

In a medium bowl, combine the flour, cocoa powder, baking soda, and salt.

In a large bowl, cream the butter and brown sugar together until light and fluffy. Add the eggs, one at a time, and beat until just combined. Stir in the vanilla extract. Sprinkle 1/3 of the flour mixture over the butter mixture and beat until just combined, then add half of the buttermilk and mix until just combined. Repeat with the remaining flour mixture and buttermilk, ending with flour.

Place 1-2 tablespoon scoops of the batter about 3-inches apart on the prepared baking sheet and bake for 10 minutes, until the centers are no longer soft. Allow to cool on the baking sheet for 2 minutes, then transfer the cookies to a wire cooling rack and allow to cool completely.

Cream the butter and sugar together until light and fluffy. Stir in the vanilla extract until combined, then stir in the marshmallow spread until thoroughly mixed. Spread a layer of the marshmallow icing on top of each cookie. Chill the cookies for 30 minutes.

Combine the chocolate, butter, and corn syrup in a medium bowl. Place in the microwave on high for 30 seconds at a time, stirring each time, until all the chocolate has melted bits of chocolate. Once the mixture is smooth, stir in the vanilla. Fill a pastry bag or a zip-lock bag with the chocolate, snip off the end, and drizzle over the cookies. Allow to set up for 2 to 3 hours on the counter.