The Behind the Curtain Dessert Challenge is all about baking and making sweets. Every month we are given two required ingredients to work with. This month it was Coca Cola and Cherry. Yep soda, pop, cola, coke. A though one indeed. Then inspiration struck. Let's try the crazy sounding Deep Fried Coke that is served at fair and carnivals. And to complete the requirement I just tossed in some chopped cherries. The result are nice puffy beignets of Deep Fried Coke with Sour Cherries.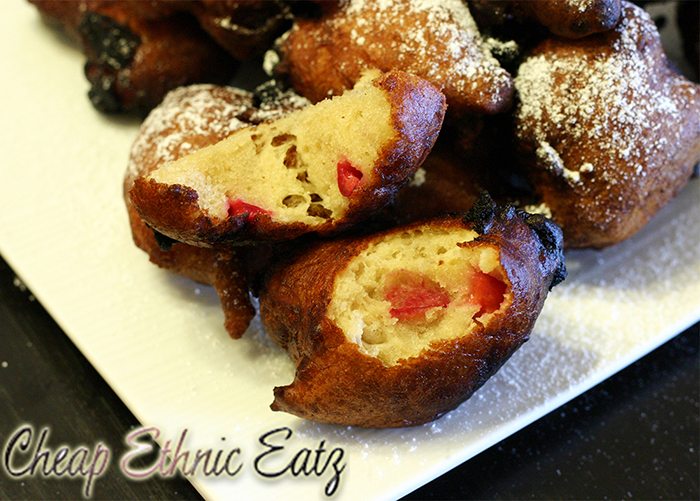 Deep Fried Coke made it's debut in 2006 at the State Fair of Texas. The recipe was a hit, as crazy as the idea may sound. Basically it is a beignet (fritter) batter which uses Coca Cola as a liquid instead of water and/or milk. The taste is not as 'coke' as I had expected but you get a hint of the soda flavor when you bite into these rather yummy treats. It was a fun recipe to play around with.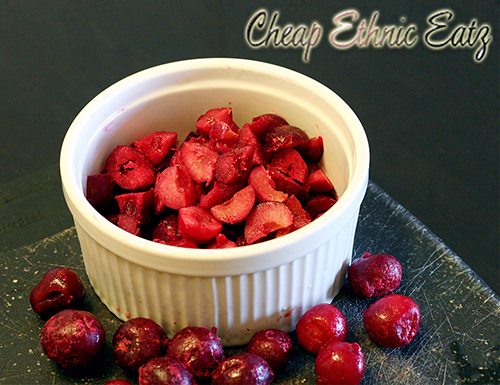 I am not a fan of maraschino cherries and fresh cherries are very much out of season. So I decided to go with sour cherries. I discovered these in the freezer section of an ethnic grocery store in my neighbourhood. I just fell in love with them. I will sometimes defrost a small bowl and eat them alone. I thought their tart flavor would balance out the sweetness of the batter nicely. They are said to be good for sleep problems as they have high levels of melatonin, plus they are said to have anti-inflammatory properties.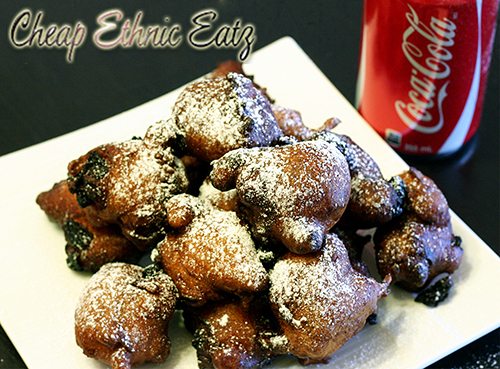 Yields 6 servings
Deep Fried Coke with Sour Cherries
Ingredients
3 eggs
2 cups Coca-Cola
1/4 cup granulated sugar
3 to 4 cups all-purpose flour
2 teaspoons baking powder
1/2 teaspoon salt
1 cup chopped sour cherries, frozen
vegetable oil for deep frying
powdered sugar
Instructions
Start heating the oil to 375°F in a deep fryer or pan.
In a bowl beat the eggs with the Coca-Cola and granulated sugar.
Sift 2 cups of the flour, the baking powder and salt together. Add to the liquid mixture and mix well. Add more flour until the batter is smooth and not too thick. At the last minute stir in frozen cherries.
Drop large teaspoons of the batter into the fryer and cook for 2 to 3 minutes, until golden. Remove with a slotted spoon onto paper towels to drain.
Sprinkle with powdered sugar while they are still hot.
7.6.8
92
https://cultureatz.com/deep-fried-coke-with-sour-cherries/
EDITOR'S NOTE: This post may contain affiliate links (disclosure policy). Please support CulturEatz by clicking on the links and purchasing through them so I can keep the kitchen well stocked. It does not alter the price you pay.