Kathlyn of Bake Like a Ninja was our Daring Cooks' March 2011 hostess. Kathlyn challenges us to make two classic Peruvian dishes: Ceviche de Pescado from "Peruvian Cooking – Basic Recipes" by Annik Franco Barreau. And Papas Rellenas adapted from a home recipe by Kathlyn's Spanish teacher, Mayra. For the full challenge and recipe click here.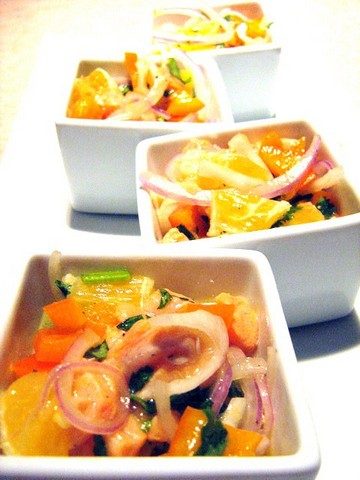 I got pressed for time and lack of proper time management this month…so I only prepared the ceviche. The papas rellenas do look awesome, alas will do them on my own at a later date. I love ceviche but not as crazy about a plain white fish one. Note I have had this ceviche in Peru as well, excellent by the way, but I decided to play it up a bit and I was very inspired by a salmon ceviche I saw recently on another blog.
Salmon Ceviche
Ingredients:
8 ounces of salmon
1 yellow, orange or red pepper
1/2 red onion
1/2 cup cilantro
1 lemon or lime
2 large orange
4 tablespoons of olive oil
1 teaspoon of fresh ginger, grated
salt, black to taster
Directions:
1. Remove the skin from the salmon and cut the fish in small dice; place in a bowl.
2. Cut the pepper and 1/2 an peeled orange in small dice and place in the same bowl.

3. Chop cilantro coarsely and sliced onions: cut in 2 and slice super thin to get a half moon shapes. Add to the same bowl.
4. Juice the lemon and 1 1/2 of the oranges in a small bowl. Grate the ginger over the juice and add the olive oil, salt and pepper; mix well and add to the salmon mixture. Mix gently and let it stand 30 min to one hour.
5. Mix gently one more time before serving the ceviche.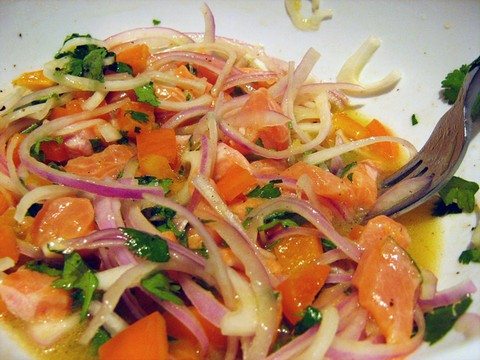 I forgot but as the original recipe suggested a diced 1/2 mango in there would be awesome instead of the cut orange quarters. This made 4 appetizer servings. Stef and I adored the ceviche. Our friend Yann who hates raw-ish fish actually loved it and Stef daughter loved the fish part. This was a definite success and a must to redo again and again.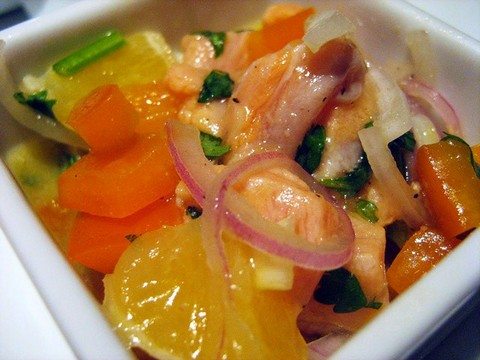 Thank you Kathlyn for a great challenge!