A day late for the wishes, had technical difficulties connection wise at the parents.
Opps!
I read the tittle and looked at a picture of this month's challenge. I assumed it was a holiday dessert. Turns out it was a sweet bread. I had planned on making it for Christmas Eve dinner. I read it a few days ago and realized this would not cut it for the dessert, at least not in my family. And considering I had 5 other recipes to do…well I did some quick research and came up with an alternative. I did not make the mandatory Christmas Stollen, I hope you and Penny will be forgiven.
I wanted to stay within the concept of the challenge so I did find a cake that uses yeast and it is also German. Not bad don't you think? I settled on a Bienenstich Cake which actually translates into Bee Sting Cake. The cake itself is very bread-like and it is filled with a custard…I added dried fruits and nuts to the custard. The top of the cake consists of sliced almonds 'glued on' with honey. And this is where the Bee Sting name comes in: "the story goes that a baker made the cake with a honey topping that attracted a bee which stung the baker".
The 2010 December Daring Bakers' challenge was hosted by Penny of Sweet Sadie's Baking. She chose to challenge Daring Bakers' to make Stollen. She adapted a friend's family recipe and combined it with information from friends, techniques from Peter Reinhart's book………and Martha Stewart's demonstration. If you want to make a Stollen click here for the recipe.
But if you want to make a Bee Sting Cake than you have come to the right place 😀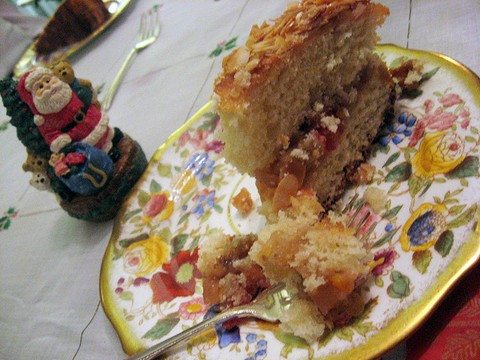 Bienenstich Cake (Bee Sting Cake) adapted from Angie's Recipes and Diana's Desserts
360 g flour
7 g instant dry yeast
60 g sugar
100 g butter, melted
1 egg
160 ml milk, lukewarm
120 g sliced almonds
200 g honey
1 gelatin pack
3 tablespoons water
1 (3-ounce) package instant vanilla pudding mix
1 1/2 cups milk
½ nuts
½ candied fruits and/or raisins
Combine together flour, dry yeast, and sugar in a mixing bowl. Add in butter, egg and milk to form a dough. Knead the dough until soft and smooth. Put the dough in a lightly greased plastic bag. Tie the bag and let rise for about 1 hour until double in bulk at room temperature.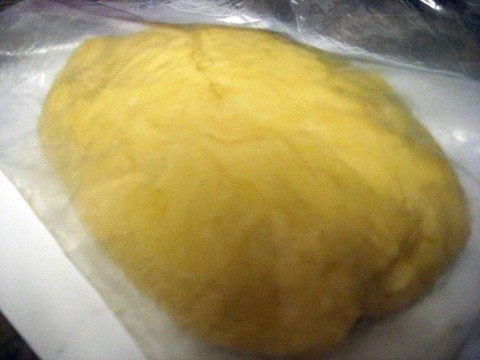 Remove the dough from the bag and roll out on a greased 26 or 28 cm springform pan. Cover and let rise one more time until the dough doubles in size. Preheat the oven to 190C/375F. Place the sliced almond evenly on the top of dough, then spread the honey over the almond. Bake or about 35 minutes. Remove the form and cool the baked dough on a wire rack.
Soften the gelatin in the water, then heat the mixture (in a microwave set on low, or over low heat in a saucepan) until the gelatin has melted and the mixture is clear. Let it cool slightly. Mix the instant pudding with the milk and stir for 2 minutes as the box directs. Add gelatine mix, fruits and nuts. Slice cake in two horizontally. Spread the cream filling over the bottom layer and top with the almond layer.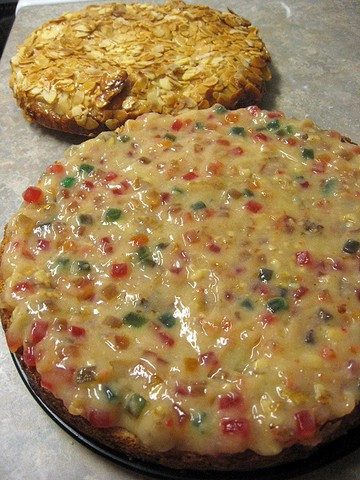 Final verdict? It is a stunning cake to present but taste wise I would not do it again. The cake itself is a little unusual as it really is between a bread and a cake and was quite heavy and a bit dry. The taste was just OK. The almond crust top though was a HI and that I would apply to other sweets. The filling was awesome too. I really did enjoy combining yeast for a cake though, that was a fun challenge.