The Creative Cooking Crew is back again with an very interesting challenge for June. The theme is 1 Color for the plate. And here was my thought process:
Great concept! What color should I pick? What color should I not pick to avoid duplicate choices as much as possible?  D*?% it I am stuck. I have to do something totally out there. Google, help me?
And I knew I had found an instant winner when I landed on an article about food that glows under a black light. OK so I am bending the rules a bit because technically it's not a color…but it's a luminescent ultraviolet meal resulting in one color on my plate!
In reality ultraviolet is an electromagnetic radiation. Physically speaking, the waves of this radiation are like visible light…except that they are invisible to the human eye.   What you can see is the reflection of this invisible light which so happens to be in the spectrum of what we see as violets.
Kitchen Table Scraps did a whole series of posts on food color studies which are really worth checking out. Her last post is about ultraviolet foods and I pretty much stuck to the Luminous Watermelon Salad, only changing a few presentation elements to make it a complete lunch.
So how do you light a dish for an ultraviolet shoot? Just get yourself a black light tube (not the bulbs) at the hardware store for your photo shoot . And you have to pick foods that react to black light too. I used the three most common ones:
Your number one choice here is tonic water. The quinine, a natural white crystalline alkaloid, found in tonic water is very sensitive to ultraviolet light and will glow intensely. Below you can see a simple tumbler of plain tonic water. Notice the sprinkling of coarse salt around the glass that glows a dark purple.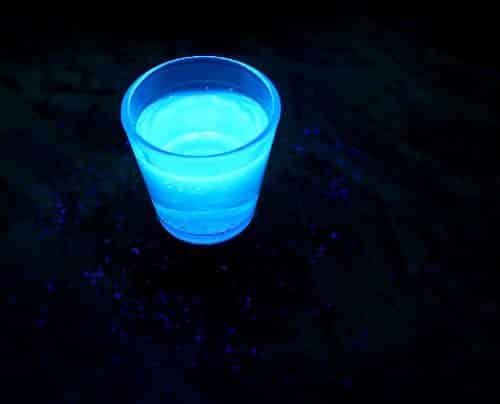 For my dish I made a granita from tonic water and a bit of lemon juice. Every 30 min or so I broke up the ice with a fork to get the granita texture. My next choice is white ingredients. A sliced hard boiled egg is a great choice, as well as a little sprinkling of flaked coconut, for a medium strength glow.
And my final component is food with a high water concentration because UV light  bounces of a water surface quite well.  A stacked salad of cubed watermelon and cucumber round of the lunch plate, offering a dark purple hue.
Here above is a shot in normal light, minus the granita. That stuff melts so fast.
And the photo below is the same shot lit by only a black light, with the granita added this time. How cool is that? Please note the photos were cleaned up with a software but I did not enhance the glow, it is natural.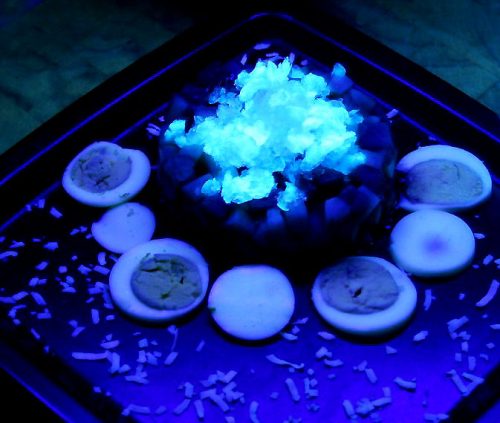 Thank you Lazaro Cooks and Foodalogue for this month's fun challenge. Check out what the other members have created on our Pinterest board by clicking on the banner below.