Oh boy, I was not jumping up and down when I heard this months International Incident Party challenge, hosted by Penny at Jeroxie.com. Yes cake pops are like the new THANG . Some people say that cake pops will sweep the nation and put cupcakes down a notch from their pedestal (I heard rumors whoopy pies where next…time will tell). Cake pops are totally frigging cute to look at and the creativity limit is sky high. So why was I not psyched?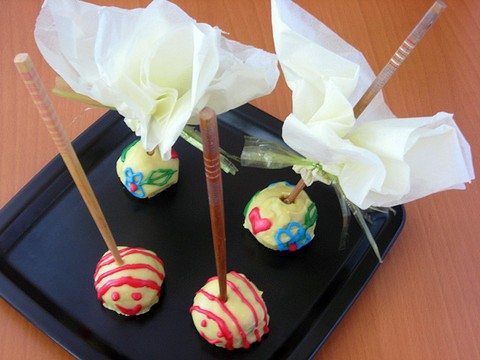 Because I SUCK at icing and cake decoration. What I really wanted to use as a title was childish cake pops but I figured I would be accused of being to hard on myself. Nothing went right. So I used blueberry muffins instead of cake and I used regular frosting as the recipe calls for. It was really messy and the balls did not stick very well together.And the idea of that much icing IN the cake was not appetizing for me.
I did not fins lollipop sticks so first I tried straws, the cake balls were to heavy and the straw would bend. I opted for chopsticks. Then I could not find the colored candy melts so I tried melted white chocolate with food coloring. The texture was WAY too heave, I tired adding cream to get a ganache consistency but I guess white chocolate does not like cream. I would try dipping and covering the ball in the chocolate like suggested and then the chopsticks just slipped out or the cake ball fell apart. I was ready to give up.
So I went with reverse cake pops. I did the fork dipping thing and placed the chop sticks on top. I had some store bough cake icing tubes and with my horrible icing talents got 2 cake pops to look like supposed bees and 2 other cake pops with flowers, leaves and hearts. A childish garden on pollinated flowers from bees!
Gimme a really complicated cake recipe where the final presentation is in the baking I got no problem. Put icing in my hand and I am terrified. But hey I did it once…I can move on lol.