When I found out a few months ago that I would be traveling to Raleigh, NC I contacted the tourism bureau to receive a travel brochure.
Of course I scrutinized the brochure for food facts or suggestions. One thing that went on my MUST list was the so called local cocktail the Cherry Bounce.  It talked about the ingredients (bourbon, cherries, sugar) and described its historical relevance but the article also said it was not a popular drink in bars and may be hard to find. The picture of the drink did advertise a specific bar with a logo on the glass.

I asked my hosts about the Cherry Bounce, plus a few people I met when I was there and they had never heard of it.  It was declared by them as fabrication for tourists.  Pfft, maybe…but I wanted a Cherry Bounce, and  there was a historical reference after all. From the VisitRaleigh site:
The official story goes that the Constitutional Convention met in 1788 and decided the capital must be established within 10 miles of Isaac Hunter's tavern and plantation in Wake County.
After exploring the area, the commissioners agreed to purchase a parcel of land from Joel Lane, a local Revolutionary War colonel who had hosted General Assembly sessions at his home during the war. In 1792 Lane sold one thousand acres of his Wake County property for 1,378 pounds ($2,756) to provide a site for North Carolina's permanent capital, Raleigh.
But according to local legend, Lane, who–like Isaac Hunter–operated a tavern and inn out of his house, relied upon a potent fruit and alcohol drink called Cherry Bounce to sway the legislators in favor of buying property from him, rather than Hunter. Cherry Bounce is a concoction made up of mashed cherries, sugar and whiskey or brandy, aged for several weeks.
Regardless, the city of Raleigh was established in 1792 and named after Sir Walter Raleigh, the explorer who in 1587 founded the first English colony in the New World on North Carolina's Outer Banks. Raleigh is one of only three U.S. capitals that was planned on paper before being built.
Visitors today are not likely to find Cherry Bounce in Raleigh, but they will find that the tradition of Southern hospitality.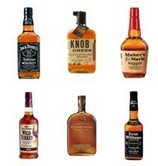 Turns out you can get it at the bar indicated by the logo on the glass in the picture from the brochure but I only found this out after.  In the end, did I get my Cherry Bounce?  Yes, sort off.  This is a story on its own.  On my last night I went out for dinner with a lovely local gentleman named Rich.  He took me on my only real North Carolina meal that weekend.  We went to a restaurant called Lucky 32.  Although the menu is more southern then NC, they did have a lot of local specialties (post coming soon with the meal recap).
Certainly they would have my Cherry Bounce here!  After establishing with the waiter I was a tourist and wanted the local Raleigh cocktail he looked at me quizzically but said encouragingly, "Not sure Ma'am but I will find out."  It was during the next following minutes that I fully became aware of true southern hospitality where everyone bent over backwards to try and please me!
The sweet young waiter came back announcing it was not on the menu but if I told him the recipe he would do his best to bring me one.  Well, I could not remember exactly what was in it so he said he would be back in a minute. Rich and I discussed the possible ingredients as he read the article a few hours before.  The waiter came back with the bartender.  After mentioning what we could remember the bartender sadly announced he was not familiar with it.  At this point my waiter declared he would get his Iphone and try to look up the recipe online.  Rich then jumped on his blackberry to do the same.
At this point I am extremely flattered but I kind of want them to stop…I was getting a  little embarrassed by the fuss my request caused.  Guess who showed up next at our table concerning the Cherry Bounce drama?  The manager!  He looked it up online and said they could make it but did I really want it.  What?  It turns out that what he found online was basically a glass of bourbon, brown sugar and a few cherries.  Well, I do like my bourbon but not that much.  I asked if they had cherry juice, he said just the juice from the marashino cherry jar.  We agreed on less bourbon and some cherry juice.   And so finally my cute waiter — all proud — brought me my sorta Cherry Bounce cocktail (pic above).  How was it?  Freaking sweet and freaking strong…got drunk on it.
I did research the actual real recipe and share it with you, should you be curious and want to try it.
Cherry Bounce
(one of many versions)
1 qt. cherries
1 qt. vodka
peel of 1 lemon
2 c. brown sugar
Combine ingredients and let stand for 3 months, stirring occasionally.
Drain cherries. Squeeze out excess juice. Bottle.
Serve chilled with or without sweet or sour soda.