Feeling salty fruity? How about a savory spicy salad? Try this Cambodian Fruit recipe with a little secret ingredient: a Cambodian Green Mango Shrimp Salad.
We are used to Thai mango or papaya salad listed on the menu of our favorite Thai restaurant. I remember my first time and I was blown away by how spicy it was. So what makes this version Cambodian? The dried shrimp. Cambodian Fruit Served Salty: Cambodian Green Mango Shrimp Salad.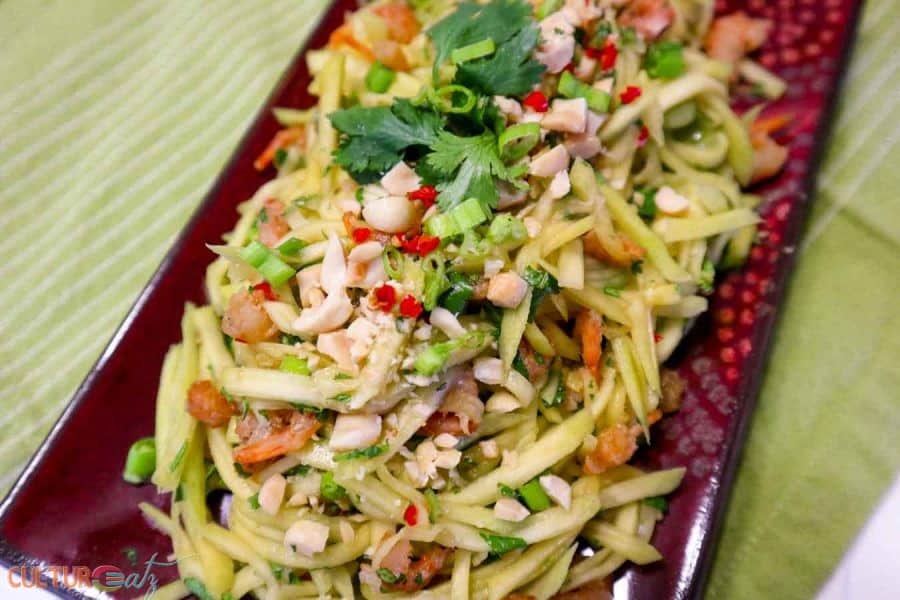 What do Cambodians eat?
Cambodian cuisine is often referred to as Khmer, as this ethnic group represents over 97% of the population. A typical Cambodian meal will include an array of several Cambodian dishes with contrasting flavors, textures, as well as temperatures. One will also find herbs and leaves, pickled vegetables, sauces, flowers, and other condiments to go with the meal.
Rice is the number one staple food and can be found at every meal. Many Cambodian recipes are principally made with rice, such as deep-fried rice cakes, Cambodian curry, rice noodle soup, or porridge, or rice will be served as an accompaniment. You can even find many rice-based Cambodian desserts.
Although plain white rice is most often used, there are actually over 2,000 rice varieties that are indigenous to Cambodia. That is a lot of rice!
Traditional Cambodian food recipes include Cambodian noodles, often in soup or stew form, hotpots, stir-fried dishes, salad recipes, rolls, steamed foods, and dumplings. Desserts are in jelly form, sticky rice, parties, and puddings. And you must try the Cambodian coffee, which is made of brewed coffee and sweetened condensed milk, served hot or cold.
I have a FREE PRINTABLE for you
Surprise! I have prepared a Cheat Sheet that includes 41 Cooking and Baking Ingredient Substitutions that are commonly found in a kitchen. Click here to get your FREE Ingredient Substitutions Cheat Sheet right now!

Not the regular mango, but the Cambodian Fruit
Actually, that is not quite correct, rather the Asian mango variation. I always wondered what is a "green" mango, exactly. Is it just the unripe fruit we often find at the grocery store?
For Asian recipes, it is a specific type of mango, labeled as green mango, often found in the vegetable aisle of Asian supermarkets. I have never seen one nor looked for one.
But they are distinguished by having lighter green skin and paler white or pale yellow flesh. They should be very hard too and have a sour or nutty taste compared to the sweet variety we know. In a pinch, just use a very hard, unripe regular mango.
I was shocked to realize not only was this my first Cambodian food exploration, but only my second mango recipe on CulturEatz! What is wrong with me. The only previous post is a pretty awesome Mango Curry Cardamom Ice Cream.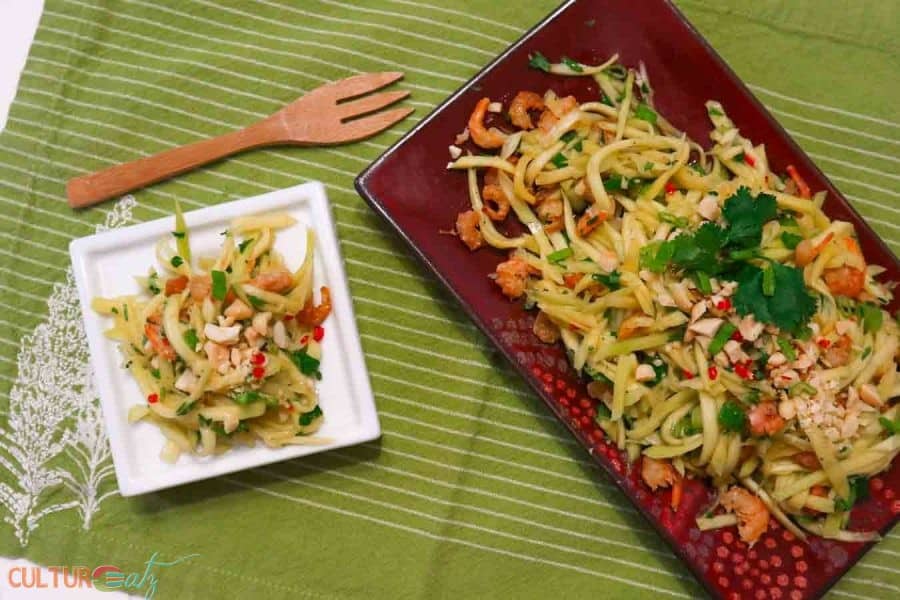 Cambodian Green Mango Shrimp Salad
Every Thai restaurant will list a green mango or papaya salad in the appetizer section. if you have never tried it, order it next time. It is fresh and delicious. This salad will often be oh so very spicy too. Like really spicy.
The advantage of making it yourself is that you can control the heat a bit more. So what makes this Cambodian recipe stand out from the rest? Dried shrimp.
You can easily find them also in Asian markets in the dried food section. Just hydrated them in hot water for a bit before use. Here we quickly stir fry them and gently crush them so the vinaigrette is absorbed quicker.
They do give the salad pleasant fishy taste but if that is not your thing, just cooked a few regular shrimps and cut them up into bite size pieces.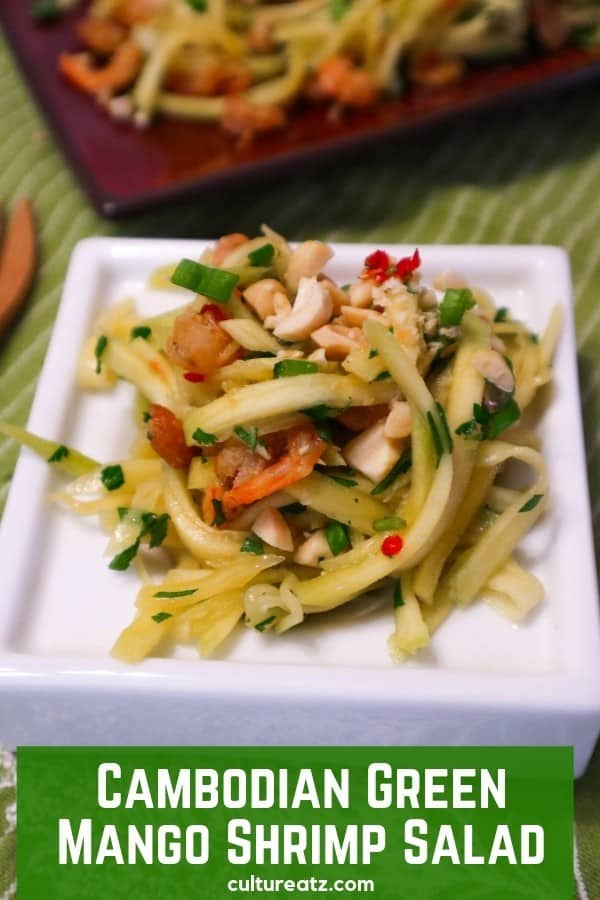 Cambodian Green Mango Shrimp Salad
Ingredients  
1

medium size green mango

unripe regular mango

1/2

cup

dried shrimp

pre-soak in hot water for 30 mins

1

tablespoon

fresh lime juice

1

tablespoon

fish sauce

1

teaspoon

sugar

1/4

teaspoon

salt

1

teaspoon

chopped fresh Thai chili

or to taste

1

small shallot

thinly sliced

1/4

cup

fresh herbs

mint, green onions, or basil,chopped

2

tablespoons

roasted peanuts

chopped
Instructions 
Peel the skin off the mango and shred the flesh in a bowl.

In a small heated pan, quickly fry the hydrated shrimps with a touch of oil, until crispy. With a pestle and mortar, gently bruise the shrimp, while keeping it's shape. Add to the mango bowl.

Mix the lime juice, fish sauce, sugar, salt and chili together.

Add the dressing to the mango, along with the shallot, and fresh herbs. Toss well and refrigerate for 1 hour.

Trasfer to a serving dish and tpp with peanuts.
Check out all the wonderful Cambodian dishes prepared by fellow Eat the World members and share with #eattheworld. Click here to find out how to join and have fun exploring a country a month in the kitchen with us!
CulturEatz: Cambodian Green Mango Shrimp Salad
Culinary Adventures with Camilla: Somlar Machu Ktiss (Cambodian Hot and Sour Coconut Soup)
Palatable Pastime: Grilled Cambodian Beef Sticks
Pandemonium Noshery: Khmer Lok Lak
Amy's Cooking Adventures: Loc Lac (Cambodian Beef with Lime)
Home Sweet Homestead: Cambodian Spring Rolls
A Day in the Life on the Farm: Aioan Chua Noeung Phset Kretni
Loreto and Nicoletta: Cambodian Tapioca Banana Pudding
Margaret: Traditional Cambodian Rice Flour Donuts
House of Nash Eats: Cambodian Chicken Red Curry [Somlar Kari Saek Mouan]
PIN IT HERE for later!