When I discuss ethnic food with people there are always the usual suspects that come up: Italian, Asian, Middle-Eastern and the occasionally more exotics fares like African for example. But sometime I love to research really small destinations to see if they have a typical dish, an unusual herb, or a unique specialty. This time my searches lead me to the Canary Islands.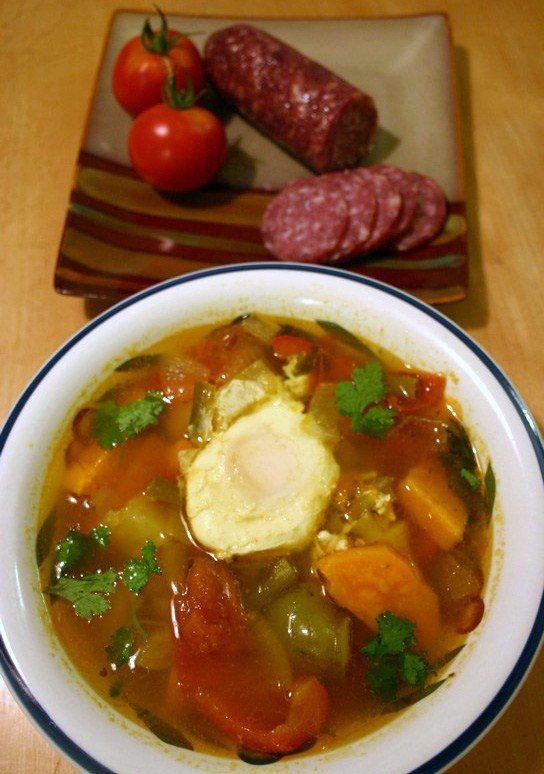 These Spanish islands are located on the west coast of Africa, near Morocco. The landscape is African, the culture all European. The most mystifying island to me is Lanzarote. All the Canary Islands are of volcanic origin but Lanzarote is mystical with its incredible rock formations from created by solidifies lava streams, craters and caves, best seen in the Timanfaya National Park. Surprisingly there are a few gorgeous beaches amidst the rugged coastline. Even more unexpected are the Lanzarote vineyards. The vines are planted in rock pits and covered with soil and volcanic ash. The ash retains the morning dew, keeping the vines perfectly humidified.
Canarian cuisine includes plentiful fish, stews, potato dishes and mojo sauces. Today I bring you a wonderful potato soup which is topped off with a poached egg that is cooked right into the soup. Play around with the amount of potatoes and vegetables, as well as the seasoning. It looks like  very simple soup but it is very nourishing. I thought the flavor really developed overnight and it was even better the next day when I added leftover chicken to the broth.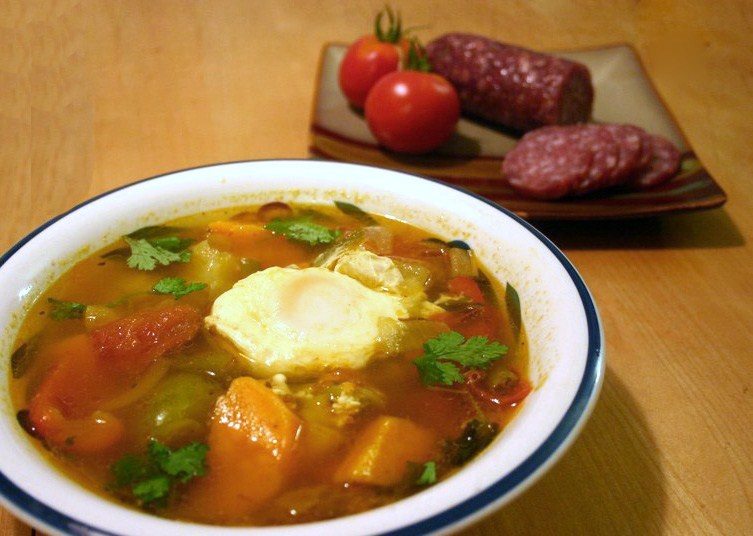 Ξ Caldo de Papas y Cilantro Ξ
1 onion
2 pounds of peeled potatoes (mix different kinds)
2 tomatoes
1 red pepper
1 green pepper
8 to 10 cups water
2 cube vegetable or chicken stock
A few sprigs of coriander
salt
2 oz olive oil
saffron
4 eggs
Chop onion normally and all other all vegetables in chunky pieces.
Heat a little bit of oil in a large stock pot, and sautee onion until translucent.
Add potatoes, tomatoes and the bell peppers. Add water, stock cubes, olive oil, saffron, salt, and coriander.
Bring to a rolling boil, then cover and simmer on low for about 30 minutes or until potatoes are cooked. Adjust seasoning.
Keeping the pot on the heat, crack the raw eggs into it and leave it some minutes until the eggs are cooked.