About 10 days ago I was fortunate enough to attend an media event for a product launch by Weston Bakeries Canada. The new lined entitled Première Fournée is made of 4 different breads made the old fashion way. The breads are made with unbleached wheat flour, pure water, yeast and salt, and contain zero preservatives, color or artificial flavor. Then each bread has additional quality ingredients added to achieve the fours breads varieties: Stonemilled Wheat, Hearty Grains, Rustic White and Light Rye.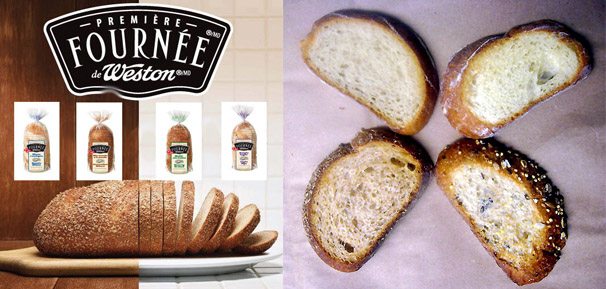 These breads qualify by the food norms as Artisanal Breads. Although the breads are kneaded by mechanical equipment, each bread is hand shaped – by a human being – and then baked in a stone hearth oven without a mold. Each bread takes 17 hours to make and taste like the bread your grandmother use to make. These breads just hit the shelves this week in supermarkets in Canada.
A fun event and we all got to take home a full loaf of each bread, like close to 5 pounds of bread without preservatives. I live alone! The hearty grains I kept but I divided 3 of the breads in 3 and made a loaf all  flavors and repackaged them. One loaf went in the freezer, one I gave away and the last one I used for an awesome bread pudding recipe. This recipe claims to have its roots in the South, New Orleans more precisely. The original recipe calls for Bourbon but I only had Scotch on hand as a close substitute.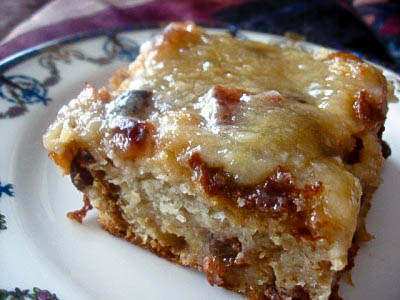 Ξ Boozy Scotch Bread Pudding Ξ
Bourbon Sauce:
1/2 cup (1 stick) butter, melted
1 cup sugar
1 egg
1 cup Kentucky bourbon whiskey (or Scotch)
Bread Pudding:
1 loaf bread, at least a day old, cut into 1-inch squares (about 6-7 cups)
1 qt milk
3 eggs, lightly beaten
2 cups sugar
2 Tbsp vanilla
1 cup raisins, soaked in 1/4 cup bourbon for a few hours (or Scotch)
1/4 teaspoon nutmeg
1/4 to 1/2 teaspoon cinnamon
Directions:
Preheat oven to 350°F.
Soak the bread in milk in a large mixing bowl. Press with hands until well mixed and all the milk is absorbed. In a separate bowl, beat eggs, sugar, vanilla, and spices together. Gently stir into the bread mixture with the raisins.
Butter generously bottom and sides of a 9×13 inch baking pan. Pour in the bread mix and bake for 35-45 minutes or until set and the edges start getting a bit brown.
While bread pudding is cooking, melt butter in a saucepan; add sugar and egg, whisking to blend well. Cook over low heat, stirring constantly, until mixture thickens a little bit. Whisk in bourbon to taste. Remove from heat. Whisk before serving.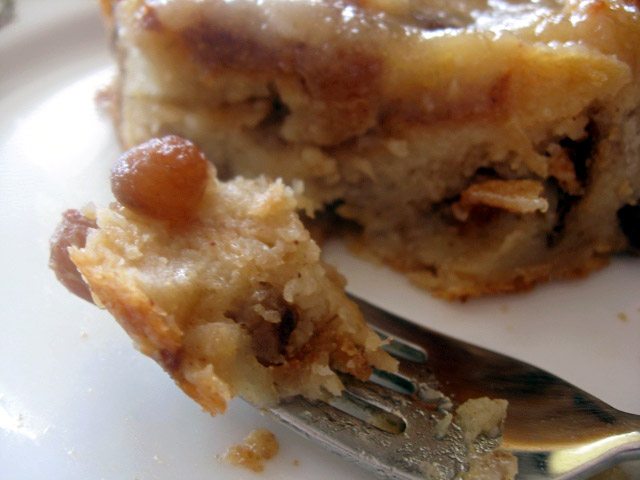 Serve with the bourbon sauce on the side or just slather it on top and let it soak like I did. BEST BREAD PUDDING EVER, hands down!
___________________________________________
Totally unrelated to food but I am so impressed I just had to mention it, plus we stay in the Canada only theme: have you heard of Glymm? It's a high end beauty product club where you receive your Glymm Box once a month for only 10$ plus tax, shipping included. And you can cancel your subscription at any time, no strings attached.
Every month, your Glymm Box will contain 3-5 luxury samples that span over several beauty categories including cosmetics, fragrance, skincare, tools, spa and body, nails and lifestyle. Month-to-month, the products you receive will be different, and curated according to your beauty profile. I got my first Glymm Box yesterday!
Is that not the cutest pink box? Open it and pull the bow to see the detailed card telling you what sample beauty products are included.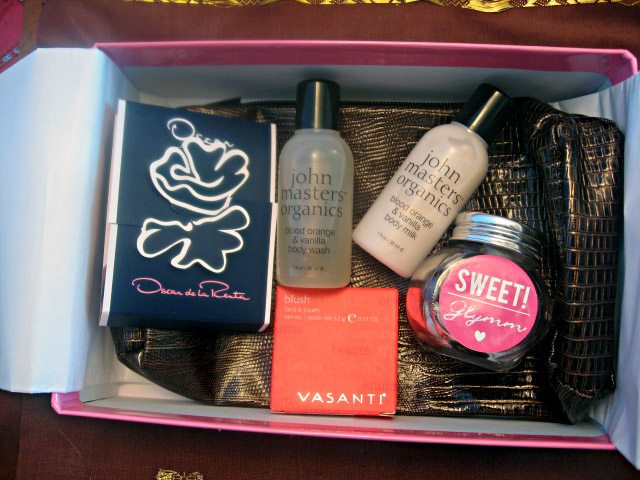 This month I got a a blood orange and vanilla body wash and body milk from John Master, a blush from Vasanti, an Oscar de la Renta perfume, a pretty make up bag and some jelly beans! Of course if you fall in love with a product you can then purchase a full size version on the Glymm website. There is a point reward program too. A small price to pay for a monthly gift in the mail.