It's Food 'n Flix time again! In this monthly group a 'host' picks a movie of their choice that pertains to food. Everyone watches the movie and then makes a recipe which the film inspired. It can be any recipe you want. And I put a fun twis on the potato leek soup today!
And I get to play the first host of 2105! I dug up a crowd pleasure film where the story starts off with a New Year's party. I am not a chick flick kinda-gal but Bridget Jones's Diary has always been a fun favorite. Every rule has to have an exception right? And what a challenge to make a recipe for a movie where the main character is an awful cook! It's cliche but I could not resist doing Bridget's infamous accidentally Blue Potato Leek Soup. And I just had to do something with mini gherkins with an Indian touch from the annual Turkey Curry Buffet her mom host.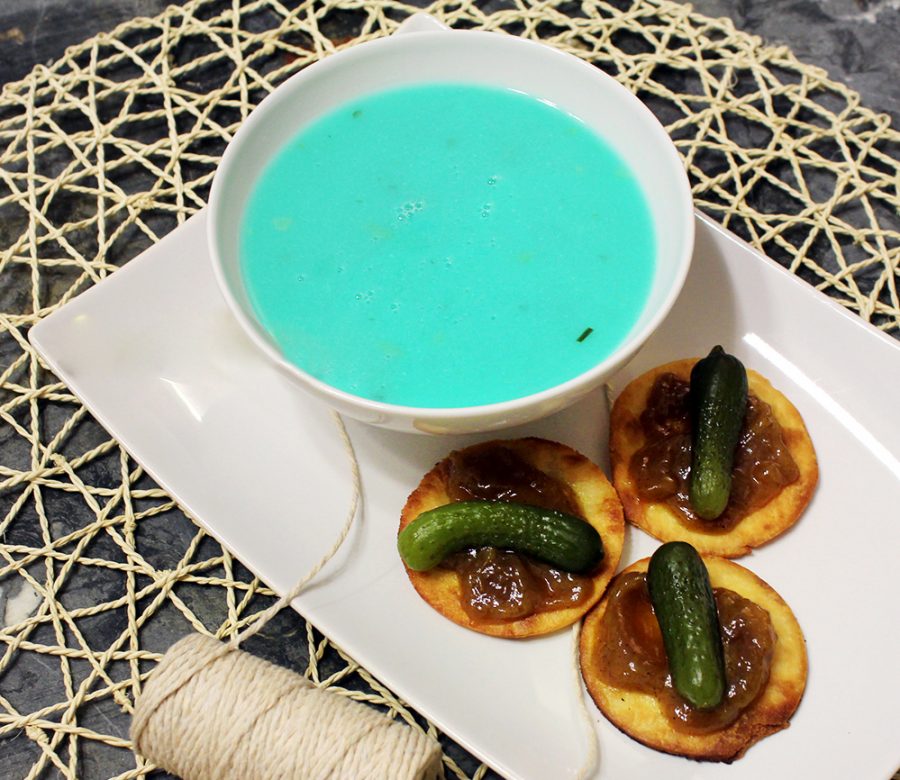 The British romantic comedy film Bridget Jones's Diary was released in 2001 and it is based on Helen Fielding's novel of the same name. But did you know that is was also an modern interpretation of Jane Austen's Pride and Prejudice? Mr Darcy had to be a clue!
The star studded cast includes Renée Zellweger as Bridget, Hugh Grant as the 'bad boy' Daniel Cleaver and Colin Firth as Bridget's 'nice guy', Mark Darcy. Bridget is a goofy 30-something gal who wants to turn her life around and find true love. She starts a diary on the New Year and we are taken along for a ride on all her romantic, career, boozy and weight loss fumblings of the year.
I think this is at least the 4th time I have seen this movie. Needless to say, I love watching it when I am in the rare mood for something girly. I think the reason why Bridget Jones is so popular is because we have all identified with her at some point of our early adult life. We have all questioned the granny panties in our drawers, we have all tried to start a year with crazy resolutions to change our entire life, we have all shared drinks with friends while discussing the opposite sex, and we have all run down the street at night in winter in underwear trying not to loose the man of our dreams after he read the nasty things we said about him our diary. Oh, no wait, only Bridget did that, well I hope!
I watched the film early on New Year's Eve before my guests arrived, perfect timing for the storyline. I laughed at Bridget's bunny outfit when she arrived at was suppose to be a Tarts and Vicors themed party (which changed), swore off men when she found her bad boy Daniel cheating on her, cheered nice guy Mark when the 2 men broke out into a real street fight (and through a Greek restaurant) on Bridget's birthday, I cried when I saw her sorry cooking skills, and was so happy for her when her truly love told her "I like you just the way you are".
And I adore the infamous Blues Leek String Soup scene where tying the leek stalks with blue string seemed like a good idea….
Bridget: How's it look?
Mark: Uh, great. It's, um, blue.
Bridget: Blue?
Mark: No, but, blue is good. If you ask me there isn't enough blue food.
Bridget: Oh, shit! It must be the string.
Mark: Oh, it's string soup?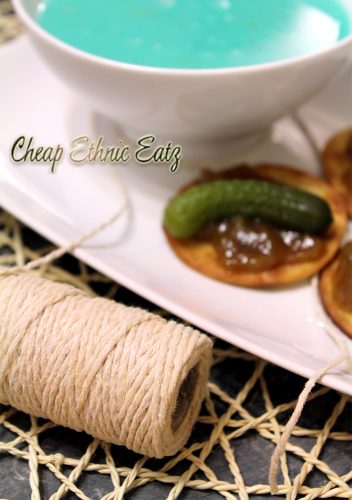 Although the film does not revolve around food there are plenty of scenes involving food. Inspiration could be found in the turkey curry buffet, mini gherkins, tons of cocktails and boozy drinks, an accidentally Blue potato leek soup, an orange pudding more similar to, sludgy caperberry gravy, a Greek restaurant, moldy cheese, eating Mueslix right out of the box, and Branston Pickle.
Accuse me of going for the obvious choice, but I just had to make the blue soup. The urge was too strong. I am sure I will not be alone. The recipe is your basic, yet delicious, potato leek soup, all you have to do is add blue food coloring to your liking. We humans do eat with the eyes. I'll admit it was a mental hurdle at times but really there is not impact on the taste. Just skip the blue if you are not up to it, the recipe is great.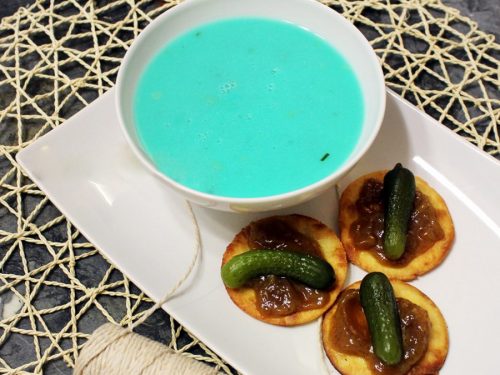 Blue Potato Leek Soup
Ingredients  
2

tablespoons

vegetable oil

1

pound

or 4-5 medium russet potatoes

peeled and roughly chopped

1

pound

or 3 large leeks and thinly sliced

6

cups

vegetable or chicken stock

Salt

to taste

1-2

tablespoons

freshly squeezed lemon juice

1/2

cup

heavy cream

optional

1/3

cup

minced parsley or chives

blue food coloring
Instructions 
Heat the oil in a large stockpot over medium heat. Add the leek and potato. Cook, stirring occasionally, until the vegetables have begun to soften and brown slightly, about 8-12 minutes.

Add stock and bring to a boil. Reduce the heat to low, and simmer for 30-40 minutes, or until the vegetables are tender.

Remove from heat and blend until smooth either using an immersion blender, or by carefully transferring to a blender in batches.

Add the cream, and season to taste with salt (start with 1 teaspoon) and lemon juice.

Stir in drops of food coloring.
As I mentioned at the start of the post, I also HAD to make something Indian – I use the term very loosely here. The movie starts off within minutes with Bridget's mom's annual New Year Turkey Curry Buffet where mini gherkins are a staple. I whipped up a fun and quick hors-d'oeuvres recipe that showcased the pickled gherkin with an Indian flair.
I cut out tortilla circles and fried them till golden in shallow oil. Once drained and patted I added a bit of a pickled mango sweet Madras chutney (one of the hundreds of condiment jars in my fridge) and topped it with a sweet mini gherkin. They were perfectly retro in flavor, her mom would approve!