A little while back I was in Toronto for the weekend. Coincidently a friend from Montreal was also in Toronto. On the Sunday we met up to explore Kensington Market and Chinatown. By the end of our snacking day we were starving!
I had planned ahead. I am not an organizer for nothing. I had searched for ideal places to have dinner just in case! So off we went on a search for a place wayyyyyy to the west of Queen St. We could barely walk anymore when we saw the sign. We made! And they were exceptionally closed that day! Urghh. We decided to backtrack our steps until we found something else. Nothing appealed to us. We almost settled for a shady joint: we were sitting with menu in hand. I got creeped out and we left asap! We were hungry, tired, discouraged…
And then we came in front of this place. Nice looking, sophisticated, Iranian food, fair enough ish prices. We went in and we never looked back. Our savior restaurant was the Banu Kabob Vodka Bar and it was a fabulous meal.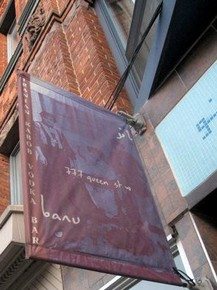 The chic yet modern minimalistic decor was unlike any Iranian restaurant I had ever been too. I loved the place and felt very comfortable.  The colors where white, cream and blue. Behind the bar was an old pic of a young woman obviously having fun at a party 1960s style. It set the tone. From beginning to end the service, done by one young lady, was impeccable.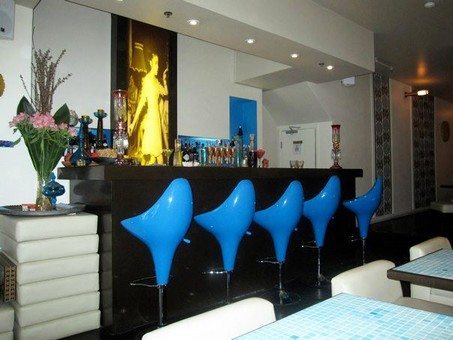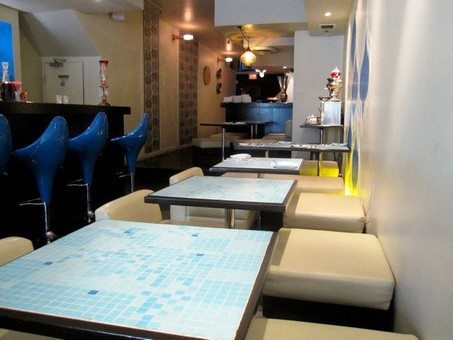 First thing we did was order a cocktail. We both had the same one as it sounded so unusual. Called Safka, it was made with house infused saffron vodka, sour cherry juice and pomegranate seeds. It was served with a small bowl of pistachios. The cocktail was just perfect, nothing was overpowering.
For our main meal I ordered the Murgh (chicken breast in a saffron citrus glaze) and my friend ordered the  Torsh (beef tenderloin in a pomegranate walnut marinade). Both our meats arrived on the same platter with the traditional broiled tomatoes, a yogurt cucumber sauce sprinkled with ground rose petals, a bowl of sumac to sprinkle on out meats, mint and basil leaves and a flat bread. Both meats were melt in your mouth tender.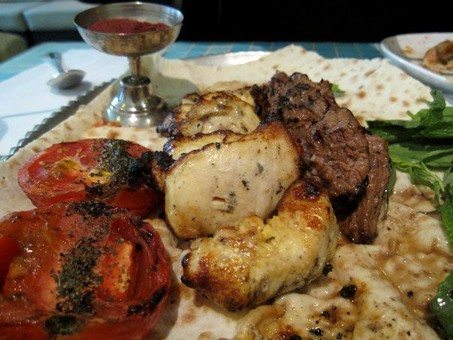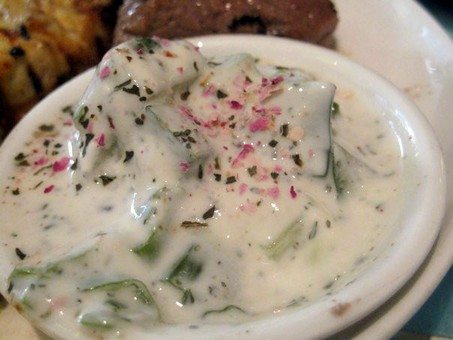 And of course we were tempted by dessert. My friend had the almond Baklava Cake which was served warm and was just delicious. I had the Soma Chocolate plate: dark chocolate with nougat, sumac and barberry. It was a huge portion and really different and tasty. I had to doggy bag the rest.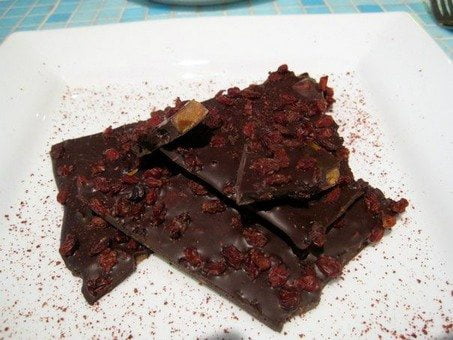 We were more then happily satiated and we both adored the place and our meal. We then slpit up and I headed back to the condo of the friend I was staying with. We had spent the evening apart as she was watching the last episode of LOST with roomate and friends. I regaled my tale of the meal between commercial and they gladly scarfed down each a piece of my chocolate promising to go check this place out. Its really worth the visit.
Banu Kabob Vodka Bar
777 Queen Street West
Toronto, ON M6J 1G1
(416) 777-2268