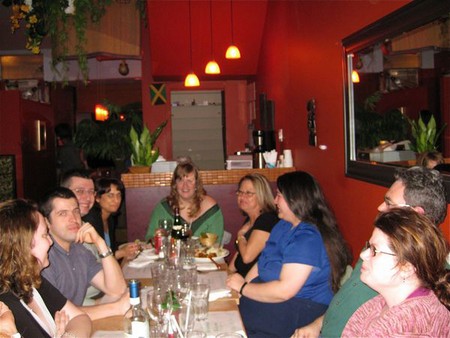 Not in the biggest blogging mood lately so sorry for the delay of our latest outing. Oh and we did go to 2 other places, I was not in attendance and I never got a blog from the ones present…so the group did go to the Oyster Shack and Braseiro….if you were there and want to write about it let me know!
So our last outing was at a Jamaican restaurant called Anancy. I have been to several Jamaican restaurants and I must say this one stands out. Firstly with its decoration…it has some. It is very well decorated and very homey in feeling too.
Second, I actually visited this restaurant the week before with a smaller group of friends and had already met and chatted with Vashti, the restaurants manager. ..so I knew what to expect. It is a very homey place with regular customers and you are treated like family. Vashti is a very interesting woman: she is very expressive with her emotions. if you say something she does not like it shows BUT 2 seconds later she will laugh with you as well. She is a woman of character but a lovely and fun person too. So its family in the sense that you don't get just the roses. I like that.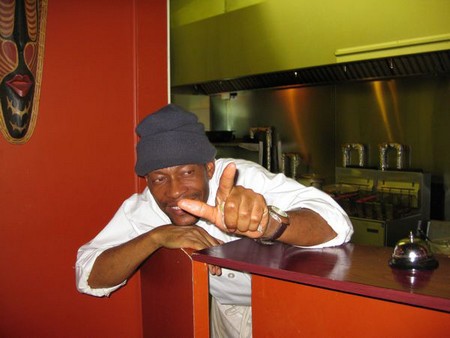 And Thirdly, its a BYOB! Love those. We were a large group, 29, for this place and the seating was a bit awkward. We had 1 long table and 4 booths like in old dinners. This sort of broke up the community feeling but in the end I think the booths had a lot of fun too in their little groups.
Now it's not a big place and we ordered A la carte. So this means it was a looooooooonnnnnnnngggggg wait till we got our main meal…like 2h30m wait. I expect a wait with a large group but that was a lot. I started to panic inside of me because people were rightly complaining. I was so scared at the ratings this event would get on Meetup. At least we had wine! But finally the food did arrive. And people LOVED it. I had several people tell me it was well worth the wait in the end. And I was happy to see in the ratings people wrote no one complained about it. Let me note when I went with a smaller group the week before we did not have to wait.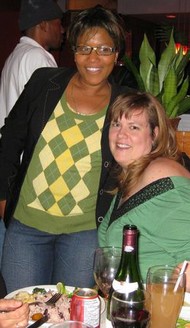 I had an appetizer of peppered shrimp. And peppered they were, OMG. delish but pepper spicy like I have never tasted. My main dish was the traditional Jamaican dish of ackee and saltfish. I had this once before at another restaurant and wanted to compare. I really have to say the one at Anancy was so much better I can't even compare. An excellent choice! The week before I had the jerk pork which was fabulous as well. By the time we left I had many people saying this was now one of their fave new spots.
Another point I want to mention, a first, Vashti called me the next day to apologize for the delay and to see how we liked it. Really no restauranteur ever did that before. I was impressed. And she specifically told me to be 100% honest in my blog and to give her a copy when it was done so the restaurant could improve accordingly. I was doubly impressed. Thank you Vashti for the great service you gave me.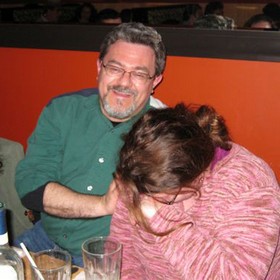 Of course no dinner is ever complete without 'breaking Julia'…see pic. All pics were taken by Bernard Reischl!
I will definitely go back and highly recommend it.
Hugs and Biscuits
Evelyne
Anancy Restaurant
6587 Somerled
(514) 486-2629