Ah the first big menu planning of the year! It always coincides with my mother's birthday on April 1st when I have my parents over for dinner. Younger I would choose very long and elaborate recipes that would take an entire day to prepare. Now wiser in years I have learned to plan very sophisticated looking menus consisting of easy but wonderful recipes. If I am well organized I can pop out such a meal in 2 or 3 hours…exhausting ones. The hard part is finding the first inspiration.
In this case it was a bunch of rapini I had bought a few days before. It is not a vegetable I have cooked with very often but after seeing it a blog post ton it I was inspired to try my hand at it again. From there came an Italian theme spread over the whole menu. I like to think of it as  Southern Italian menu filled with cured meats, fish, fresh vegetables, ricotta and nuts. I hope you will enjoy my presentation of the meal….
The evening started of with a cocktail and lovely bites to nibble on while we toasted  to my mom's birthday: Prosciutto Purses by Giada de Laurentis. A few handfuls of Sesame Roasted Nuts accompanied the purses. I adapted the recipe with walnuts, pistachios and almonds. I did not have the mentioned spices so I used cinnamon, cocoa mole rub, chili pepper flakes and garlic salt.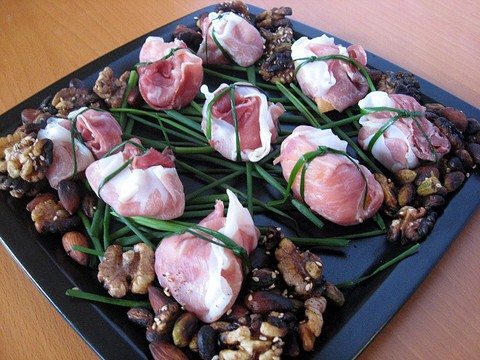 The Prosciutto Purses are very easy to make. I just used half a cantaloupe and scooped out 9 balls with a spoon. Then I just rolled up the cantaloupe balls with a slice of proscuitto and tied my purse with a sprig of chives. Here is the secret:  blanch the chives briefly until just a bit limp. This way they will not break when you make the knot.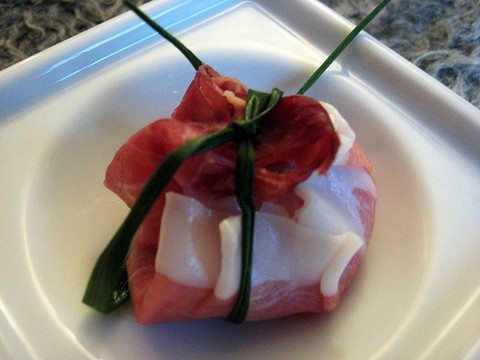 My appetizer consisted of three Zucchini Ricotta Roll-ups per person served on a bed of pureed snow peas. I just cooked the peas till soft in a bit of vegetable stock and added a bit of garlic salt and pepper. I passed this through the blender and got an amazingly colorful shiny dark green puree.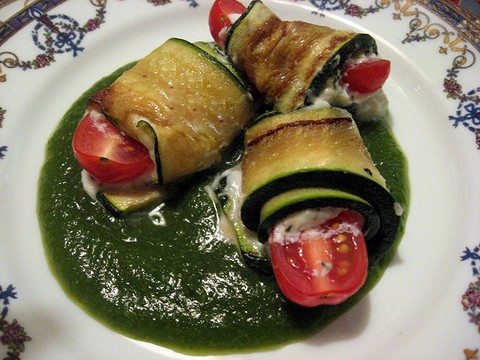 The main course was a simple baked white fish recipe which was accompanied by Polenta with Beans and Rapini, the inspiration dish of the whole menu. A bigger portion could be a vegetarian meal on its own. I went with a soft polenta in which I added cheddar cheese. I loved this dish, the mix of flavors and textures was sublime, from the acidic sweetness of the tomatoes, the earthy mellowing taste of the beans to the perfect bitterness of the rapini.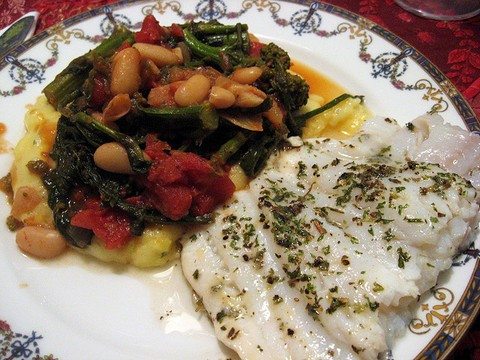 The meal ended with a wonderful gluten-free Blueberry Almond Cake. This cake is just about all eggs, 6 to be exact. I followed the recipe but added some blueberries: I poured half the cake mix in the pan, sprinkled the berries and then covered then with the other half. I think this made the cake but my cake deflated. A little simple looking but there was no shortcoming in taste.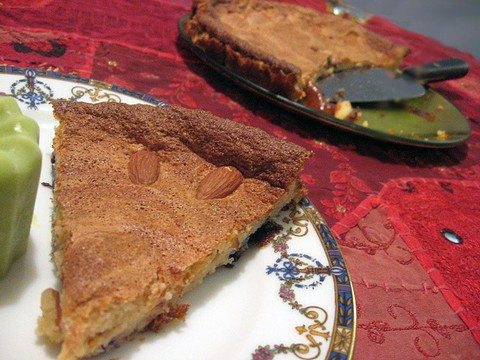 A very unusual but perfect pairing was a portion of homemade Avocado Ice Cream. I had this ice cream in the freezer for a while and had just enough for 3 small portions. I melted a bit the ice cram down and placed it in 3 canellé mold. The resulting presentation is reminiscent of the classic Tartufo ice cream.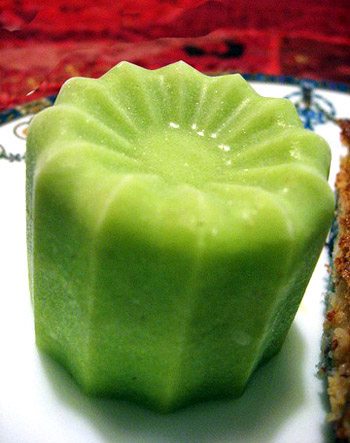 Avocado Ice Cream
Ingredients
1 cup heavy cream
1 tablespoon fresh lemon juice
1/2 cup granulated sugar
1 1/4 cup milk
3 ripe avocados
Directions
Peel and seed the avocados; put flesh into a blender with the milk and purée. Pour all the ingredients an ice cream maker and follow the manufacturer's instructions.
Buon appetito!