I cannot tell you how excited and honored I am to present you with my first ever contribution to the monthly 5 Star Makeover. This relatively new cooking club is run by Natasha at Five Star Foodie and Lazaro of Lazaro Cooks. I was really attracted to their club because you get a theme or ingredient and then you let your imagination run wild. It feeds my need for creativity.
But I almost had a heart attack when I saw the ingredient for this month: White Asparagus. Am I going to find some? I know I have seen some in the past but the season is very short. That is the season in the US which is usually the last 2 weeks of April. In Canada specific food in season are usually behind on the agricultural schedule. And my fears were confirmed. I never found fresh white asparagus. I did grocery stores, ethnic stores, fruits and veggie stores, farmer's markets. Zilch, nada, zero. I had my recipe all planned out after some online research and food pairing suggestions, I just needed my star ingredient! The recipe: White Asparagus Ice Cream with Dark Chocolate and Rooibos Tea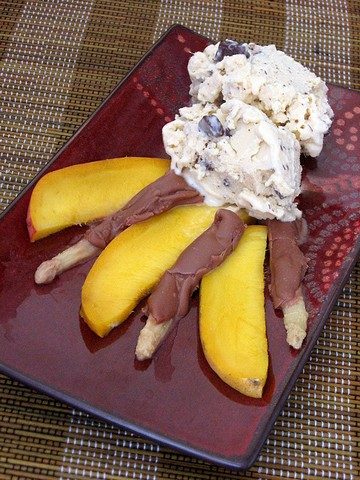 I fortunately found in one Asian grocery store jarred white asparagus, unfortunately. At least there was no vinegar in there…just salt. I bathed the wimpy limp stalks and drained several times to remove as much salt as possible. Not finding fresh ones sucks but at least I got to participate with my find.
The white asparagus is nicknamed white gold in northern Europe. They are cultivated by denying the plants light while they are being grown. Soil is continuously 'hilled" to deny any contact with the sun. The result in taste is a little sweeter and much more tender, but it must be peeled before consumption. Germany is known for week long festivals dedicated to this vegetable called Spargel, they crown a Spargel Queen and there is even Spargel etiquette rules. I am sure deciding to make a dessert out of my challenge breaks those rules, oh well!
White Asparagus Ice Cream with Dark Chocolate and Rooibos Tea
adapted from Jose Garces
Ingredients
2 pounds asparagus (or 1 pound jarred)
Kosher salt
6 large egg yolks
2/3 cup sugar
1 1/3 cups whole milk
1/4 cup heavy cream
200 gr of dark chocolate chunks
1 pouch of Roobios tea
Directions
Fresh: Cut the top 2 to 3 inches from each asparagus stalk; reserve the bottoms for another use. Fill a large bowl with ice water. Bring a pot of salted water to a boil. Add the asparagus tops and cook until bright green, 2 to 3 minutes. Drain and plunge into the ice water, then drain well and transfer to a blender; set aside.
Jarred: Gently place in a shallow dish and bathe several times, draining, in water. Cut in sections 2 to 3 inches long using the whole length.
Whisk the egg yolks and sugar in a medium bowl. Heat the milk and cream in a saucepan over medium heat until it just boils. Remove from the heat and gradually add the yolk mixture, whisking constantly. Return the pan to the heat and cook, stirring constantly with a wooden spoon, until the custard is thick enough to coat the spoon and a thermometer registers 170 degrees F, about 10 minutes (do not let the custard boil).
Transfer the custard to the blender with the asparagus and puree until smooth, 1 to 2 minutes. Cool completely in the refrigerator. Add the dark chocolate and Rooibos Tea. Freeze the asparagus custard in an ice cream maker according to the manufacturer's instructions.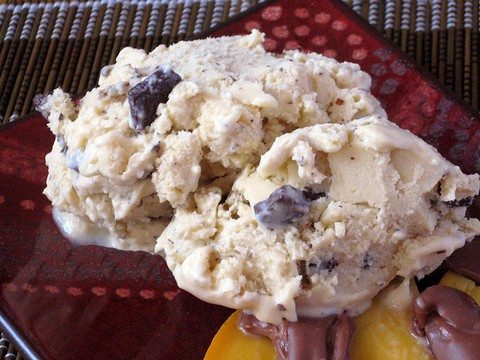 The result, visually, was stunning. taste wise I am afraid to say it was not such a success. I believe that was do to the jarred asparagus. I think fresh ones would have made a huge difference. The pairing with dark chocolate and Rooibos tea (a red tea from Africa, was a lovely choice. I'll try it again perhaps with fresh ones and bit more sugar (which I have already adjusted above, originally it was 1/4 to 1/2 cup.)