It really is an honor to be part of such a highly creative groups. And really what I like best with the 5 Star Makeover is giving everyone creative license on 1 theme: this month was the Pizza. Quite vague and challenging, the possibilities are endless. I cannot wait to see with everyone's results.
For me, pizza is an occasional treat, not because of watching the calories but more as it is a food I do not crave much. But when I do get out of my way. Summer does not call out pizza to me so at first I was a bit stump for my concept. A sweet tooth I do have…ALL THE TIME.
A dessert pizza! Now we are talking. Which so many beautiful summer fruits in the market how can I not display one in all its glory on my crust canvas. And how about using a lighter 'canvas' too the the usual pizza dough. Puff pastry it had to be. Here is my gourmet pizza with a twist of strawberries to finish off a beautiful meal out on the porch.
Ξ Strawberry Puff Pastry Pizza Ξ

Ingredients
1 Frozen puff pastry sheet
1 egg yolk  mixed with a bit of water
1/2 cup strawberry jam
1 cup ricotta cheese
2 tbsp sugar
fresh strawberries
1 tbsp balsamic vinegar
Instructions
Preheat oven to 200C – 400F.
Spread baking paper on a cooking tray and spray with oil.
Thaw pastry. Roll out pastry into a large rectangle. Fold inwards a 1 inch edge of the puff pastry.
Brush the pastry with an egg yolk wash and place tray in fridge for 10 minutes.
Cut strawberries in half, set aside.
Spread strawberry jam on tart.
Spread the ricotta cheese over jam gently.
Place strawberries on top of ricotta in even rows.
Sprinkle with sugar and drizzle lightly with balsamic vinegar.
Bake for 15 minutes until pastry is golden and puffed.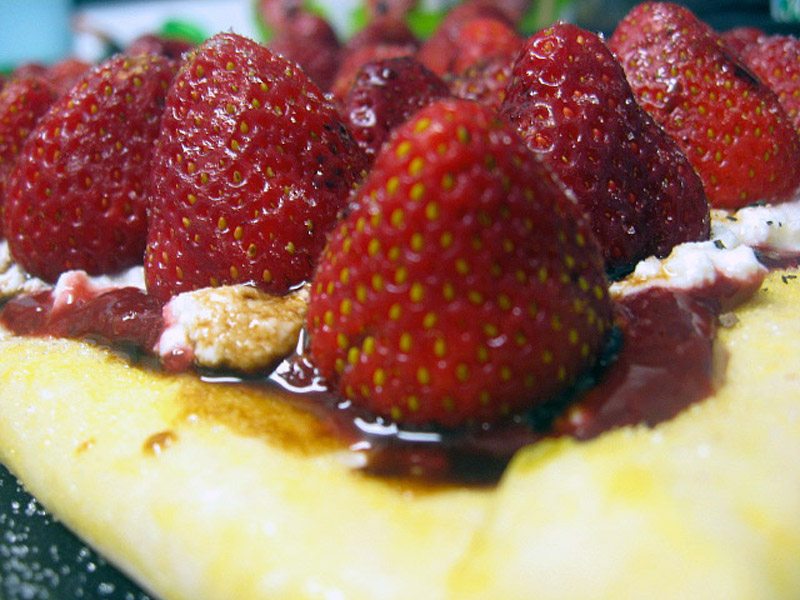 It was a superb treat indeed. The flaky crust was nice and light, the jam and ricotta where a perfect base sauce and cheese, the full fruit standing proud was melt in your mouth and I really enjoyed the special taste of the splash of balsamic vinegar over the strawberries. It was a winner all around.