I always find it funny when the theme of the 5 Star Makeover is a holiday that I do not celebrate…at least not at the same time. Nor the same way. Of course I am happy to make a special post to my American readers and wish you all a Happy Thanksgiving this coming Thursday November 22nd.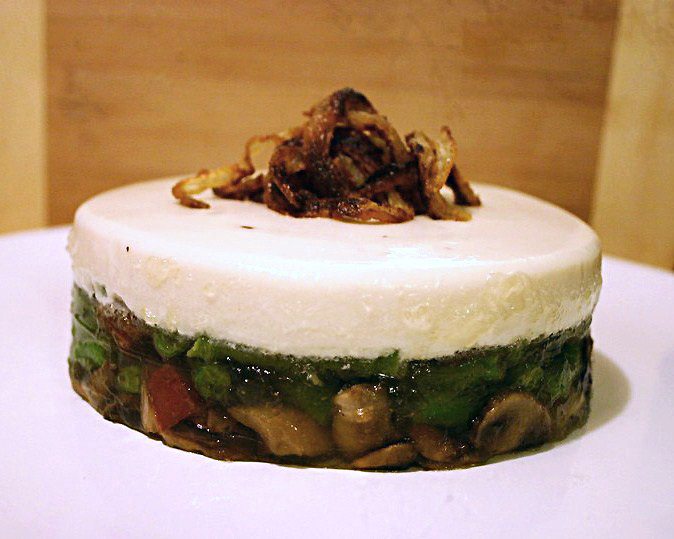 In Canada we celebrate Thanksgiving on the 2nd Monday of October. The holiday is a celebration of the end of the harvest and giving thanks to the past year, just like the US. But since we are a bit more north of the equator our harvest ends sooner…hence the varying dates. On top of that in my province of Quebec it is just not a big holiday. In my family we traditionally close the family cottage for the winter on Canadian Thanksgiving so we have slightly better meal on the BBQ. No turkey, no sweet potatoes and no green beans.
So when the November theme came out, the classic green bean casserole, I was a bit at a loss. I know what is in this dish but I have never eaten it in my life. And my god can it be any more old fashion? Did you know that this dish was first created in 1955 by the Campbell Soup Company? The word retro got stuck in my head as I was trying to come up with a concept for my gourmet rendition. Why not combine it with the next retro popular food fancy dish of the 1950s: the aspic!
Let's travel back in time as I set on my Thanksgiving table for you a Retro Aspic Green Bean Casserole. The basic ingredients are all here – green beans, mushrooms, cream of mushroom soup, and homemade healthier french fried onions – just under a very unique presentation.
Evelyne Budkewitsch
Yields 6-8
Retro Aspic Green Bean Casserole
Ingredients
1/4 cup cold water
1/2 Knox gelatin envelope
1/2 can of cream of mushroom soup
1/2 can milk
3/4 pound mushrooms
2 tbsp olive oil
A big handful of green beans
1/2 tomato, chopped small
1 Knox gelatin envelope
1/4 cup cold water
1 3/4 chicken stock
1/2 onion
2 tbsp flour
Salt and pepper
1 tbsp olive oil
Instructions
Bloom the 1/2 envelope of gelatin in 1/4 cup cold water. In the mean time warm the soup and milk in a small pot. Add gelatin to soup mix. Bring to a boil and stir until gelatin is dissolved.
Lightly grease a 6 inch round cake pan with olive oil. Pour soup mix into the pan and refrigerate until set, about 2-3 hours.
Slice mushrooms. Heat olive oil in a pan and brown the mushrooms. Set aside.
In a large pot bring to a boil the green beans in water. Simmer 8-10 minutes. Drain and rinse with cold water to stop the cooking process. Cut green beans down to 2 inches. Mix with tomato.
Bloom the 1 envelope of gelatin in 1/4 cup cold water. In the mean time bring to a boil the chicken stock. Add gelatin to stock and stir until gelatin is dissolved. Let cool.
Slice onion 1/4 in thick. Mix flour, salt and pepper in a bowl. Heat olive oil in a frying pan. Dip the onion rings in the flour and fry them on medium heat until brown, about 10 minutes. Set aside.
Place the green beans on top of the set soup mix. Layer mushrooms on top of green beans. Just cover veggies with cooled stock and refrigerate until set, about 8 hours to overnight.
To unmold, pass a knife around the perimeter of the mold. Fill a pot with hot tap water. Place aspic mold in the hot water for 10seconds.
Place a plate on top of mold and flip in one quick move. Lift mold gently.
Top with fried onions.
7.8.1.2
217
https://cultureatz.com/5-star-makeover-retro-aspic-green-bean-casserole/
hosted by 5 Star Foodie & Lazaro Cooks!
Did you make one of my recipes? I would love to see it. Take a photo and tag me on Instagram @cultureatz.
EDITOR'S NOTE: This post may contain affiliate links (disclosure policy). Please support CulturEatz by clicking on the links and purchasing through them so I can keep the kitchen well stocked. It does not alter the price you pay.